While I was in Singapore I also had time to head to Udders. I love the name and how it relates to ice cream. If you're not sure what I mean check out this
link
for more info. They have quite a selection of flavours and SK and I managed to test them all!!! The flavours are grouped into 3 categories; liqueur flavours, asian-inspired flavours and cosmopolitan flavours. To find out more check out their website
Udders
.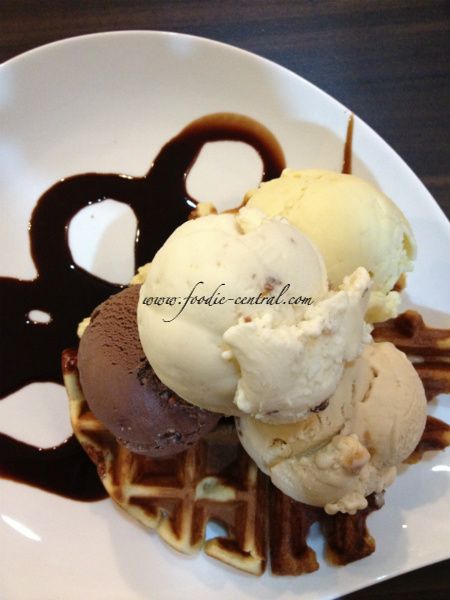 Top: Rum Rum Raisin
Bottom Clockwise: Mao Shan Wang Durian, Hazel's Nuts & Awesomely Chocolate
After tasting all the flavours (not all flavours passed my taste test ;P) we decided on these 4 flavours on a waffle. The waffle was so-so but the ice cream was sooo good. My favourite was the Rum Rum Raisin which was made with a double dose of rum. Double rum, double happy Daphne :) We also picked Hazel's Nuts and Awesomely Chocolate from the cosmopolitan range and the Mao Shan Wang Durian flavour from the asian-inspired range. A word of caution if you're going for the durian flavour - it's really strong so maybe not have this if you're on a date! That is unless you both love durians and don't mind durian breath!
We ate at the Siglap Outlet but they have 4 more around Singapore. For more outlets click
here
.
Udders
87 Upper East Coast Road
Singapore 455223
Tel/Fax: +62 - 6448 8732
Opening Times
Sun-Thurs : 12 noon - 11pm
Fri, Sat & Eve of PH : 12 noon - 1am
View Larger Map
More outlets