Happy Chinese New Year everyone.. Wishing you all good health, wealth and prosperity!
Chinese New Year (CNY) is always an added excuse to gather family and friends for a eating and drinking fest. It normally starts a couple of days before CNY where friends catch up for dinner before everyone heads off home (which might be interstate or overseas) to spend the CNY with family. Watch out for my pre-CNY dinner post with the girls at Steam King.
This year we had a delicious home-cooked reunion dinner.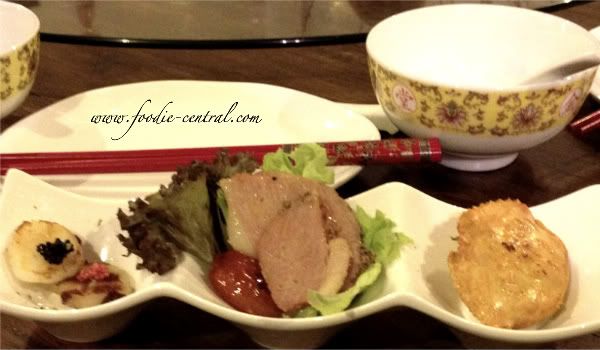 We started off with from left to right: scallops and fish roe, smoked duck (ordered from a restaurant in Melaka) and stuffed crab. The smoke duck was delish and I ♥ the crab and meat stuffing in the stuffed crab. Sorry for the blurry pictures!
Clockwise from top left: Mushroom, Abalone, Sea Cucumber and Vegies, Fried Rice, Steam Fish, Meat Platter of Stewed Duck, Roast Pork and Herbal Chicken
All the dishes were delish. I have to admit that I have eaten this four dishes many times that sometimes I take for granted how yummy it is...
Thanks AA and Aunt Doris for cooking and serving up a beautiful dinner.