♥ ♥ ♥
♥
♥
|
$ $ $
$
$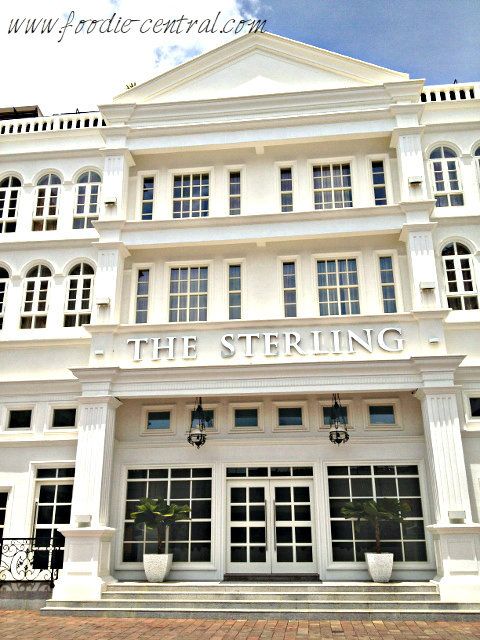 The Sterling Hotel (Architecture inspired by the colonial era)
We have been here a number of times now but each time I sit down to write I end up doing something else. Blame it on my short attention-span or maybe being stretched too thin with all the things I have going on at the same time. That seems to be the norm these days. I digress.
The hotel itself is pretty difficult to find. That is because it is hidden behind Bee Loon, a company that specialises in school uniforms, who coincidentally is also the owners of the Sterling Hotel. Hmm.. maybe that is why the hotel is built behind the Bee Loon store instead of prime frontage on the main street where the store now sits. No matter.. the food at The Loft is delicious!
From left to right : Beer Garden, Menu and Table Setting, Rooftop Views
My Uncle WY who knows the chef (Chef Anthony) introduced us to The Loft @ The Sterling Hotel. The Loft is located on the 3rd floor (top floor) of this Colonial-era inspired hotel with a smallish beer garden and rooftop views of Melaka's heritage buildings. The restaurant (which is also where guest have their breakfast) in itself is tiny and if I remembered correctly can sit approximate 20-25 people.
First Visit
Al Pesto Topped w/ Salmon, Lamb Shanks
My first visit to The Loft, I had ordered the lamb shanks which was recommended by Uncle WY. Love the oh-so-moreish sauce and almost fall-off-the-bone meat. A word of advice though, best to pre-order the lamb shanks before hand so that it can be cooked to perfection. Someone else in our party had ordered the pasta Al Pesto w/ Salmon. Even though I didn't get a chance to taste it the plating looks beautiful!
From left to right : Caesar Salad w/ Grilled Prawns, Chicken Chop w/ Mushroom Sauce, Chocolate Brownies
Other dishes ordered that Afternoon.
Second Visit
From left to right : Beef w/ Black Pepper Sauce, Creme Caramel
For our second visit I had ordered from the Set Lunch Menu. I had a choice of either Beef w/ Black Pepper sauce or Stir-Fry Beef Chinese Style, dessert and coffee or tea for a bargain RM 19.90! I had gone with the Beef w/ Black Pepper Sauce which was delicious. I also love love love the mash potatoes. For dessert we had creme caramel. It was very rich though!
The food is delicious. But I have heard that Chef Anthony is not always at the restaurant so best to call up to make sure he is there and to book a table or pre-order lamb shanks for the best eating experience :)
The Loft @ The Sterling Hotel
Lot 232, KB XX,
Jalan Temenggong
75100 Melaka
Malaysia
Tel : +606 283 1188
View Larger Map