First Japan post finally here!
I have been cracking my brains on the bests way to share my eating adventure while in Japan. Should I just post about everything, each meal at a time, which will amount to a very very long post or just highlights from the tour? I had decided to go for something in between. As we were on tour I doubt some of the places we ate at would be on the map so I have decided to post only on places that are easily accessible by anyone and to include a few highlight pics thrown in from our middle-of-no-where tour eating stops.
First up - our 2 night stay at
New Furano Prince Hotel
.
We had a lovely time playing in the snow, checking out the Christmas Village (beautiful, especially at night) and enjoying the traditional Japanese Onsen (hot spring bath). All our meals during the stay was at the hotel / resort as it is kinda situated in the 'wilderness' with a majority of them buffet style (included in our tour package). Check out buffet pics and resort photos at the end of the post.
Enjoy..
Karamatsu Japanese Restaurant
(included under tour package)
Included in our tour was a fine-dining Japanese meal which was held at Karamatsu Japanese Restaurant. The Kaiseki Ryori (banquet course) reflects the four seasons.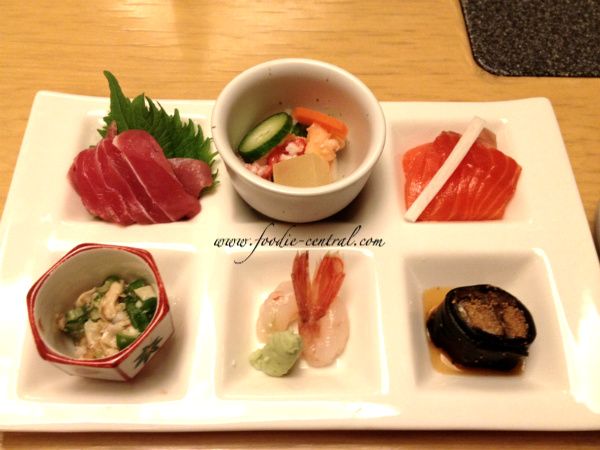 Clockwise from top left: Tuna Sashimi, Octopus and Lightly Stewed Seasonal Vegs, Salmon Sashimi, Seaweed Roll, Sakura Prawn Sashimi, Beancurd & Ladies Finger
I had intended to add this photo into a photo collage with the rest but felt that that would not bring justice to this dish. Simple plating that still managed to draw ohhs and ahhs from us when it was set down on the table. As expected from a Japanese restaurant in Japan all the sashimi was super fresh. Love the sweetness of the sakura prawn sashimi.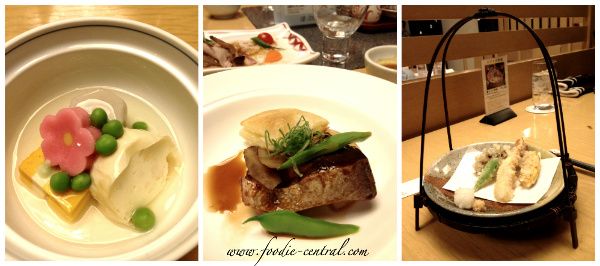 From left to right: Tofu & Yam Dish, Grilled Fish, Assorted Tempura
My favourite of the 3 was the tofu not just because it looks beautiful but also for the contrast between soft and hard tofu and it's silkiness.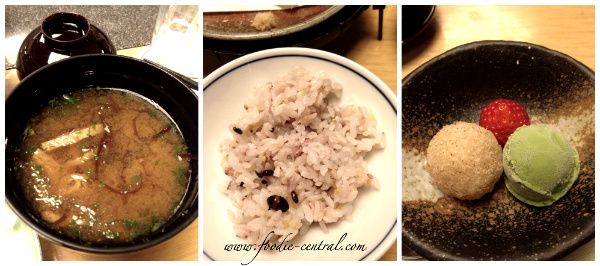 From left to right: Miso Soup, Wild Rice, Green Tea ice cream & Mochi
I love the wild rice. It had a spongy consistency similar to brown rice but not as hard and was cooked with beans that added flavour and a different texture to the mix. Mochi was also really good!
Coffee Forest Clock (Cafe)
The warmth from the fire place greeted us when we came in from the blistering cold outside. The first thing you see is the huge windows with trees and snow falling outside
From left: Morri No Curry (Japanese Beef Curry Rice) & Yuki No Stew (Mushroom Stew w/ Rice)


Both dishes were really good but I love the Japanese Curry just that little bit more! Deliciously moreish sauce where the beef has been stewed for hours balanced with the natural sweetness of carrots and curry spices. I'm salivating just thinking about this dish.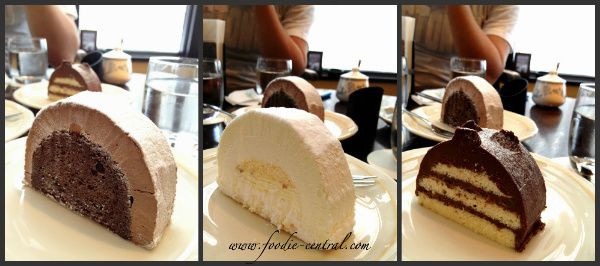 From left: Hatuyuki (First Snow), Neyuki (Real Snow) & Yukidoke (Melting Snow)
For dessert we decided to order all three cakes on the menu. I love how they have designed the cakes around the stages of snow once it lands on the ground.
First Snow (Hatuyuki)
is a chocolate cake with chocolate cream and topped with icing sugar. I presume the chocolate cake symbolises the ground and it has a layer of light chocolate cream 'snow' on top.
The second is
Real Snow (Neyuki)
which is made up of white sponge with white chocolate coating to symbolise the ground, all white, with more snow (white chocolate coating).
The last of the cakes
Yukidoke (Melting Snow)
is where the long winter is over and the colours of nature are now showing. 3 layers of sponge with chocolate
The coffee was good too!
If you are ever at New Furano Prince Hotel you definitely have to pay a visit to Coffee Forest Clock!
Two outstanding eating experiences at Prince Hotel Furano Ski Resort. Check out the below collage of pictures taken from our stay at Furano Ski Resort - Breakfast buffet, dinner buffet and the beautiful surroundings of Furano.
Clockwise from right: Milk from Hokkaido, View from hotel, Seafood Soup (Dinner), Porridge w/ Jap Toppings (Breakfast), Soft Serve (Dinner), English Breakfast Buffet, Christmas Village, Fresh Sashimi of Salmon and Sakura Prawns (Dinner), Grilled Cheese on Bagutte (Dinner)
Prince Hotel Resort New Furano
Nakagorya, Furano-shi,
Hokkaido 076-8511 Japan