♥ ♥ ♥
♥
♥
|
$ $ $
$
$
My mum has been raving about Hoofed since she went there for dinner with the rest of the family. I missed out as I had a prior engagement that I couldn't get out off :( But it's OK as we made it back there a couple of weeks ago.
Hoofed Restaurant or more commonly known as "the restaurant upstairs TDH" (Tom Dick Harry - local watering hole and also owner of Hoofed) is one of the many restaurants that have sprouted up serving quality pork dishes. Even its name Hoofed is in honour of the PIG and the many porky dishes on its menu.
We started off with the
Smoked Salmon & Crab Meat Salad (RM24)
. You can't' really go wrong with smoked salmon especially since we have to import it from overseas (Malaysia does not have smoked salmon). The dressing went well with the smoked salmon and the salad. Only gripe is that there wasn' much crab meat and the ones we found were pretty watery and mashed up (ie from a can?). Overall still a lovely dish.
Devil's Hair Pasta (RM19.90) -
A fusion dish of Tau Yew Bak (Braised Pork Belly in Soy Sauce) matched with angel hair pasta. It's not really a fusion dish but more like tau yew bak
served with
angel hair pasta instead of noodles.My brother loves this. Me? It's just OK for my taste. Nothing spectacular.
Roast Pork Belly (RM17.90)
This was pretty good. Tender and succulent meat and tasty to boot.
Roasted Spring Chicken (RM36.90)
The chicken was slightly dry but I love the gravy.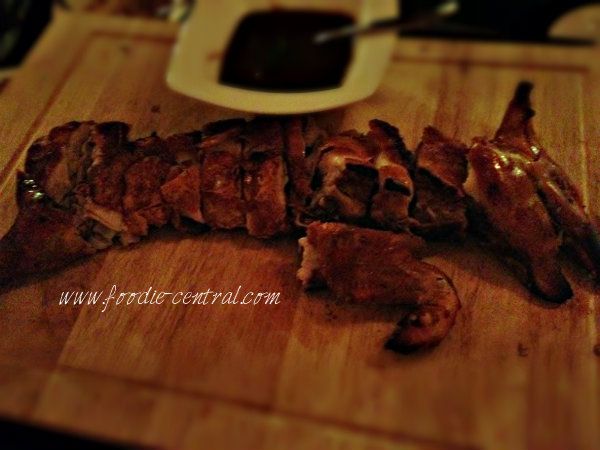 The
Roasted Suckling Pig (1/2 pig RM140 full pig RM230)
was sooo GOOD! Crispy skin and lovely tender meat inside. I would order this every time I dine here. However, this dish needs to be pre-booked in advance so if any of you readers are planning to get this don't forget to call up to order first.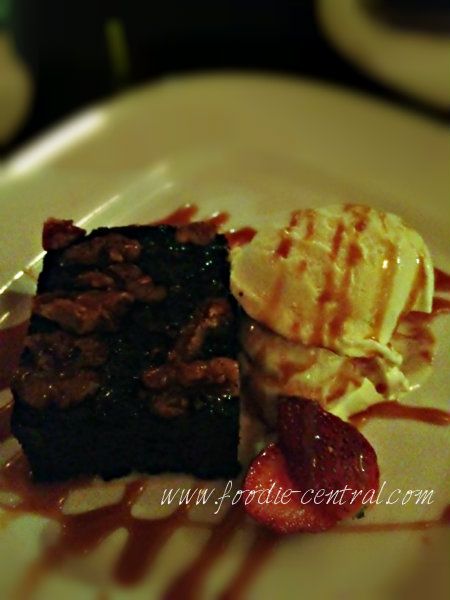 Brownies a la Mode (RM12.90)
Chocolate-y, rich and moist, the brownie was pretty good.
Bananarama (Cold) (RM12.30)
Layers of sliced bananas in between coddled cream, finished with chocolate sauce and a sprinkling of nuts. This was delicious. Love the chocolate coating on the top.
Hoofed
No. 18A Lorong Rahim Kajai 14
TTDI 60000 Kuala Lumpur
Tel : 03 - 7728 8567
View Larger Map