First off let me apologize for the delay in posting. I had promised the next post would be on my Japan trip but I have still to go through all my photos. I had taken over 2000 photos and going through all of them and deciding how to compile them is proving harder than I thought.
I have also been busy with work and was in Singapore recently to attend the
LOHAS Asia Forum
. For those who have not heard about LOHAS fret not as I myself have only heard about them only in the last 2 months. LOHAS stands for
L
ifestyle
O
f
H
ealth
A
nd
S
ustainability. For those interested to learn more NOW click
here
. I had initially wanted to include this at the bottom of this page but it turned out to be a post on its own.
Chu Dao Chinese Restaurant
♥ ♥ ♥ ♥
♥
|
$ $ $
$
$
Pumpkin Soup w/ Japanese Mirin and Lobster Meat served in Mini Pumpkin
I love this soup for it's uniqueness and it taste awesome as well! If my memory serves me right it costs around SGD $15 per mini pumpkin. Not cheap considering the restaurant is situated in a shop lot in Joo Chiat hmm.. but it does have lobster meat in it....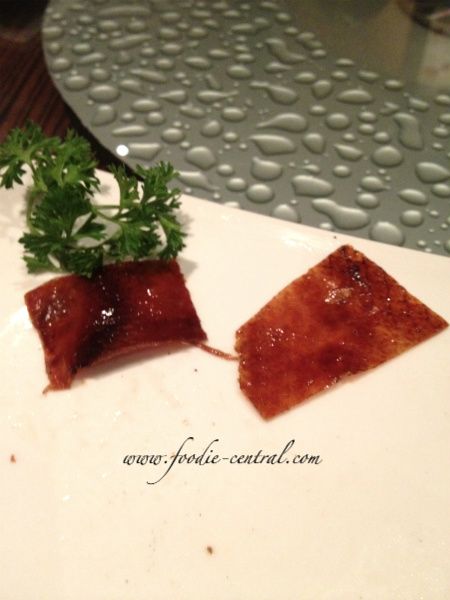 BBQ Peking Duck served with Salt and Sugar for dipping
Opps... This was a whole plate of carefully sliced peking duck skin but by the time it got to me these were the only two left on the plate! I had been invited to join a cousins-only reunion dinner by my friend Coral so I was feeling a little shy to be demanding that everyone let me take a pic of the food when I know everyone was pretty hungry, including myself! The peking duck skin was not the best I've tasted but still pretty good.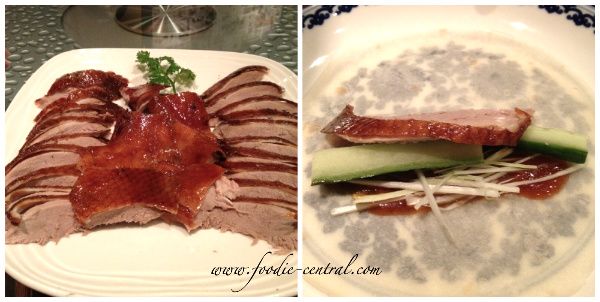 BBQ Peking Duck w/ Pancake, Cucumber, Spring Onions and Hoi Sin Sauce
This was the second dish from the BBQ Peking Duck. I heard from Ivan (Coral's cousin) that they can do up to 7 varieties of the dish from the one duck. This is definitely a reason to come back! As before I have tasted better but this was still pretty good.
Chef Tan's Claypot Baked Fish
This was my favourite dish of the night. The fish was baked in Chef Tan's own special sauce. I detected dried mandarin peels and really love the hint of lotus leaf that permeates the fish meat. I would come back just for this dish.
Crab Meat and Egg Tofu
This dish was also delicious. Too bad there wasn't enough for a second helping!
Cubes of Pork in Mango Sauce
Another of my favourites for the night. The pork was juicy and succulent and had a lovely sweet sour coating of mango sauce. This dish reminds me of Pork Ribs / Meat in Peking sauce but it's brought up a notch with the use of mango sauce! Kudos to the inventiveness of the Chefs!
Stir Fry BBQ Peking Duck
This was my favourite version of the BBQ Peking Duck. The sauce really brings out the natural flavours of the duck meat.
Love love love Chu Dao. I love the creativity of the chef with his dishes. Must try his other dishes other then the BBQ Peking Duck. Thanks Coral and Ivan for inviting me!
Wanna read about LOHAS? Click
here
.
Chu Dao Chinese Cuisine
45 Joo Chiat Place
#01-01 Singapore
Tel : +65 6344 1925
Opening Hours
Mon-Sun : 11.30am - 2.30pm, 6pm - 11pm
View Larger Map