♥

♥ ♥ ♥ ♥
|
$ $
$ $ $
My sis has been craving for Hainanese Satay so yesterday we headed to Ming Sate Hut for lunch. Hainanese satay is not cheap. A normal meal of Wan Tan Noodles here in Melaka will cost you on average RM 3.50 - RM4, so at 70 cents a stick, a meal at a satay house could cost up to ..... well that depends on how much you eat. I normally can polish off about 15-20 sticks. My dad can easily eat 40 sticks!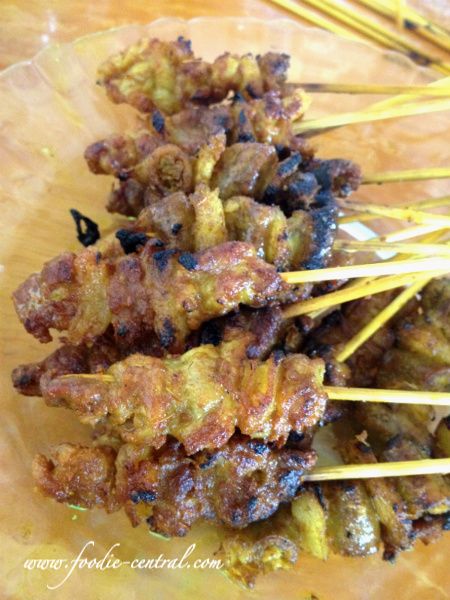 Pork Satay and Pork Intestine Satay
The pork satay here at Ming Sate Hut was a little too dry for my liking. I also wasn't too happy about the meat to fat ratio on each stick. There seems to be a little too much fatty bits to meat ratio that when I took a bite (a bite meaning all the meat on the one stick) I couldn't really taste the meat.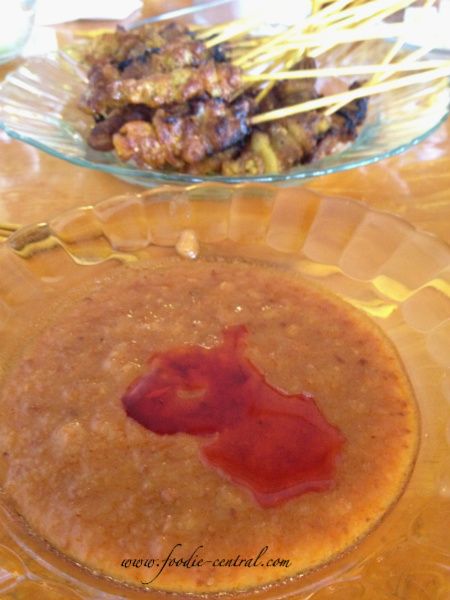 Satay Sauce
The sauce is still pretty good. Made with a nice blend of spices and belimbing (star fruit) and it's not too sweet or glucgy.
My favourite Hainanese Satay though is still at
XiangJi's Satay
.
Do you know the connection between XiangJi and Ming Sate Hut? They are actually from the same family. I remember when I was much younger my parents would bring us to a little store on Jonker Street for satay. They were our favourite. When the patriach and matriach passed away some family members decided to open satay houses too using the same family recipe which is why we have Ming Sate Hut and XiangJi. There's one more satay house under the same family which I have still to try. Will let you know how that goes when I do.
Ming Sate Hut
Jalan PM4,
Plaza Mahkota,
75000 Melaka,
Malaysia
View Larger Map
xoxo... Daphne