My first time to Macau and I love it here. Two nights is certainly not enough to explore this unique city where historic buildings are almost located side by side with gigantic casinos and high end stores.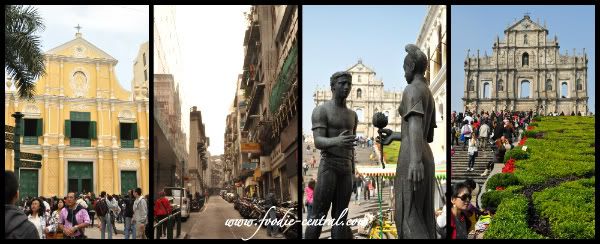 From left to right: The Cathedral Church of Macau, Street just off the main square, Lovebirds in front of Ruins of St Paul, Ruins of St Paul.
KOI KEI BAKERY
♥ ♥ ♥ ♥
♥
|
$ $ $
$ $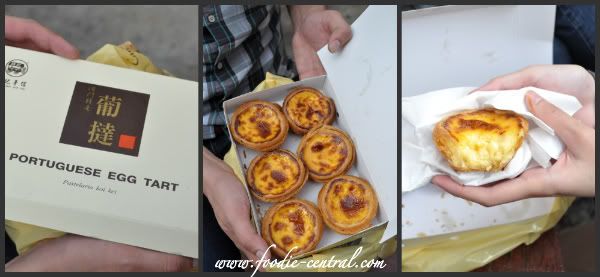 If you only have a chance to eat one item while in Macau it must be the Portugese Egg Tart! These were just awesome! Sweet and creamy with a hint of saltiness.
They have a number of shops in Macau. I counted 2 shops on the same street when walking towards the Cathedral Church of Macau. If only I could buy it here in Malaysia.
Koi Kei Bakery
Click on the above link to be redirected to their website for store locations.
TACK HSIN RESTAURANTE,
♥ ♥ ♥

♥
♥ |
$ $ $ $
$
We have had a couple of high quality dim sums in Hong Kong and the ones here at Tack Hsin are of similar quality. My favourites are the beef balls and the pork ribs with pumpkin. Yummy!

From left to right: Century Egg and Pork Congee, Fish, Har Cheong (Prawn Rice Roll) and

From left to right: Beef Balls, Chive and Scallop Dumplings, Siu Mai (Pork Dumplings), and Har Gau (Prawn Dumplings)

From left to right: Pork Ribs with Pumpkin, Chicken Feet, Salted Egg Bun and Egg Tart
Tack Hsin Restaurant
299 Avenida Doutor Mario Soares,
OLD NEPTUNE RESTAURANT, The Venetian
♥ ♥ ♥ ♥
♥ |
$ $ $
$
$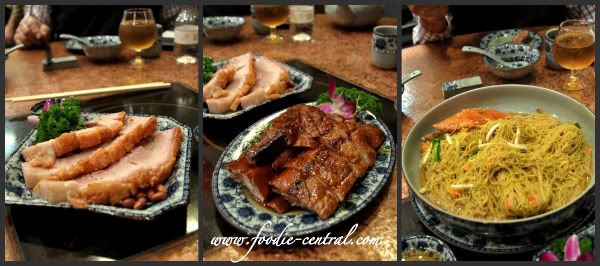 From left to right: Roast Pork, Roast Duck and Fried Noodles with Crab
Crisp skin with melt in your mouth roast pork. What more can you ask for?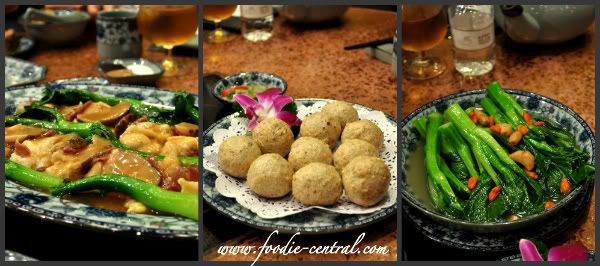 From left to right: Steam Chicken in Superior Sauce, Fish Balls and Broiled Kai Lan with Chinese Red Dates and Garlic
The superior stock with the steam chicken was really delicious. If only I could make stock like that!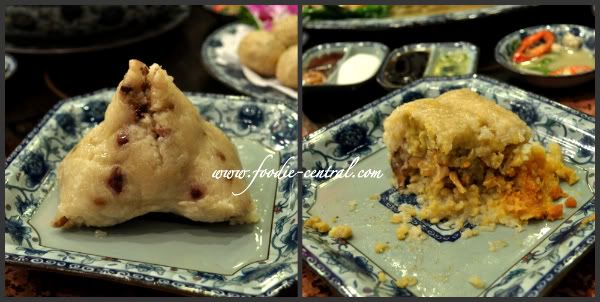 Salted Egg and Pork Glutinuous Rice
The glutinous rice here was delicious. The rice was light and soft in texture unlike the starchy and heavy texture commonly found in glutinous rice dishes. I love the dish also for the fact that it leaves a light flavour and aroma of lotus leaf. So good!
Old Neptune Restaurant
Shop 1032, Venetian Macao-Resort-Hotel,
The Cotai Strip, Macau
+853 2882 8333
RESTAURANTE VELA LATINA,
♥ ♥ ♥

♥
♥ |
$ $

$
$ $
We wanted to try some Macanese food and the porter from our hotel recommended Vela Latina. We stopped by for a quick snack after sight-seeing around the historic city.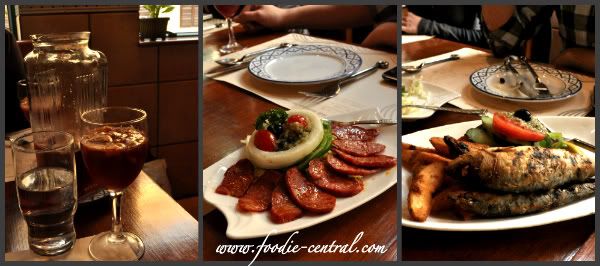 From left to right: Sangria, Chorizo and Grilled Sardines
A nice sangria to start off our tea time snack. I love the chorizo. Kudos to the chef for slicing the chorizo to just the right thickness without it being too thick or thin and when lightly pan fried released the flavours of the meat without burning the meat.Sardines were delicious too.
Restaurante Vela Latina
Av. Almeida Rheiro, No. 201 Macau
+ 853 2835 6888
RESTAURANTE FERNANDO, Coloane
♥ ♥
♥ ♥
♥ |
$ $

$
$ $
We were looking forward to the food here at Restaurante Fernando as it had come highly recommended. We arrived around 7pm and was brought to the back of the restaurant to wait for a table. The place is rustic and I love the outdoor bar. Unfortunately the food did not meet our expectations. Salt must be very cheap here as almost all the dishes were salty!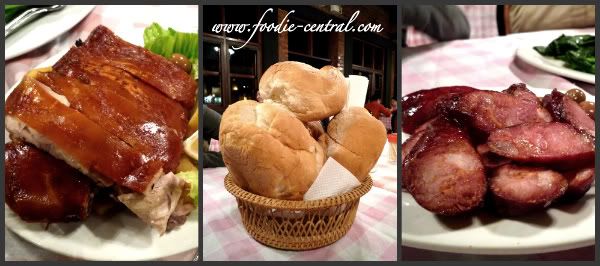 From left to right: Oven Roasted Suckling Pig ($152), Home Made Bread and Portugese Chorizo ($80)
The suckling pig had a nice crispy skin and tender meat beneath but loss out due to the heavy handed use of salt. The chorizo was salty as well. The home made bread was ok but I liked the one at xxx better.

From left to right: Kai Lan, Garlic Fish, Fried Prawns with Garlic ($188), Stewed Beef ($130)
Salty! Fish was salty and so was the beef stew. I like the prawns the best out of these 4 dishes as it was the least salty and had the most flavour.
Restaurante Fernando
Praia de Hac Sa, N'9,
Coloane, Macau
+853 882 264
fernandr@macau.ctm.net
MACAU RESTAURANT
,
♥ ♥
♥

♥
♥ |
$ $

$
$ $
Macau Restaurant has two entrances and serves a mixed of Chinese and Macanese food. Service and decor could use with some improvement but do not be put off as the food is pretty good. I will rate their food as above average.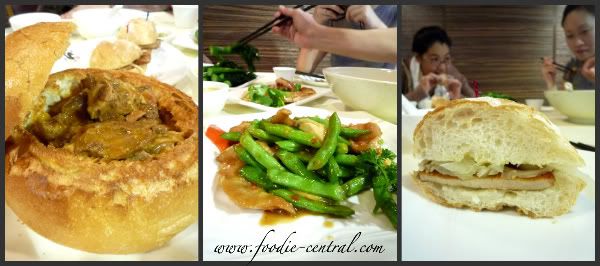 From left to right: Curry Beef Brisket w/ Farmer Bread ($88), Sauteed Pork Cheek & French Beans ($78) and Macanese Crispy Bun w/ Pork Chop ($22)
I ♥ the spices used to make the curry sauce. I could just eat the sauce by itself, moping it up with the Farmer Bread :). The pork cheeks came as a surprise as I didn't expect it to be so smooth and tender, plus deliciously tasty to boot. Pork Chop burger was pretty good too.

From left to right:Baked Pork Chop Rice ($60), Soya Chicken, Macau Won Ton 6pcs ($45), Stir Fried Kai Lan
I love tomato sauce and can just eat it on it's own which is why I was drawn to the baked pork chop rice which has a huge amount of tomato based sauce poured on top of rice and pork chop than baked. Even if you're not a tomato sauce lover this is still pretty good. Give it a try.
Macau Restaurant
Shop B, G/F Wah Yung Building
25-31 Avenida do Infante D. Henrique
Macau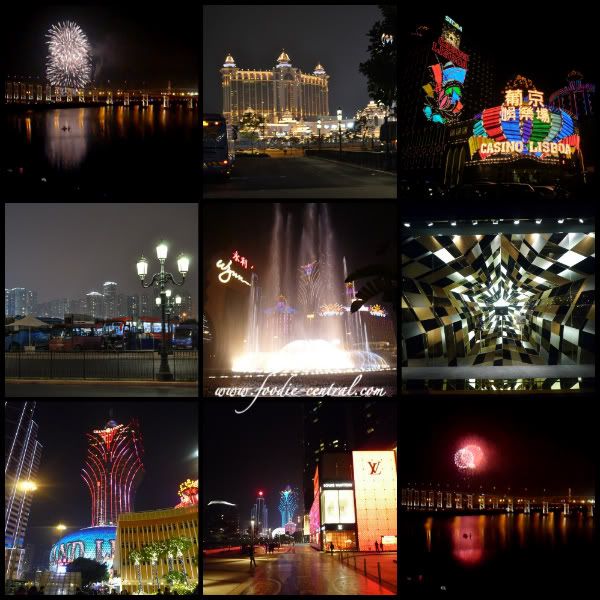 Night Shots of Macau
Macau - I will be back!