The family and I spent the last days of 2011 in Hong Kong and Macau, eating up a storm! I'm surprised however that when I stepped on the weighing scale it showed the same weight. How can this be?! Until I remembered my aching calves and feet from all the walking we did on this trip. We travelled by foot, on the MTR (trains) and buses, and taxis all around HK and Macau to eat and also to shop.
Hong Kong skyline taken at sunset on a misty day from Victoria Peak
Are you ready to follow us on our food adventure?
KING'S COURT RESTAURANT, BP International
♥ ♥ ♥ ♥
♥ |
$ $ $
$ $
We checked into our hotel
Eaton Smart Hong Kong
and headed out to King's Court Restaurant for our first meal in Hong Kong.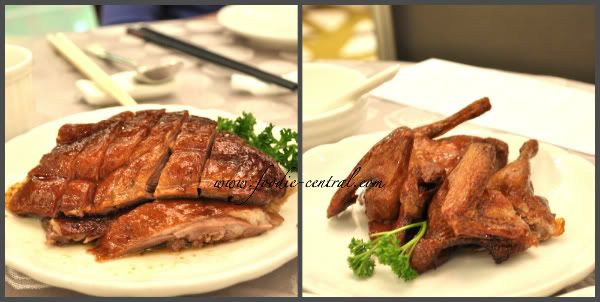 Roast Duck & Deep Fried Pigeon
The roast duck looks beautiful and taste pretty damn good too. A good start to our HK eating trip.
Clockwise from top left: Pan Fried Dumplings, Steamed Raddish Cake, Beef Hor Fun, Prawn Cheong Fan
Not many places serve steam raddish cake and the ones at King's Court was so good. Smooth and light - just delicious.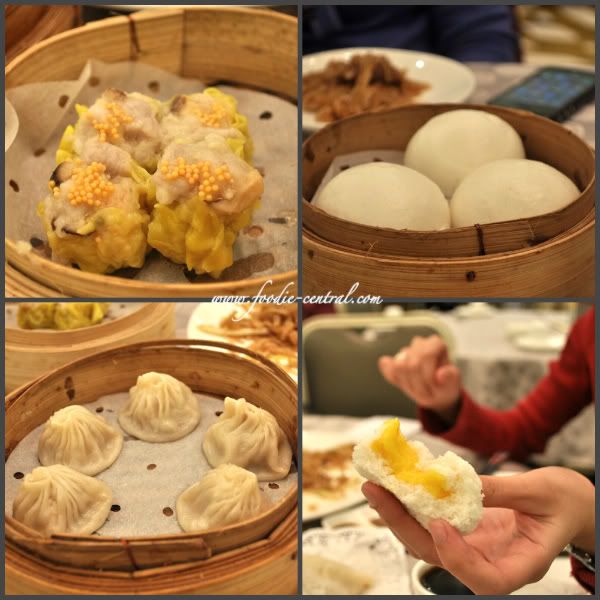 Clockwise from top left: Siu Mai, Salted Egg Custard Pau (Bun),
Salted Egg Custard Pau Filling, Siu Long Bao
The salted egg custard bun was delish - salty and sweet filling encased in a light, fluffy bun.
King's Court Restaurant
No 8 Austin Road, Tsim Sha Tsui,
Kowloon, Hong Kong
CHUEN KEE SEAFOOD RESTAURANT
, Sai Kung
♥ ♥ ♥ ♥
♥ |
$ $ $ $
$
I was getting excited just looking at the rows of seafood on display in the aquariums at the front of the restaurant.
Clockwise from top left: Crab in Superior Stock, Stir Fry Veg, Steam Fish, Steam Scallop w/ Black Bean Paste
We had noodles as well but I can't seem to find a pic of it. I swear I did take a pic! The food here is pretty good. I find it to be on par with
Golden Century
in Sydney. My favourites were the steam scallops and crab in superior stock.
Chuen Kee Seafood Restaurant
G/F 87-93 Man Nin Street,
Sai Kung, Hong Kong.
JADE GARDEN, Grand Century Place, Mongkok
♥ ♥ ♥ ♥
♥
|
$ $ $ $
$
(formerly Maxim Restaurant)
The last time my mum was here the restaurant was called Maxim restaurant so when we arrived and couldn't find Maxim my mum got a little confused and wondered if she had brought us to the right place. We enquired with the receptionist and she assured us that it was still under the same management and everything is still the same. This is true as they still handed out Maxim menu!
Clockwise from top left: Prawn Cheong Fan, Pan Fried Raddish Cake, Bean Curd Skin Roll,
All the dishes we had were good other than the pan-fried raddish cake which was pretty bad. It was cold, pretty hard and quite bland. I love love love the bean curd skin roll. Yummy!
Clockwise from top left: Scallop Dumplings, Chive and Prawn Dumplings, Beef Ball Dumplings, Char Siew Pau
The beef ball dumplings stood out the most. I love the addition of dried mandarin peel to the dish which gave it a twist but I think this is pretty normal here in Hong Kong as the other restaurants also use dried mandarin peel in this dish.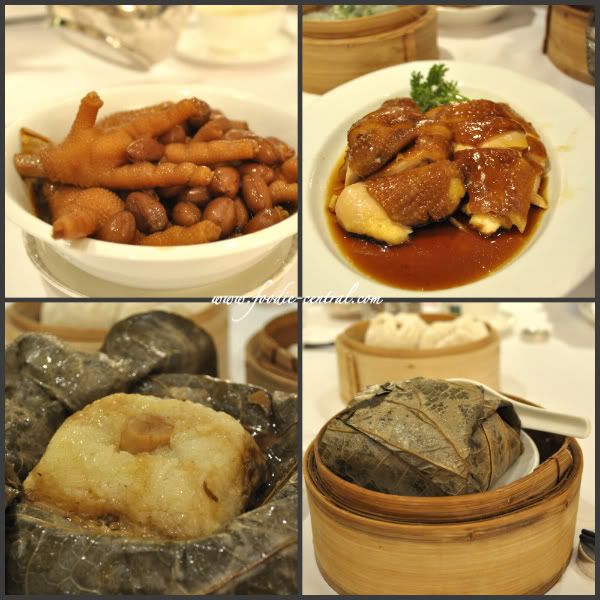 Clockwise from top left: Stewed Chicken Feet, Soya Chicken, Glutinous Rice (wrapped in Lotus Leaves), Glutinous Rice (unwrapped)

I am not a big fan of glutinous rice as they are normally too heavy for my liking but the one here was just so good. It was light and fluffy with a hint of tea and lotus leaf flavour infused in to the rice. The dim sum here are of very high quality made with a light hand and refine palette. Compliments to the chef and the many expert cooks it takes to come up with such refine dim sum.

Jade Garden

Shop 803, Level 8 Grand Century Place,

Mongkok, Kowloon, Hong Kong

Tel: 2628 9668


YUNG KEE RESTAURANT (1 Michelin Star, 2011)

♥ ♥ ♥ ♥

♥ |

$ $ $ $

$

We dropped by around 8pm and was ushered in straight away and was told to head upstairs. I thought to myself.. yay we can eat soon, no queues! But to my dismay upon reaching the top of the stairs I could see around 20 people lounging around the landing, some seating on chairs and even on the steps of the stairway waiting for their table. We dutifully took a number and prepared ourselves for a late dinner. 20 minutes later though we were seated at a table downstairs. Two groups of 6 that were before us had decided that they didn't want to wait and had left before their table number was called, which was good news for us!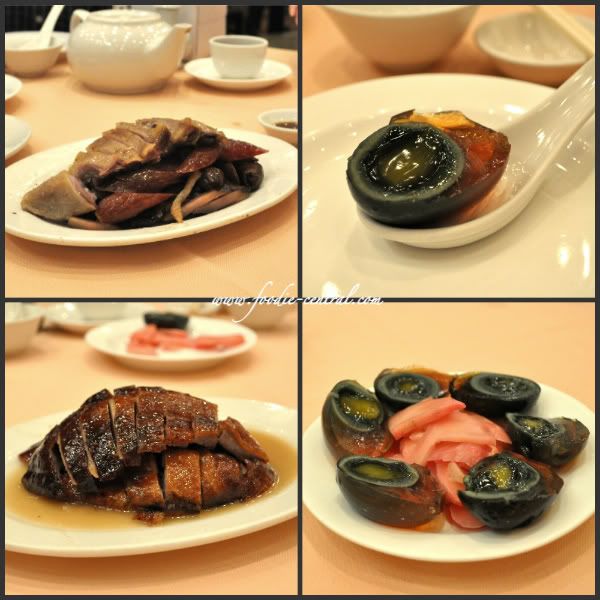 Clockwise from top left: Mixed plate of Cured Meat which consisted of Cured Goose Liver Sausage, Cured Pork Sausage, Cured Duck Leg & Cured Meat, one piece of Preserved Egg, plate of Preserved Egg and Pickled Ginger, Yung Kee Roasted Goose
Yung Kee is famous for their roast goose and cured meat and indeed they did not disappoint. The Roast Goose was so good! I don't really fancy preserved eggs but my mum and uncle raved about it so of course I had to try some.. Surprisingly it was very creamy and smooth and wasn't too pungent for me.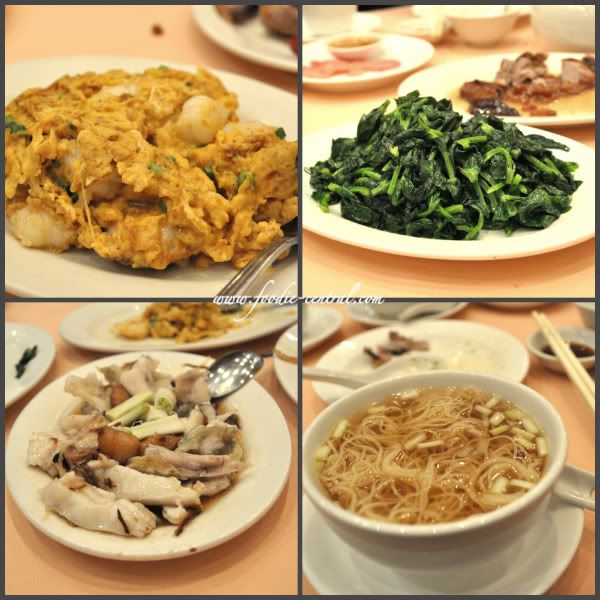 Clockwise from top left: Eggs & Prawns, Veggies, Bowl of Wan Ton Noodle Soup (w/out the wan tons) and Steam Fish
The dishes were all good but my favourite dish out of the four was the wan ton noodle soup. The soup was just delicious! Made with Yung Kee's own superior stock. The noodles were springy and cooked just the way I like it. =)
Yung Kee Restaurant
32-40 Wellington Street,
Central, Hong Kong
Tel: (852) 2522 1624
Email: info@yungkee.com.hk
FEDERAL PALACE
,
Citygate Outlet, Tung Chung
♥

♥

♥ ♥ ♥ | $ $ $

$

$
The impression I get of the food here is that it's pre-made and brought in from an outside supplier. The taste is pretty generic and some of the food is not as fresh as it can be.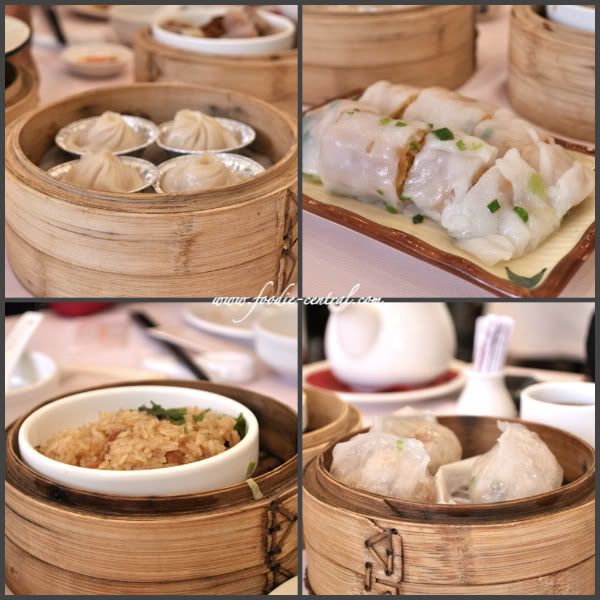 Clockwise from top left: Siu Long Bao, Char Kway Steamed Rice Roll, Pork and Water Chestnut Dumpling, Glutinous Rice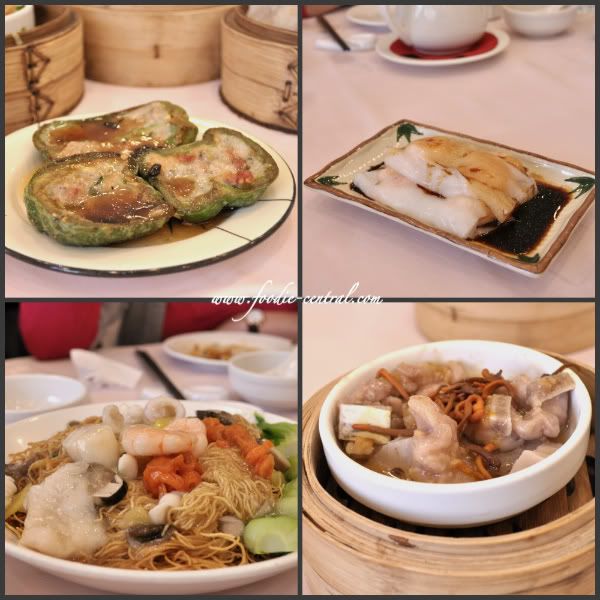 Clockwise from top left: Stuffed Green Peppers, Prawn Rice Rolls, Steam Pork, Stir Fried Seafood Crispy Noodle

The food was pretty ordinary but still the restaurant was packed. Maybe we had ordered the wrong dishes?

Federal Palace Shop No 255 Citygate Outlet Adjacent to MTR Tung Chung Station Tel: (852) 2626 0181 WU KONG SHANGHAI RESTAURANT, Causeway Bay

♥

♥

♥ ♥ ♥

♥

| $ $ $

$

$

(I've given them an extra

♥

for serving such delicious food)

We got a little flustered looking for the restaurant as it had moved since the last time mum was here. Wu Kong was previously situated at Food Forum, Times Square but has since moved to Lee Theater Plaza. It was worth the treasure hunt though as the food was amazing!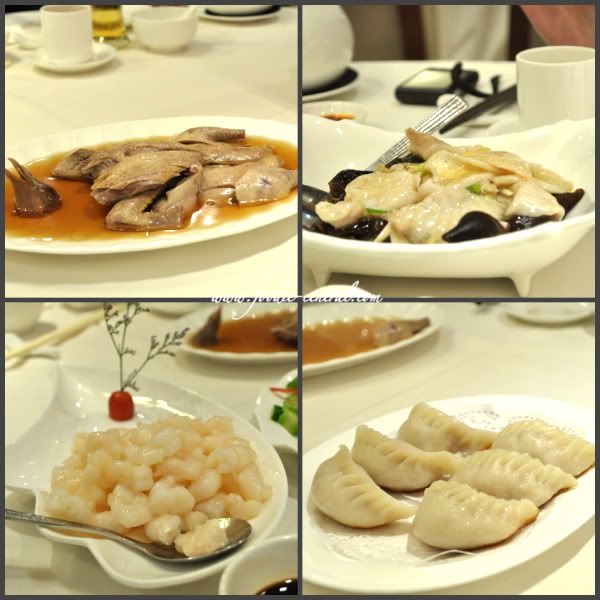 Clockwise from top left: Pigeon w/ Wine Sauce, Fish Slices w/ Mushrooms, Dumplings, Quick Stir -Fried Fresh Shrimps
Such refine cooking. I loved all the dishes here. The stand outs for me were, the pigeon, which was served cold. The meat was so smooth and soft and I love the flavour of the wine which had seeped into the meat. The prawns were also super delicious. I am missing the food by just writing about it here.
Left to right: Radish Cake and Shanghai Noodles
I love the filling of the radish cake but skin was a little too dry and crispy for me.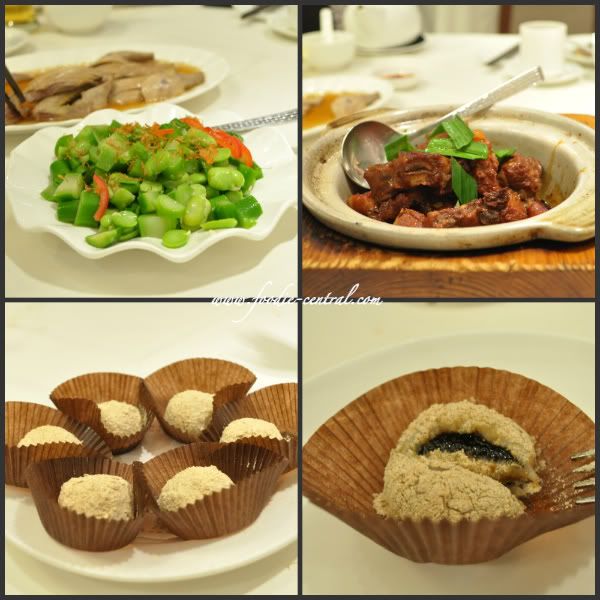 Clockwise from top left: Stir Fry Asparagus, Stewed Pork in Bean Paste Sauce, Black Sesame Mochi (Innards), Black Sesame Mochi
The stewed pork in bean paste sauce stood out. The meat was tender and fell of the bone. Oh so moreish. When will I be able to eat here again?!! Sigh...
ps. I recommend you make a booking as they are usually fully booked. We rang on the day itself and had to take the earlier seating which was at 6pm and vacate our table by 8pm.
Wu Kong Shanghai Restaurant
11th Floor

Lee Garden Theater Plaza
Causeway Bay, Hong Kong
Ladies Market, Kowloon