I've always been a huge fan of IKEA's Swedish meatball so when I had to pop by IKEA at The Curve, Mutiara Damansara for some office supplies, of course I had to stop by for lunch! I was accompanied by the lovely Dee who I've not seen for the last 8 years! We were very close way back then, uni buddies for 3 years and house mate for a year, so when we met up it was just like old times. Funny thing about our friendship, even when we've not been in touch for so long when we met up we naturally connected the way we were before, and it was like we've never been apart.
Well back to the food....
I had ordered the
Swedish Meatballs
with fries and extra gravy, although I don't think the attendant heard me when I asked for more gravy. The meatballs here are not as juicy as the one in IKEA, Rhodes, Sydney but still pretty tasty. I have a feeling that the difference could be because of the
HALAL
meatball that is served here in Malaysia. Check out IKEA's Meatball recipe
here
that includes the use of pork in their meatball.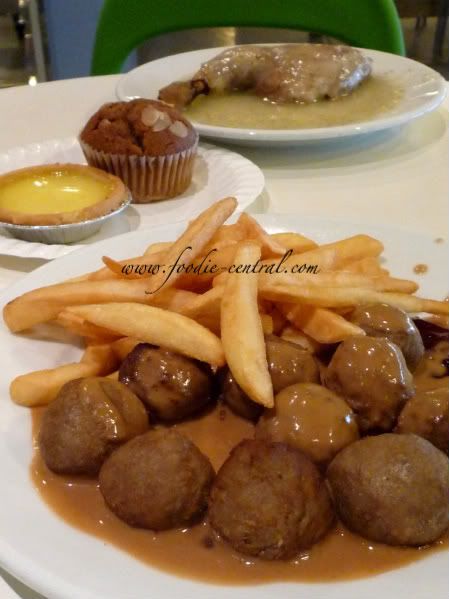 Dee had the roast chicken which I didn't get a chance to try. The chicken looked very pale which made me wonder if it was even roasted in the oven?!
For dessert I had the
Banana Muffin
. I think it was a banana muffin but I'm not too sure! It was pretty standard. Times like these I really miss the food scene in Sydney.
IKEA, The Curve
No. 6, Jalan PJU 7/3,
Mutiara Damansara,
47810 Petaling Jaya,
Selangor, Malaysia
View Larger Map