I'm not one to write a scathing review as I always try to find the best in each place I dine in and write about that but our experience at
PRIME
was horrendous.
For mum's and sis's birthday (they share the same birthday!) we decided to dine at PRIME, Le Meridien. My mum had been looking forward to eating at PRIME as she had heard lots of good reviews about the food and service and what more, mum was a member of the
Starwood Privilege Card
holder which entitled her to 50% discount on food and 20% discount on beverages for a table for two.
Mum excitedly made a booking for a group of 8 to dine at PRIME. She had arranged that we all be seated close together (we were not able to sit on the same table as the Starwood card 50% discount is only available for a table for two). Call us kiasu or stingy if you wish but if there was 50% discount to be had why not?! We had been to many restuarants under the Starwood group that they had been able to put us side by side albeit under different table numbers.
When we arrived at PRIME we found that our group had been split up with two tables being side by side and the other two tables at different ends of the room. Mum and her friends took the table that was side by side and the rest of us made do with the two corner tables. Mum was slightly disappointed that they couldn't put us all in a row as there was a table for six that was empty and right next to her table.She spoke to the manager and told him that she was willing to forgo the 50% discount and if he could put us all together on the one table. He responded by saying that the table was reserved for someone else. By 9pm that table was still empty and in the end they split up the table and put another couple seated right next to mum's table. Ggrr she was furious! I'll leave it at that and I'll write about my experience at our corner table.
Sis and I were seated at the same table. Once seated we were asked if we wanted still or sparkling water. As mum was still trying to sort out the table arrangements we asked if they could hold off taking our order for the time being. The wait staff wasn't too happy with my comment and left with a snotty look on her face! OK I wasn't too impressed.. but let's see how it goes as the night progresses. It was another 10 minutes before she came back to take our order.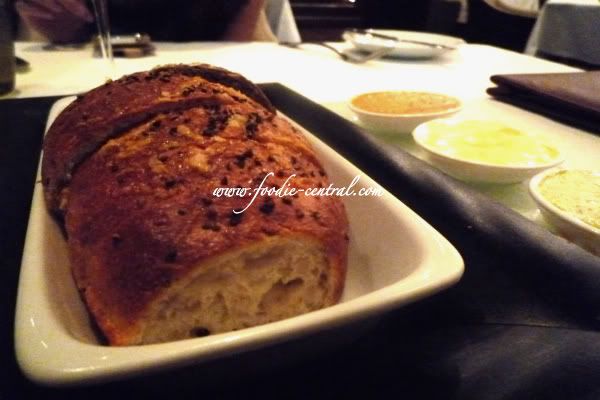 We were served
bread with three types of butter
. The bread came out nice and warm with a slightly thick crust and soft and moist filling. Delicious! The three types of butter that accompanied the bread were delicious too though my favourite was the Pesto Butter. From top was the red capsicum butter, salted butter and the pesto butter.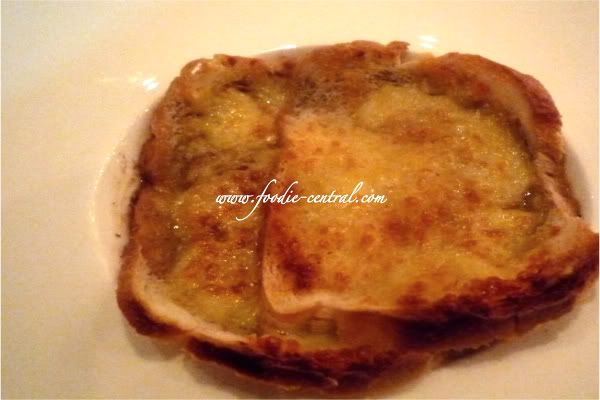 I had ordered the
French Onion Soup
. I loved the cheesy bread and the soup itself was not bad but for the price we paid I had expected more. Others in the group had tried the
Lobster Bisque
which they found overly salty.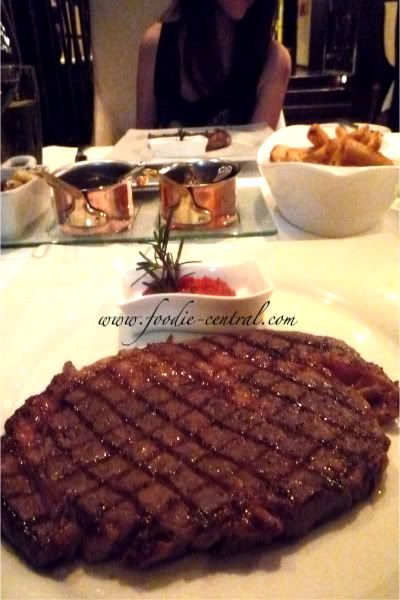 I had ordered one of the chef's special cut of
Wagyu Steak (sirloin cut)
which had a marbling of 9+ and cost over RM 300 however I didn't expect my steak to look like this. I had thought it would be smaller in size and possibly in a thicker cut? I couldn't taste much of the meat as it was very salty and was finding it hard to finish the whole thing. A big disappointment for me. Overall feedback from the group was that most of the food was salty and was not worth the price tag.
Other than the initial snotty look from the wait staff we also encountered snobbish behaviour from a couple of the wait staff. I even had to repeat a question twice as the wait staff ignored my question. Only when I repeated the question and waited did she give me an answer. I was mad as there are multiple ways a person can answer a question and the way she said it was just plain rude! Gggrrr..... I wondered if service was equally as bad with the rest of the group but apparently not! My brother had pretty attentive service and so was the other 2 tables. Was it because we looked young and didn't look like we could afford eating at an establishment like PRIME? Or was it because we weren't wearing designer clothes and carrying Louis Vuitton bags?!
I'm so sorry dear readers to be raving. I always try to keep my posts focus on the food and am usually not too fuss about service but this was just too much!
PRIME
Level 5, Le Meridien Hotel,
2 Jalan Stesen Sentral Kuala Lumpur
Sentral Kuala Lumpur 50470 Malaysia
Operating Hours:
Monday to Friday – 12.00 pm to 2.30 pm (lunch)
Monday to Sunday – 6.30 pm to 11.00 pm (dinner)
Reservation: 603 2263 7434
View Larger Map