I've been to Sunway Giza a couple of times now and each time I'm there I tell myself that I have to go try Fullhouse one day. Why? Just cause it looks very cosy with a mock alfreso tea party garden setting even though this cafe is located indoors. And they also sell clothes and accessories on the 1st floor of the cafe too! Unfortunately I did not take any pictures of the place itself but you can check out more pics
here
.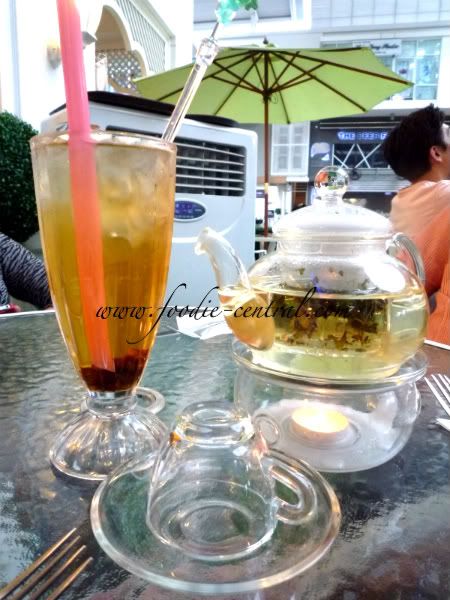 The family was all in KL one weekend and we decided to stop by Sunway Giza for tea and try out Fullhouse. I had order the
Iced Korean Jujube Tea
(the drink on the left) and loved it! With the heat and humidity in Malaysia it was nice to sit down to a nice cold refreshing drink that's also good for your health. Most commonly known in the Chinese community as Red Date it is widely drunk to help alleviate heat-iness from the body. Check out wikipedia for more info
here
. My sis had ordered
Peppermint Tea
and it came in a cute see-through teapot (pictured on the right above).
What's tea time without something sweet! We had ordered from anti-clockwise
Tiramisu, Black Forest Chocolate Cup, Almond Chocolate Cake w/ Vanilla Ice Cream
and
Cappuccino
. These were just so-so in my books. If I had to choose the best dessert I would go for the Tiramisu.
All in all the cafe had a pleasant atmosphere to just sit and relax after a long day of shopping although the desserts were nothing to shout about. Might come back to try the food one day.
Fullhouse @ Sunway Giza
C-2 Sunway Giza Mall
Jalan PJU 5/14
PJU 5, Kota Damansara
47810 Petaling Jaya
Tel: +603 6141 8075
Opening Hours: 12pm to 11pm
View Larger Map