I just got back from a hectic weekend in Singapore but it was a good trip nonetheless. I had to drive down to Singapore so that I could pick up my mum who just got back from a trip to the USA that I sadly couldn't tag along (hehe) but Singapore was good enough. We did a lot of eating, catching up with relos and of course some shopping. One such eating session was at Bedok Market.
One can always tell which eateries are good by the queue in front of the shop/stall. The three stalls below had long queues so it's always good to go with a number of people to ensure all the food are served together at the same time - one to queue for the drinks, one to queue for a table and the rest to get the food. Also, the stalls are self-service which means that you'll have to queue to place your order and wait for the food to be made so that you can take them to your table (Singapore efficiency!).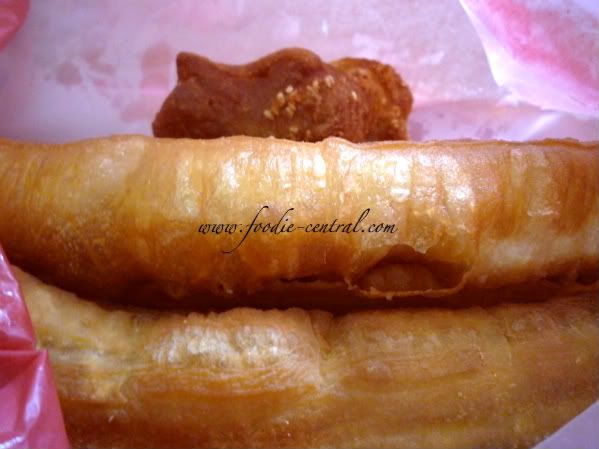 You Zha Kueh
, also known as Youtiao or fried bread sticks, are made from dough which are deep fried till golden brown. These are usually eaten for breakfast as accompaniments to Chinese Porridge / Congee and Bak Kut Teh. While in the queue to buy these I observed the old man rolling the dough and cutting them into thin strips to be deep fried. I marveled at the texture of the dough and how light and crunchy it tasted once deep fried. Our family loves to dunk the youtiao into hot black coffee, the savouri ness of the youtiao combined with the sweet and strong taste of coffee..... as the Singaporeans will say
SHIOK
!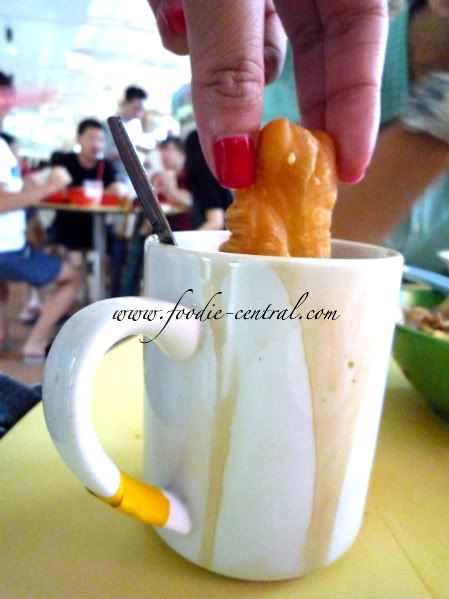 Me dunking my youtiao into a mug of
hot black coffee
. I try to refrain from drinking coffee as I get heart palpitations but sometimes I just can't stop myself. Although I wouldn't call myself an expert in coffee the one here was well made with just the right amount of water to coffee powder and gave off a lovely aroma (I like my coffee strong). And as expected be prepared to queue for coffee.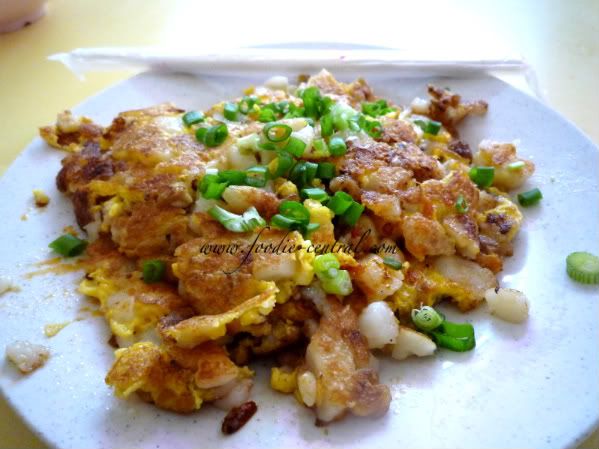 Chai Tow Kway
or Fried Radish Cake / Fried Carrot Cake is made from steamed rice flour, water and shredded radish which is then fried with egg, cured radish and sambal or chilli sauce for an added kick. The Chai Two Kway here had a nice crispy outer layer by frying the steam radish cake with eggs and seasoning but the radish cake was still soft and fluffy on the inside. Yum!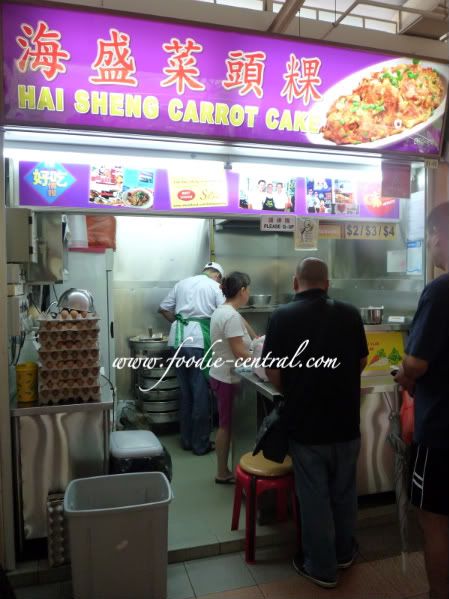 A picture of the Chai Two Kway stall.
Bedok Market
216 Bedok North Street 1
Singapore 460216
You Zha Kueh
Stall #01-43
Coffee and drinks
Next to the You Zha Kueh Stall
Hai Sheng Carrot Cake
Stall #01-49
View Larger Map