I blame it all on my ability to procrastinate for months on end which has been the cause for my lack of postings the last month and a half. You see the month of October has been full on with friends visiting from Malaysia, a birthday celebration, work and an exam which ended on 28th October (hooray!). I then said to myself "now that I have some free time I should really update my blog" but as you can see it is now towards the end of November that I find myself here writing this post..
I've been wanting to try out
Perama
after hearing about it from my colleagues, and more so after reading about it in
NQN
. This was back in 2009. After slightly more than a year later we find ourselves here at Perama ready for good food - bring it on!
H and I had decided on the
Banquet
menu ($55 per person) plus an extra course of Pork Belly Baklava (add another $4 per person) to be able to try the variety of dishes on the menu.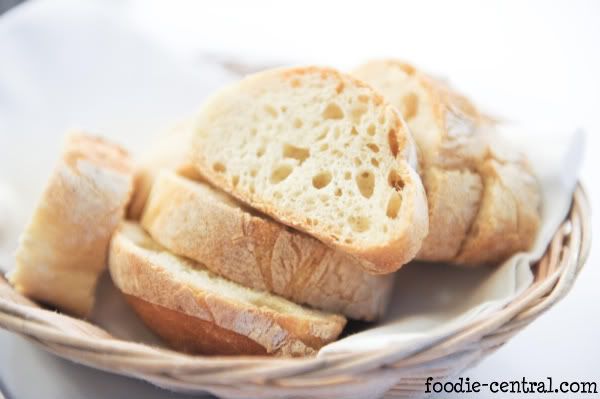 We start of with a
Basket of Bread
and dips (pictured below)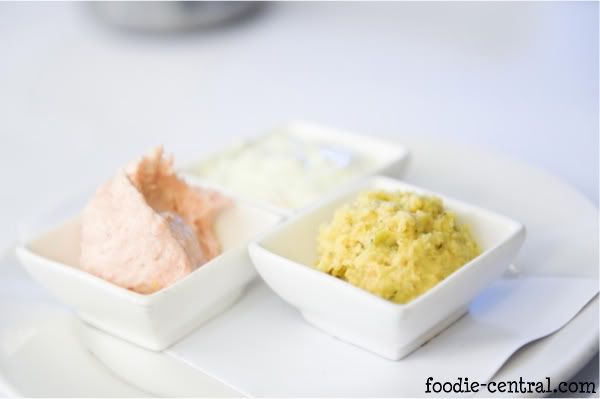 Dips - from left clockwise;
Tarama, Tzatziki and Split Pea
. The dips were deliciously refreshing with our favourite being the Tzatziki. H and I both agree that the Tzatziki was the best we've ever had.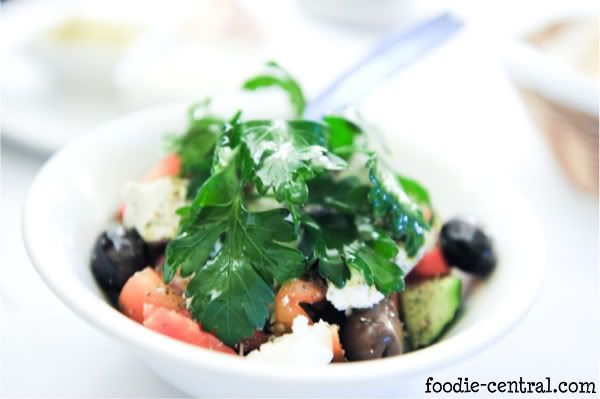 A great tasting
Greek Salad
- Fresh ingredients served with a whole lot of oregano.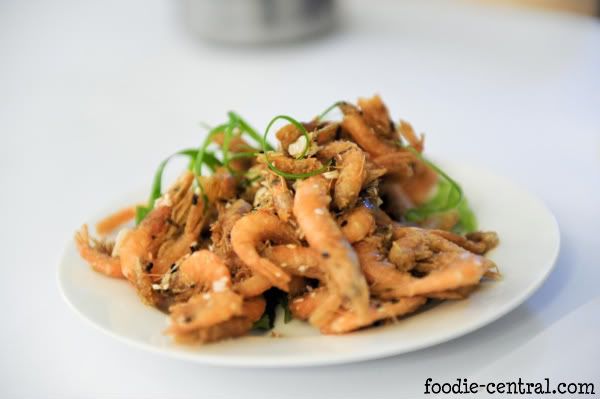 Fried School Prawns
tossed in a honey, fish sauce, sesame seed and flaked almond dressing - OMG this dish was super addictive. I couldn't stop myself from picking up the prawns and popping it in my mouth, shell and all, even when I was almost to the point of bursting and knowing we still had the main dish to come. This dish reminded me very much of Asia where you'll sit in a bar drinking an ice cold beer and snacking on a dish such as this.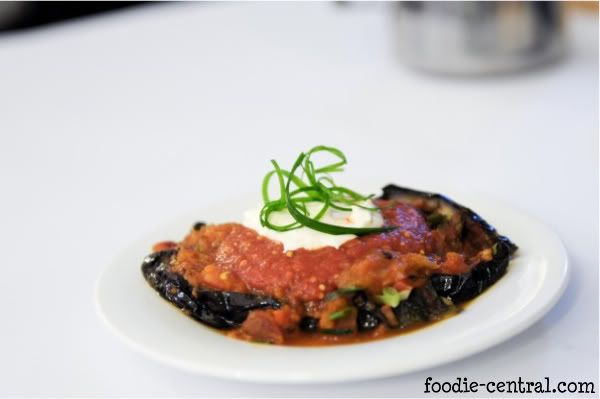 Another beautiful dish the
Imambaldi
(roasted eggplant wedges stuffed with a spicy tomato mix and served with a spiced yogurt) was melt-in-your-mouth delicious and without a hint of oiliness too. The tomato mix brought a nice tanginess to the creamy texture of the eggplant. One of my favourites of the night.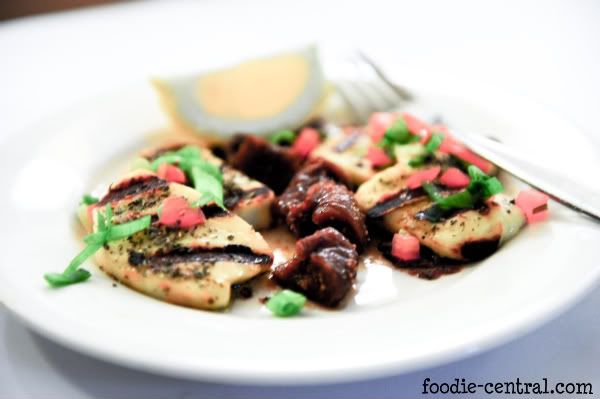 BBQ Haloumi Cheese w/ Honey Peppered Figs
- The roasted honey peppered figs was very very sweet and I wouldn't have enjoyed it if it was served as is but when paired with the saltiness of the Haloumi cheese and the slight sourness from a little lemon juice it creates a combination that awakens your tastebuds. Must try!
The
Vine Dolmathes
was light and tasty and seriously delicious. It wasn't starchy at all which I loved as I dislike super gluggy like rice dishes ala the Asian yum cha dish
Lo Mai Gai
(glutinuous sticky rice steam in lotus leaves).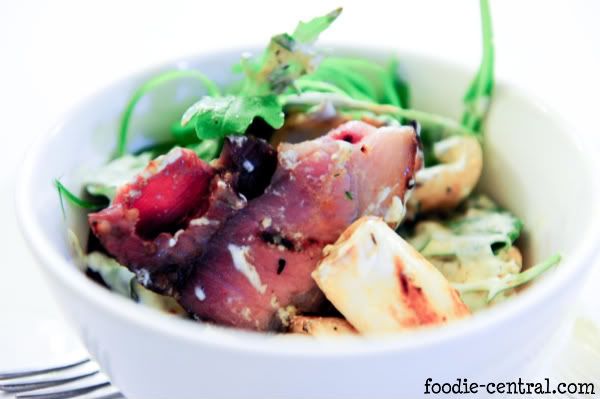 BBQ Calamari & Lountza
(Cypriot style smoked pork loin) served with a creamy mint and fetta dressing - I love sticking squid tendrils over a charcoal BBQ and see it all curl up and infuse with a lovely charred flavour and aroma. Perama's BBQ calamari was just that; tender calamari accompanied with the delicious Cypriot style smoked pork loin. Delicious!
We couldn't resist the
Pork Belly Baklava
when we saw this on the main menu and had asked to add this to our banquet for an additional $4 per person. Layers of flaky filo pastry, pork belly meat, date and pistachios topped with crispy crackling and served with a date and mastic sauce this was just super delicious. It's such a unique combination of sweet and savoury, especially when you get a bite of belly fat .... yum!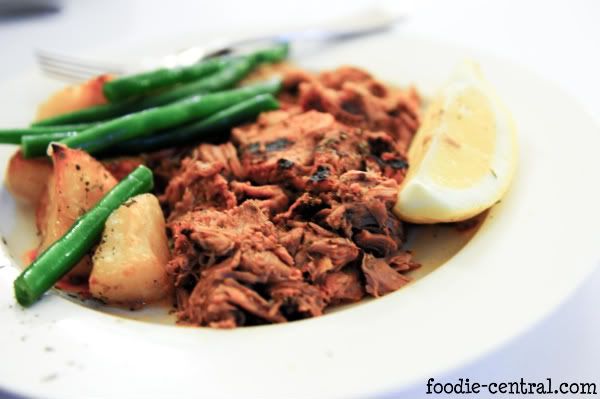 Even before this dish arrived,
Lamb Skaras
served with baked potatoes, I was regretting not pacing myself (I blame it all on the Fried School Prawns) as my tummy was already at bursting point and I just couldn't finish this dish. The lamb itself was quite dry but the potatoes were cooked beautifully, crispy on the outside and soft and creamy on the inside.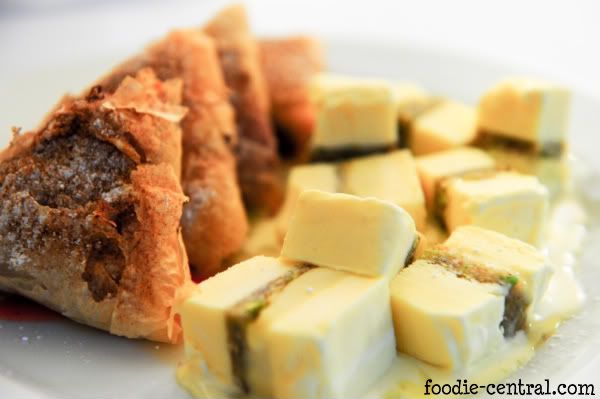 Our lovely waiter gave us extra servings of the
Caramel Baklava Ice Cream
(sliced layers of vanilla bean ice cream, caramel sauce and baklava) and
Berry Bougatsa.
They were so good that I had to unbutton the top button on my jeans so that I could eat more of the delicious desserts (hehe).
I'm so glad that we finally made it to Perama as it offers beautiful food with lovely service. Even before paying for the bill we had already planned for our next visit which is to get more friends to come along with us so that we can order a wider variety of dishes.
88 Audley Street
Petersham NSW 2049
(02) 9569 7534
info@perama.com.au