After our fantastic dinner at
Souk in the City
I was very excited to try my hand at cooking a Moroccan inspired dinner with the goodies
Kate
from
Table of Plenty
had provided H and I. The next day I sent an invitation out to the gang for a "Moroccan" themed dinner at our place. Our usual dinner parties are more of a potluck nature, where each one brings a dish instead of the host preparing all the food but this time due to the last minute dinner invitation and everyone else's busy schedule the cooks for our Moroccan dinner would be SK, H and myself.
Goodies received from our Table of Plenty dinner at Souk in the City. From left, a bottle of preserved lemons, recipe cards, a box of tea glasses (3) and Table of Plenty Dukkah - Pistachio, Macadamia and Almond.
Rachel had brought along a bowl of hand torn
Baguette
and a Tzatziki dip which she had learnt from a family she lived with in WA during her practical course. You see, Rachel is studying to be a vet.
Rachel's Tzatziki Dip - Rich and creamy with a slight sourness from lemon juice I think. This went really well with the bread and was a great starter.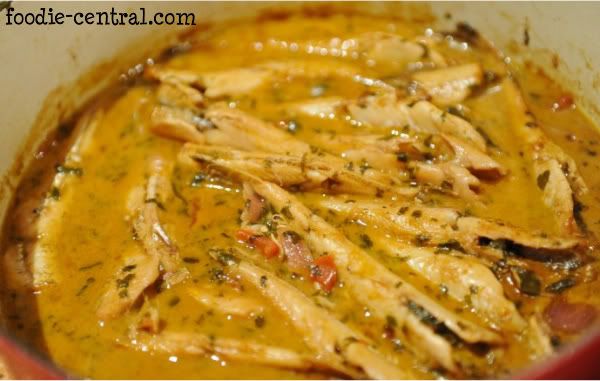 H's
Sand Whiting and Vegetable Chermoula Stew.
This was supposed to be cooked in a tagine but as we didn't have one he cooked it in a pot like a stew. I think we used the wrong fish here as they were lots of fine bones in this one and we had to be really really careful to not choke on one. H made the Chermoula with coriander, flat leaf parsley, garlic, cumin, paprika, cayenne pepper, salt and lemon juice. Other then the bones this dish proved a success with its slightly sourish sauce.
SK's
Olive Chicken
- The taste took some getting used to as I've never had olive chicken before but it definitely grew on me. I would definitely try this dish again.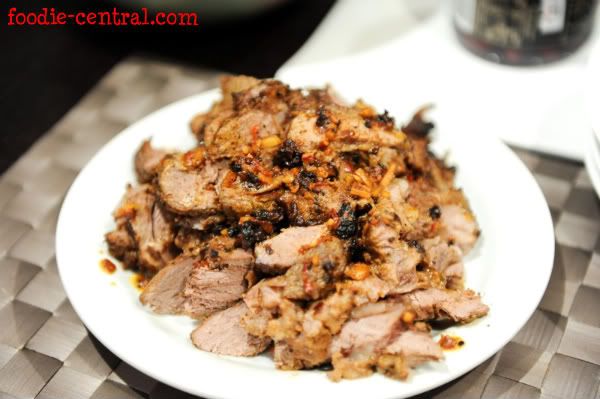 Moroccan Roast Lamb
- SK used a combination of spices such as cumin and coriander to marinate the lamb before roasting this in the oven. The lamb was slightly dry in some parts due to the inconsistent heat from my oven (I think the right side of the oven heats up more than the rest) but the lamb that was cooked on the other side was tender and pink with the subtle hint of spices :). SK also made a mint sauce to go with the lamb which was delicious.
Inspired by a similar dish we had at Souk in the City this was my version of
Prawns w/ Almond Dukkah
. I marinated the prawns in a little salt and a Moroccan spice mix which I bought from Green Valley Spices, Paddy's Market, Chinatown for about 30 minutes before adding the almond dukkah and leaving it for another 10 minutes before grilling the prawns on a hot grill. These were delicious and was one of favourites of the night.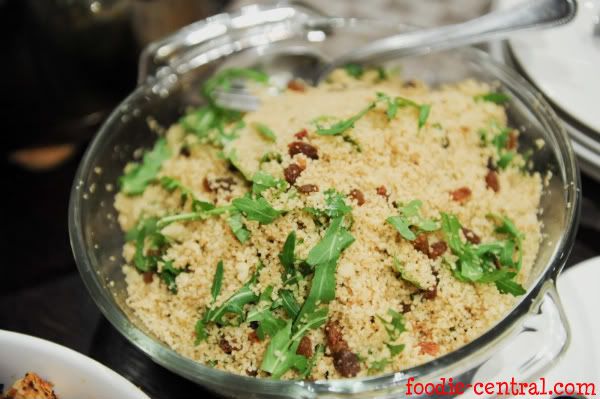 Couscous w/ Raisins and Rocket Leaves
- I've made couscous numerous times before and I still can't believe how easy and simple it is to make and it tastes great too! I used a 500g packet of instant couscous and 185g of seedless sultanas. Place both the couscous and sultanas into a large bowl and pour 500ml of boiling water into the bowl. Leave for 10 minutes to soak. Melt 125g of butter and add 1.5 tablespoon of ground cumin, 3 teaspoons of ground coriander, 1 teaspoon of salt and 1 tablespoon of almond dukkah. Stir through the couscous until evenly distributed. Finally, stir in the rocket leaves.
There was no vegetable dish planned for the night so I made a quick
Rocket Salad w/ Celery and Tomatoes
but I shouldn't have as everyone else was happy with the dishes put up and didn't need the vegies. Go figure.
We were all very full from the food that no one was interested in a heavy dessert. Luckily I still had some
Chocodate
left from my trip to Dubai. Chocodate, as the name would suggest, is made up of a dried date covered in rich chocolate. They proved a hit with everyone and was the perfect close to the evening.