drunken geisha is not a Japanese restaurant as the name would suggest but in fact is a little, cosy Malaysian & Singaporean restaurant situated in the suburb of Pyrmont in Sydney (just down the street from Indonesian restaurant 1945). The decor is warm and inviting (I love the dark grey wallpaper and designer lamps) - ideal for a romantic dinner for two or even a birthday party celebration for 6 which was the case for us that night.
We started off with
Air Bandung
($3.50) - Air Bandung is a combination of rose syrup and evaporated milk mixed together and served chilled. This brought back memories of buying air bandung from the drink cart at Night Markets where the air bandung was poured into plastic sheets tied at one end with rafia string.
I remembered when I was a little girl I used to love making air bandung not just with rose syrup and evaporated milk but with my secret ingredient of Ice Cream Soda (which is a clear, finely carbonated creamy vanilla flavoured soft drink which unfortunately is really hard to find nowadays).
Salt and Pepper Squid w/ Asian Salad and Lime Sauce
($9.90) - One of my favourite dishes of the night, the squid was fresh with a lovely light floured coating seasoned to perfection. I just want this plate all to myself!
Malaysian Style Curry Chicken
($15.20) - One of the better Malaysian curry chicken I have had in Sydney. The curry had a good balance of spices (not too overpowering) brought together with just the right amount of coconut cream. I have a huge dislike for food that has been doused with coconut milk/cream where all you can taste is coconut which is why I rarely have curry outside of home, unless we are having Indian curry of course!
Roti Canai
($3.00) - We ordered one serve of the Roti to go with the curry chicken. These were ordinary and taste very much like the ones you can buy from the frozen section of Asian Groceries.
Beef Rendang
($15.20) - H loved drunken geisha's beef rendang saying that it reminded him of mum's home-cooked rendang. H said this rendang dish was the most authentic rendang dish that he has ever had outside of South-East Asia. The rest of us Malaysians in the group gave this the thumbs up as well. A great combination of spices leading to a creamy, slightly nutty sauce and tender beef.
Chargrilled Sambal Fish Wrapped in Banana Leaf (market price)
- We were very excited when we saw this on the menu as it's very hard to find a place that serves Grilled Fish in Banana Leaf. I was a little disappointed when the dish arrived and we hastily opened up the banana leaf to reveal a fish fillet (basa fillet) instead of a whole fish. But taste wise, this was really good. All the better when we saw the cencaluk (fermented baby shrimps) served in a little saucer on the plate. Not only was this the right accompaniment for the dish, the cencaluk was also really
shiok
!
Sambal Eggplant w/ Traditional Village Sauce
($9.90) - I wasn't too fond of this dish as the sambal didn't taste like the sambal I know. I'm guessing the sauce was a mix of sambal and traditional village sauce, from Kuching perhaps (I'm only guessing as the owners are from Kuching?). Malaysia is pretty big with a huge and diverse range of food, even the ingredients use in popular dishes like curry or rendang will differ between each family.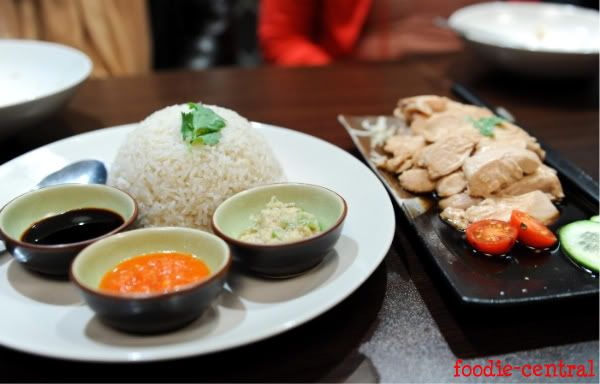 Hainanese Chicken Rice
(Saturdays only) ($13.90) -
The highlight of this dish were the sauces. The rice was pretty light in flavour and the chicken was so-so but eating the two with the sauces on top brought me home to my local Hainanese Chicken Rice store in Melaka.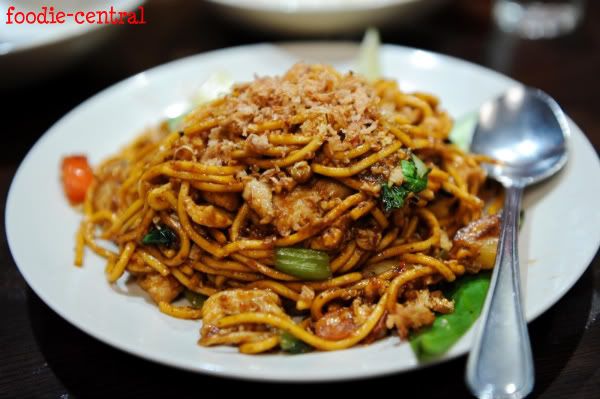 Mee Goreng ($12.90) - Spicy fried egg noodles with chicken, potatoes, tomatoes and eggs (additional $3 for prawns).
A lovely dish that
did
taste of something you would get back home. The only thing missing was the charred flavour.
Something from their fusion menu -
Pan Fried Miso Barramundi Fillet w/ Oyster Mushrooms and Spinach
($18.90). I loved biting into this dish as the fish was fresh and the miso sauce delicious. I would have loved it even more if the fish was cut a little chunkier so that I could have gotten a really nice satisfying bite out of it.
I think I've found my favourite Malaysian restaurant in Sydney. Authentic and quality dishes combined with great service and a cosy ambience. Plus it's not too pricey too!
Note: Best to make a booking before heading to the restaurant as we saw lots of people turned away because they were full or had bookings in place.
drunken geisha
50 Harris Street
Pyrmont NSW
tel: 02 9660 6216
email: drunkengeisha@bigpond.com
Opening Hours
Mon - Fri : 6 pm -10 pm
Sat : 12.30 pm - 2.30 pm and 6 pm-12 pm