A couple of weeks ago, ok more like a month and a half ago, I had received a call from Fiona from Marks Communication advising me that they wanted to send some Quorn products for us to "experiment" with at home. So, Fiona if you're reading this, apologies for the late posting!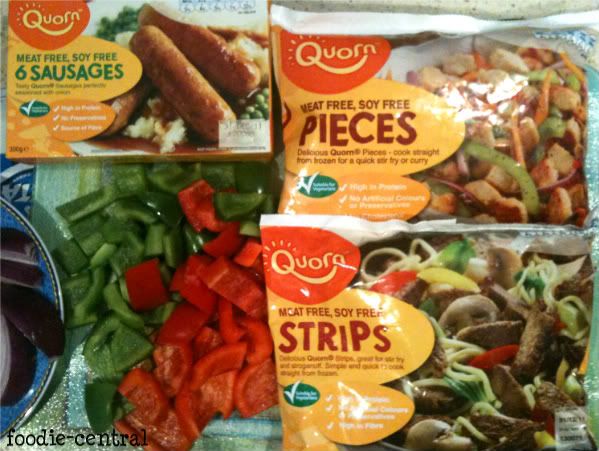 We received (clockwise from top left) Quorn Sausages, Quorn Pieces and Quorn Strips. I had a hard time deciding what to cook with them but I knew from my previous tasting of Quorn products at the
Quorn product lauch
that it had to be something with a tasty sauce. I went through cookbooks, cooking magazines and even the world wide web in search of ideas but it ended up with me cooking something closer to home.
I had a bout of diarrhoea (sorry I have to share this info!) on Friday and my tummy was still pretty sensitive come Saturday so I had decided to cook some
congee, Teow Chew style
. I made an oyster-soy stew type dish with the Quorn pieces and a stir-fry with the Quorn strips. I still have yet to cook the sausages so any suggestions are welcome.
Oyster-Soy Garlic Stew w/ Quorn Pieces
- You might be wondering about the lack of sauce if it's a stew? Blame it on the Quorn pieces as it had absorbed all the sauce! I was contemplating making more sauce but upon tasting one of the Quorn pieces I gave it the green light as it had absorbed all the beautiful flavours of the sauce. My favourite of the night.
Stir-Fry Quorn Strips w/ Oyster Sauce
- A very easy stir-fry as I used whatever I had in the pantry which were red and green capsicums, red onion and garlic together with oyster sauce and soy sauce. The key to a good stir fry is to not overcook the vegies. The Quorn packet actually tells you how to cook a stir-fry which was to cook the strips with the vegies and then to add the sauce. I felt that if I did it that way, my vegies would be overcooked. So what I did was to cook the vegies first, took them out of the pan and set them aside on a plate before cooking the strips. When the strips were cooked and the dish was almost done, I added the vegies back in.
I find that it was really easy and quick to cook with the two Quorn products above. It would be great for when you're working late and still want to eat a nice home-cooked meal when you get home as it absorbs flavours and sauces beautifully without having to cook and/or marinade the meat for ages. It was also really filling and filled up my appetite nicely. Coincidentally while shopping for groceries today at Coles I saw a number of Quorn products in the freezer aisle.
Oyster-Soy Garlic Stew
2 cloves garlic, whole and skin peeled
2 tablespoon soy sauce
2 tablespoon sweet soy sauce
1 teaspoon oyster sauce
little bit of water (200ml)
cracked black pepper to taste
Fresh red chillies (optional) - I would usually add chillies in this dish but due to my sensitive stomach I left it out this time round
1. I first browned the Quorn pieces as per the directions found on back of the package. I found that it took a really long time to brown and bits of the Quorn pieces were breaking due to my constant stirring. If you're making with chicken or pork, pan fry the meat until brown and almost cooked. Take them out of the pan.
2. In the same pan add the three sauces with a little bit of water and put in the garlic. Stir until almost to the boil then add in the meat and reduce heat to low. Simmer until the sauce reduces by half. If the sauce is too runny, add a teaspoon of cornstarch mixed with a little water, mix well, and pour while stirring into the pan.
Stir-Fry w/ Oyster Sauce
2 cloves garlic finely chopped
1 medium red onion, quartered
1 red capsicum, sliced
1 green capsicum, sliced
2 tablespoon soy sauce
1 teaspoon oyster sauce
1 tablespoon oil
100ml water
cracked black pepper to taste
1. Heat up your pan, add oil and swirl to coat. Put in the garlic and onion and stir until the onions are almost cooked. Add in the capsicums. When the vegies are cooked take them out of the pan.
2. In another pan brown the Quorn strips. Once browned add in the sauces and water. Make sure you keep stirring and also give enough time for the Quorn strips to absorb the sauce. Once the strips are cooked add in the vegies and give it a good stir through to ensure the vegies are well coated with sauce and it's ready to serve. If the sauce is quite runny, add in corn starch as described above under the recipe for Oyster-Soy Garlic Stew.
foodie-central received the Quorn products above courtesy of Marks Communications