H and I were walking down Victoria Road in Darlinghurst when we chanced upon wowcow. They serve 98% fat free yoghurt with a wide selection of toppings.
We had a choice of 4 different flavoured yoghurt - Original, Apple Pie, Chocolate and Wild Berry. I chose chocolate with two toppings, Oreo and Flake - yum!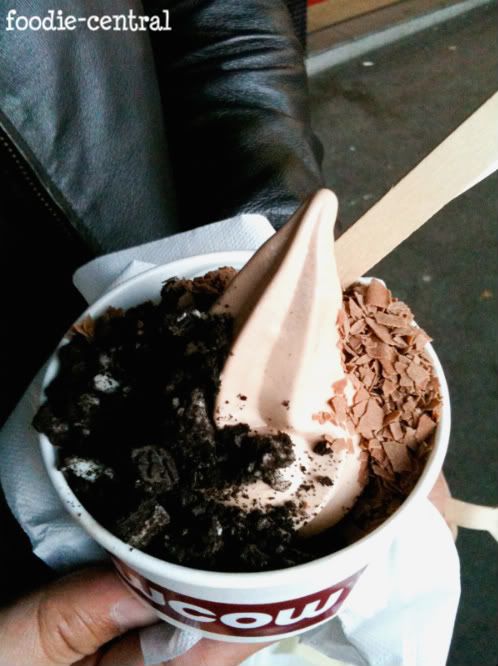 Chocolate Flavoured Yoghurt with Oreo and Flake toppings. The chocolate was amazingly creamy with a slight yoghurty sourness. I'm not a big fan of sour food but the toppings masked the sourness of the yoghurt. Delicious!
Toppings Bar
- They have Tim Tam, M&Ms, Oreos, Flake, crushed peanuts, granola, crumble, strawberries, passionfruit, mango, coulis and many more..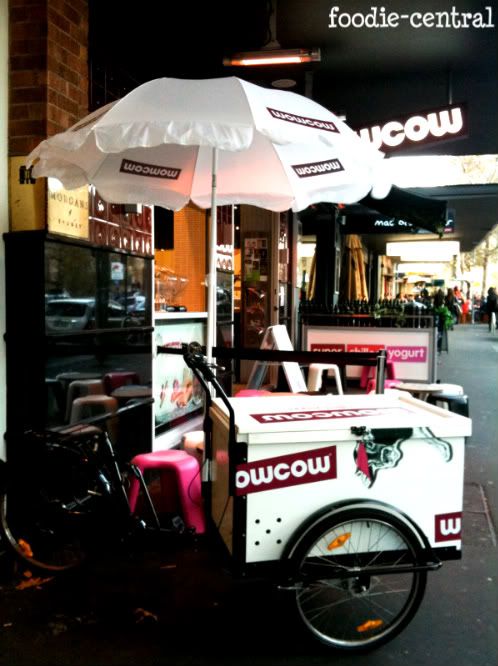 The cute wowcow cart outside the store.
wowcow
Shop 2, 304-308 Victoria Street
Darlinghurst NSW 2010
(02) 9326 0400
Opening Times
Sun-Thurs 12 midday – 11pm
Friday 12 midday – 12 midnight
Sat 12 midday – 12 midnight