Here I was, getting my feet out of the cab thinking, why did I agree to go to a non-soy vegetarian food product launch? Daphne had been invited and asked me to come along for the experience so I thought it would be something different.
When I got out of the cab, the smell of food (the non-vegetarian kind) and clanging of wine glasses from the next door Clock Hotel was more inviting at that moment. We're in Surry Hills for goodness sake and I'm a carnivore when placed in the food chain.
We were warmly greeted by the staff at Mark's Communications on the ground floor and taken up the stairs to the open wooden deck on the upper floor blanketed by the clear night sky and lit by soft candle lights. There was a man playing a classical guitar strumming Spanish inspired tunes. My urge to be at the Clock Hotel was slowly diminishing. Next to the guitar-playing man, there was a table set up with a waitstaff waiting at the back eager to serve a variety of wine and champagne. My Clock Hotel urge is now completely extinguished.
We started talking to one of the Quorn representative while Ms S busily grabbed her first glass of wine. While we were chatting, the tapas were served with a plate of the Quorn Dippers being the first.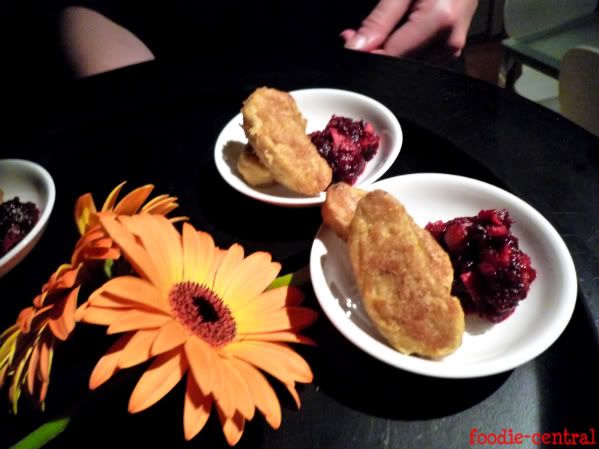 Chicken style Quorn dippers in a light crispy batter topped with a spiced beetroot and apple relish
As I took a bite into the Quorn Dipper, I was wondering to myself, why would they serve chicken nuggets in a vegetarian food launch? I started to look around and saw the array of boxed Quorn products and noticed one that read "dippers" and realised that was what I was eating. I tried a second bite and was utterly NOT convinced that it was not chicken meat! It tasted like chicken and the texture was exactly the same.
I asked the Quorn representative and she explained that this was one of their product and not made of meat for sure. I was then curious and she wouldn't tell me what it was. I asked for seconds as I was really enjoying the dippers and as I raved about how good it tasted, I couldn't refrain myself from calling it chicken nugget!
The Quorn Dipper tasted exactly like chicken nugget (texture and all) and it really went well with the Beetroot and Apple Relish.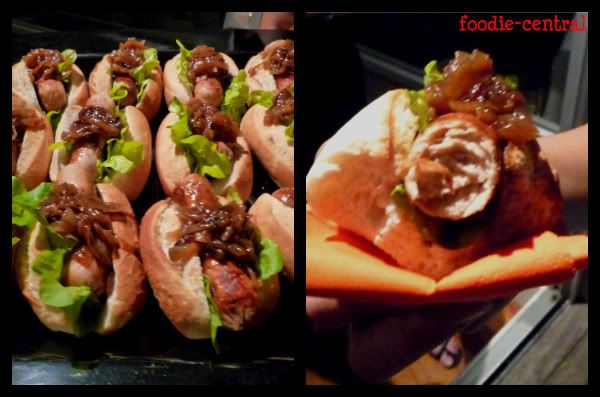 Oven baked mini baguettes filled with pan fried Quorn sausages, caramelised onion and drizzled with a maple syrup and balsamic cream
As I was raving about the "chicken nuggets", the next tray came out and it was hot dogs. I picked one up and took a quick whiff. It smelled like hot dogs to me so I took one bite. The sausage unbelievably had the exact texture of the sausages that you get off your deli. I actually like the taste of this one better as it didn't have that somewhat "meaty" taste (I know, stupid me right?). But the highlight of the Quorn sausage over the meat kind was that it had a clean taste to it. Not oily at all!
A subtle taste of India-Tender Quorn pieces brushed with Tikka marsala and studded with lime wedges
The Quorn Pieces (chicken meat-like bites) were evident that they were not made of chicken or meat. While it is not distinguishable in other forms (dippers, sausages), when it comes to actual meat pieces it would be hard to emulate the real deal. The Quorn pieces however had the texture of meat with each bite. The texture changed as you chewed on and you would then know that it wasn't meat. The Tikka marsala sauce was a bit too tangy for my liking but I was there to taste Quorn and not the marsala sauce. =)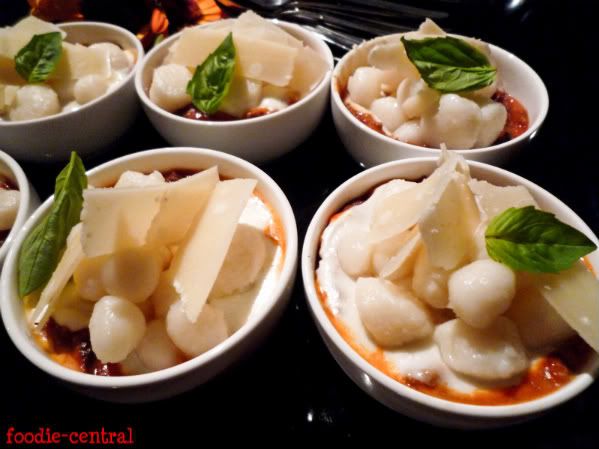 Gnocchi Bolognese Bakes - pots of rich Quorn mince Bolognese sauce, topped with fresh mozzarella and baked until golden then topped with baby gnocchi, shaved parmesan and fresh basil
This was one of the best dishes of the night and was Ms D's favourite next to the Quorn Dippers. Everything just blended well in my mouth and the taste was very well-balanced. The Quorn mince was exactly like chicken mince - the texture at the very least, as the taste was masked by the Bolognese sauce. I would think I was eating chicken mince however and there was a vegetarian gentleman who couldn't eat this dish as he felt the mince texture was too much like meat. There... how's that for how real the mince was!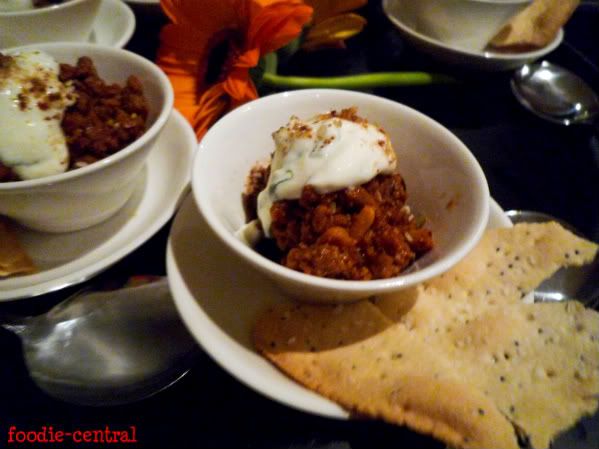 Middle Eastern spices panfried with Quorn mince, dolloped with a fresh mint yoghurt and sprinkled with dukkah
This dish was delicious as it was cooked well with the spices to give that Moroccan taste. The Quorn mince in this dish was not as "meat-like" as the one used for the Bolognese sauce. I think the dryness of this dish made the Quorn mince more brittle. Unlike chicken mince, Quorn mince would not produce juice when cooked hence would not be as moist. I could be wrong but perhaps it may be more ideal for saucy dishes rather than pan-fried dishes.
[No picture for this unfortunately]
Spanish inspired slices of Quorn sausage nestled in a warm smoky paprika, tomato & olive salsa
The Quorn sausage in this dish was more evident that it was not meat as compared to the hot dogs. The texture of the sausage somewhat was different in this dish as I think for this kind of dish, the sausage needs to be "hardened" - this one was too soft. But that is just my personal opinion though. Wonder if they still had more of those hot dogs...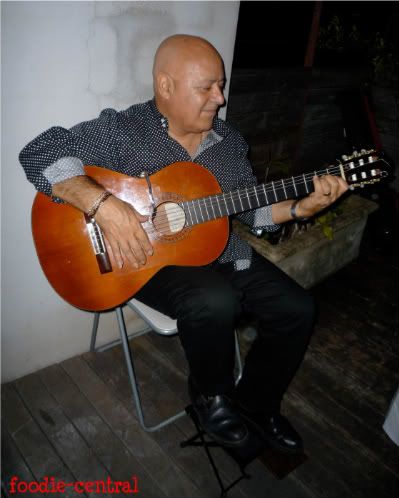 The musically talented gentleman responsible for the added ambience for the night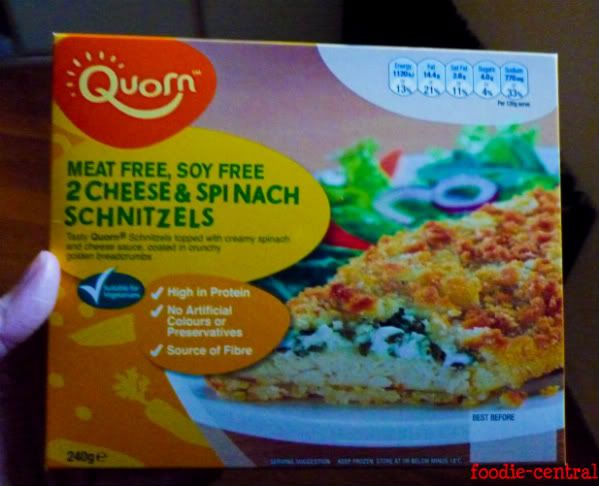 Sample of Quorn product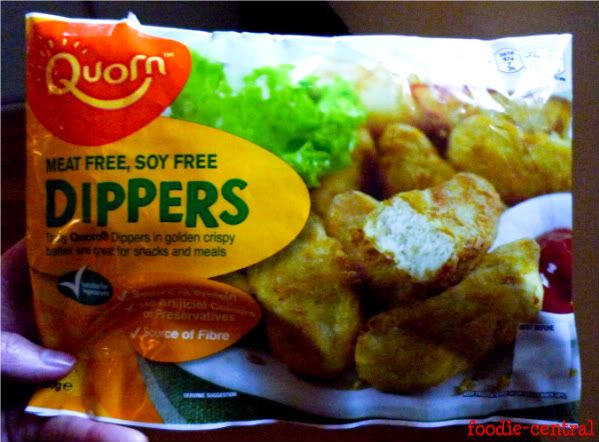 Sample of Quorn product - My favourite!
So how did the night end up? I was pleasantly surprised. I never realised that vegetarian food can be this exciting. I can now let all my vegetarian friends know that they can stop missing out!
I learnt a lot as well and I learnt that the main ingredient of Quorn is mycoprotein - food made by the fermentation of the fungus, Fusarium gramineurum. Mycoprotein is high in protein and a great substitute for meat. Quorn is not designed specifically with vegetarian in mind, it is also targeted for individuals who would like to reduce their intake of meat. Quorn is naturally low in fat, high in protein and has zero cholesterol. Almost all of Quorn product has the Heart Foundation Tick and is ideal for the health conscious consumers.
While Quorn has been around in the UK since the early 1960's, we were honoured to be one of the first few in Australia to be able to sample Quorn products.
Quorn will be available in Australian retailers in their frozen food section come June 2010. I'm creating space in my freezer now in readiness to stock-pile my Quorn dippers!
www.quorn.co.uk
Available in your supermarket June 2010
We were invited as guest of Marks Communication.
H