Singapore's famous Newton Food Court!
I had arranged to meet up with old friends at Newton Food Court. I've heard many good things about the food but have never actually been until now. Upon arrival the place was packed. We looked high and low for a free table until we spot a couple vacating theirs and some of us being the
"kiasu"
people that we are, rushed forward to grab the table in competition with other unlucky diners looking for a seat that night. We won that round.
Drinks - Lime Juice and Soya Bean
Amongst the many shops at Newton Food Court the boys always go for "Marge Simpson's" shop (Stall number 69). They call her Marge Simpson just because she has big hair that was piled up high just like Homer's wife! I wanted to take a picture of her (hair and all) but she has this "don't-mess-with-me" attitude and I was too scared to ask! haha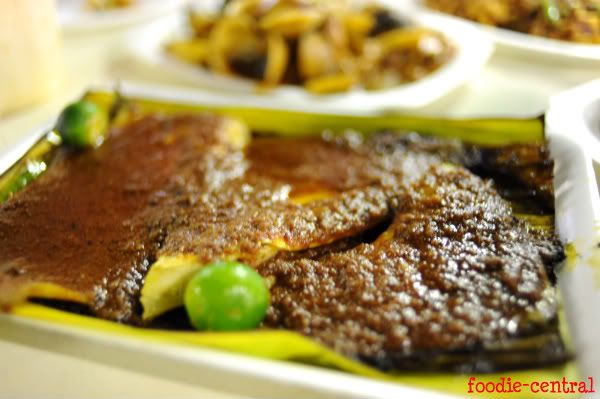 The famous
Sambal Stingray. For those who's never heard of Stingray or Ikan Pari in Malay this fish is awesome as it is made up mainly of meat and cartilage. The meat taste sweet and moist and is ideal for grilling - wrapped in banana leaf over a charcoal BBQ or even in curry. Sadly however it's hard to find stingrays in seafood markets in Sydney. They normally have skates instead and the meat is much tougher than that of stingray's, making it not as ideal for grilling.
Back to the food. I found the sambal pretty tasty. It had a good blend of spices and a hint of dried prawns which gave the sambal susbstance. It went really well with the perfectly cooked fish.
Another favourite amongst the locals - Oyster Egg Omelette. However the ones we had were pretty ordinary in taste with some parts over-cooked :(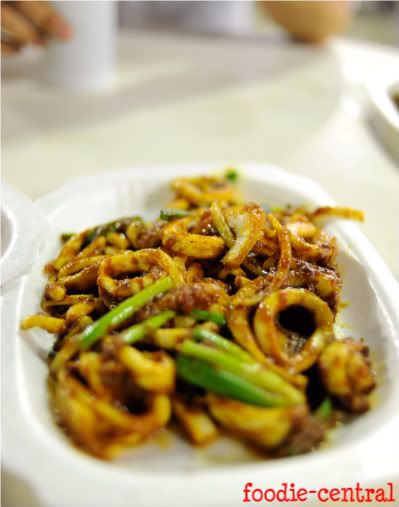 Sambal Squid - The squid was stir-fried in sambal, onions and green onions. I found this dish pretty ordinary as there was nothing there to excite the taste buds.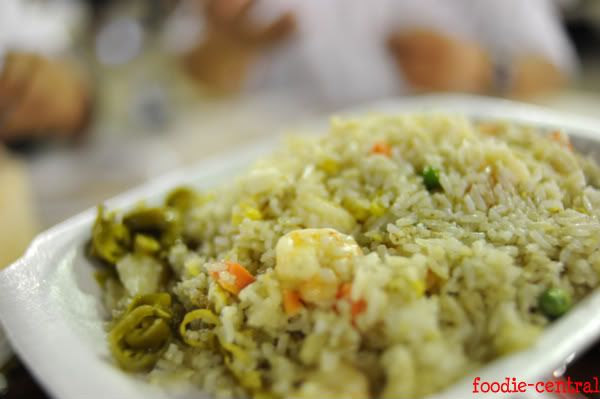 For sustenance we had ordered the Fried Rice. The rice had prawns, chicken, eggs and the usual frozen peas and carrots with a side of slightly pickled green chillies. This was a very tasty dish and I couldn't help myself from going back for seconds. One of the better dishes of the night.
Newton Food Centre
Newton Circus
Singapore