My uncle, a die-hard-foodie who travels the world to eat, has offered to bring me out for dinner on one Monday night (yay!). He said "Meet me at
Heeren
at 6.30pm and I'll bring you out for dinner". Dutifully, I arrived at our meeting point at 6.30pm on the dot with my bags of shopping from a whole day out on Orchard Road. One can never walk along Orchard Road and not buy something. But I have to say, things are not all that cheap as compared to my previous trips or maybe I've just grown "wiser" (read : older) and have to factor in paying for a mortgage amongst other things associated with adulthood. But that's a story for another day...
I was perplexed when we headed off to
Terminal 3 (T3) Changi Airport
but all was revealed when we walked up to the
Crowne Plaza Hotel
situated in the vicinity of Changi Airport which is linked to T3 via covered walkways. Imperial Treasure, situated in the lobby of the hotel was half full when we arrived. Not bad for a restaurant situated all the way at the airport I thought.
Uncle C was greeted by name upon entering the restaurant and spoke to the waitstaff like old friends. I later learnt that he eats here at least once a month plus whenever he sends off his travelling friends and relatives at the airport, he would take the opportunity to dine there. He then proceeded to order our dishes without even having to look at the menu. I was impressed, however this meant that I didn't get the chance to peruse the menu and note down the names of the dishes he had ordered. Hence the names of the dishes below are just descriptions obtained from Uncle C.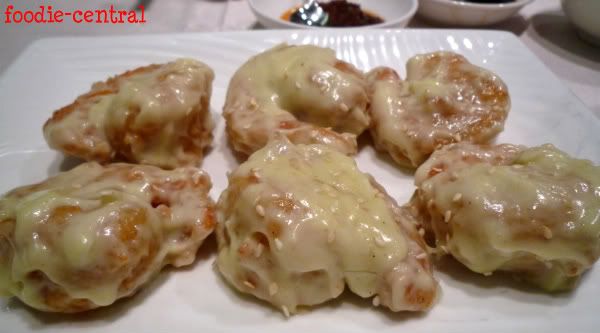 We start off with Wasabi Prawns. The prawns were huge in size and were very fresh. Deep fried in special batter (that somehow didn't turn soggy) and smothered with wasabi-mayo. This dish was truly and amazingly delicious. My teeth biting through the crunch of golden batter was pleasantly greeted by the fresh, succulent prawn. The wasabi-mayo added a delectable touch to the taste and brought about a certain zing to the whole experience.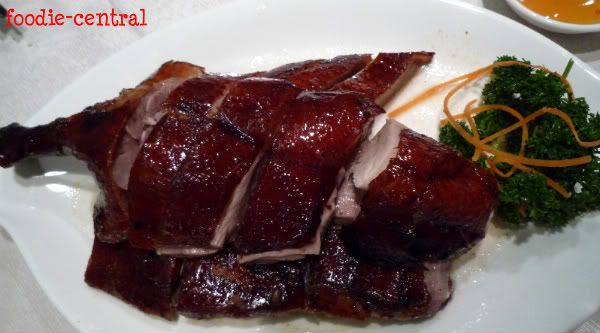 This was the best Roast Goose I've ever tasted. The meat was tender, succulent and cooked with just the right amount of seasoning that it enhanced the natural flavours of the meat. Plus when you bite into a nice crispy skin with some fats still attached.... you would have thought you died and had gone to heaven.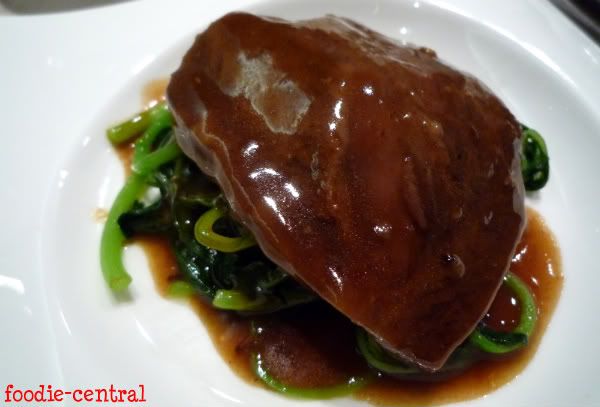 My favourite of the night was the Braised Beef Cheeks w/ Spinach. The meat just melts in your mouth. I also loved the sauce which was a reduction of the broth used to braised the beef cheeks. The sauce was rich and smooth and went really well with the spinach too. I lapped everything up, sauce and all, that by the time I was done with it, the plate looked rather "unused". Now, if only that had come in a larger bowl...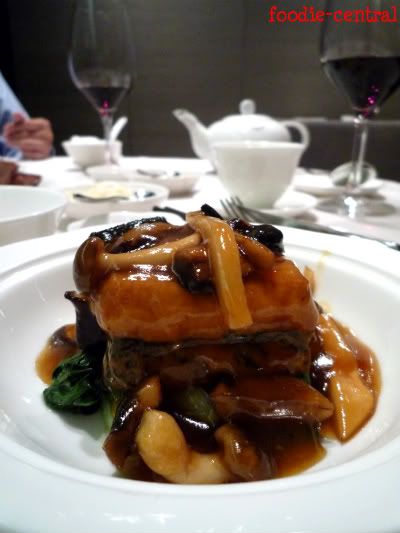 2 Layered Tofu w/ Chinese Mushrooms and Kai Lan - The tofu sat on top of a bed of kai lan and topped with beautifully cooked chinese mushrooms. Unlike the typical plain tofu, the tofu in this dish had been mixed with eggs which resulted in a richer and more flavourful dish.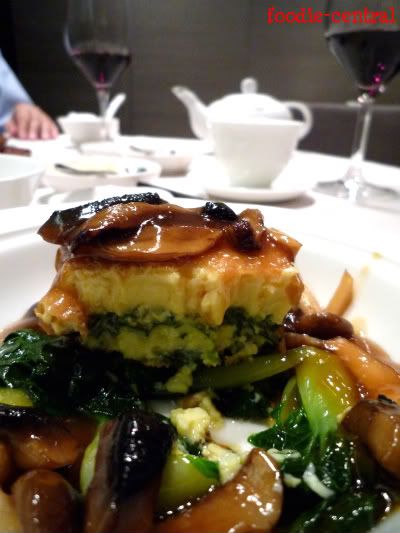 The top layer of this dish was just tofu whilst the second layer had a mixture of spinach and tofu.
Salted Fish Fried Rice - I have a penchant for Salted Fish Fried Rice and this was GOOD! Even though my stomach was about to explode from all those rich food, I had somehow managed to finish a bowl (I can't just give up and not try it right?) and I was glad I did. The fried rice was cooked not only with salted fish but it also had salted duck eggs, salted eggs and normal eggs making it a triple egg or double salted egg and salted fish fried rice. Deliciously yummy! We packed up the rest for Uncle C's son, Tim.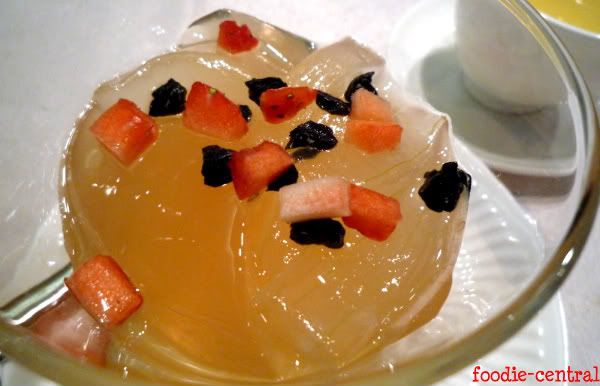 "A meal is never complete without dessert" says Uncle C and I whole-heartedly concurred with his statement even though I was stuffed to the brim. Dessert was a Green Apple and Sour Plum Jelly topped w/flecks of Strawberries and Sour Plum. The sourness of the jelly cut through the heavy meal we had and turned out to be a nice ending to this beautifully sumptuous meal.
I love Cantonese cooking when it's done beautifully. Much thought had gone into the selection of produce and the combination of ingredients used in each dish. The ingredients complemented or enhanced each produced that was used. Furthermore, the styles of Cantonese cooking also enhance the natural flavours and juices of each ingredient. I have to say, Imperial Treasure has succeeded in this aspect and I thank you for cooking and serving up great food. I am not surprised Uncle C has become such a regular patron and I would be too if I lived in Singapore.
Imperial Treasure @ T3 Changi Airport
75 Airport Boulevard
#01-02 Crowne Plaza Hotel
(next to Changi Airport T3)
Tel: +65 6822 8228
Opening Hours
Mon - Fri
11.30am-3pm, 6pm-11pm
Sat-Sun & Public Holiday
10.30am-3pm, 6pm-11pm