Singapore - the Lion City. A short trip to Singapore to visit family and friends and of course to eat!
I remember eating at Yhingthai Palace when I was younger with my grandparents, uncles and aunties and my numerous cousins. This was way back when they were still housed at Kallang Stadium but have now moved to Purvis Street (right behind the famous Raffles Hotel).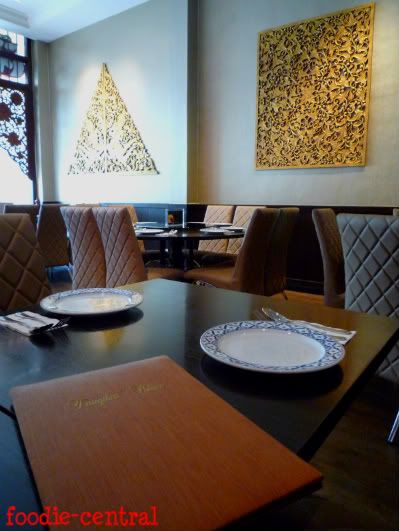 The decor
This trip I find myself, Aunty Swan and cousin N seated at Yhingthai Palace, stomachs at the ready for the food assault.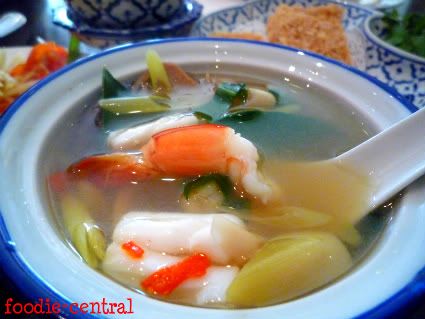 We started off with the Tom Yum Goong. It looked clear and refreshing but looks can certainly be deceiving. This soup packed a punch in terms of flavour; sour and spicy!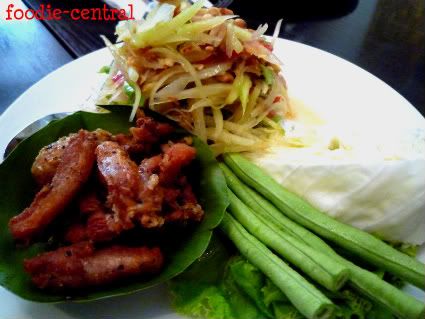 Papaya Salad w/ Chicken Pieces - The papaya salad was nothing to shout about but the deep fried chicken pieces were tasty!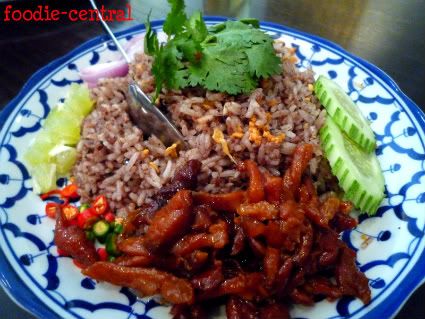 Olive Fried Rice - I've never had this dish in any other Thai eatery in Sydney. Can someone tell me if this is indeed a Thai dish? Thai dish or not, this dish was just delicious! It tasted nothing like olives but was just very tasty. The dish was accompanied with a side of marinated chicken topped with lightly fried garlic and shallots.
A specialty of Yhingthai Palace, the Stuffed Chicken Wings were carefully dissected and filled with chicken meat, mushroom and asparagus then sewn back together very carefully that you couldn't even tell that they were stuffed. More like very meaty chicken wings! They tasted gorgeous too.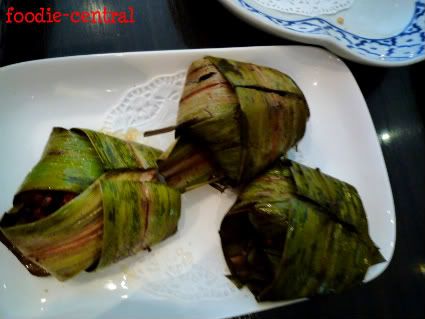 Whenever I eat at Yhingthai Palace I always ask for the
Pandan Chicken.
Marinated chicken wrapped in
pandan
leaves and then deep fried until succulent.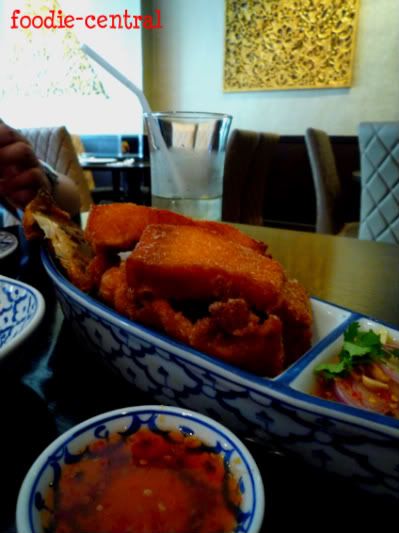 Deep Fried Garoupa w/ Special Chilli Sauce - This was delicious. The meat of the fish was succulent, rich and milky. Another specialty of Yhingthai Palace.
Our stomachs were on the brink of exploding by the time we finished all of the above (don't forget it was just the three of us) but we still soldiered on to dessert.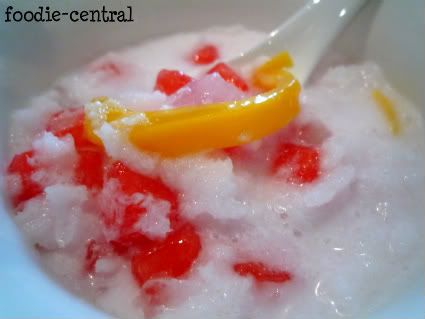 Red Ruby
- Finely shaved ice topped with coconut milk and
red rubies
(water chestnuts coated with tapioca flour) with slices of
jackfruit
. Sweet, light and refreshing; just the right dessert after a heavy meal.
Yhingthai Palace
36 Purvis Street
#01-04 Talib Centre
Singapore
+65 6337 1161