Chop Sam Guan or better known as Teow Chew Porridge (TCP) at Bunga Raya or Kg Jawa this establishment has been frequented by my family since I was a little girl. Porridge is more commonly known in the West as congee and as such I will refer to porridge as congee in this post. Unlike the Cantonese version of congee , the Teow Chew version starts with a bowl of plain white congee accompanied by its sidekick the kiam chye (preserved salted chinese mustard cabbage). However it doesn't just stop there as any other dishes that catch your fancy can be included to be eaten with your congee. My late grandma always adds lightly pan fried fish, salted eggs, soya chicken, pan fried vegs and steam egg to the kiam chye and plain congee.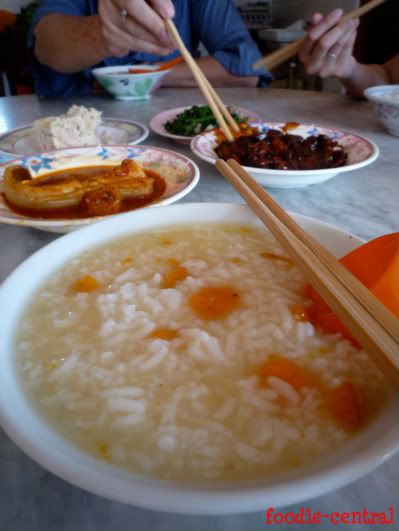 At TCP they have a choice of two types of congee; the plain white congee or the Sweet Potato version as seen in the pic above. Sweet potatoes are boiled and added to the plain white congee for added flavour.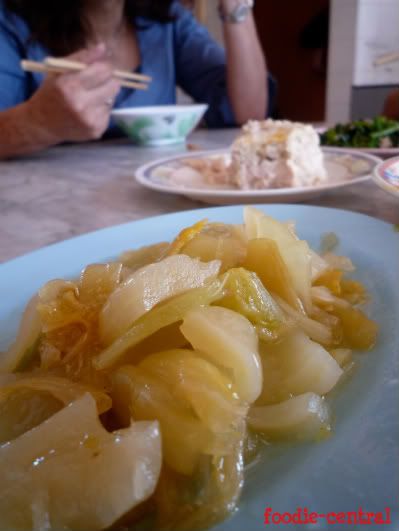 To accompany our porridge we had ordered the Kiam Chye (preserved salted Chinese mustard cabbage) which has been cooked until tender.
Lightly Fried
KangKung
(water spinach or also known as morning glory at Thai eateries)
with Minced Pork
.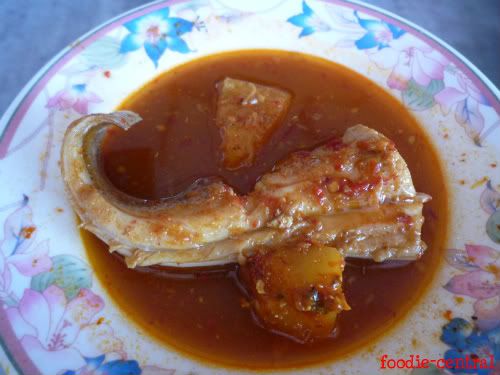 One of the reasons why I love eating in Malaysia is the diversity of food as well as the openness of the Malaysian people to the foods of other culture. The above dish
Assam Fish
whilst not typical in Teow Chew cooking (but greatly loved by Malaysian and Singaporean alike) have been added to the menu here at TCP. I just love how the people of Malaysia and Singapore adopt the foods of different races (Malay, Chinese, Indian and Eurasians being the four major race in Malaysia) and combined it into the hodgepodge that is Malaysian / Singaporean food.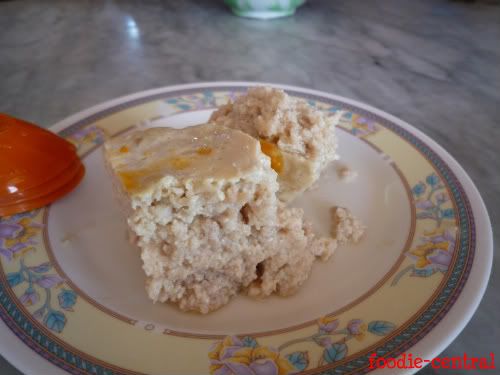 Steamed Minced Pork and Salted Egg - Picture biting into tender minced pork with hints of silky salted egg. Just delicious! One of my favourite dishes here at TCP.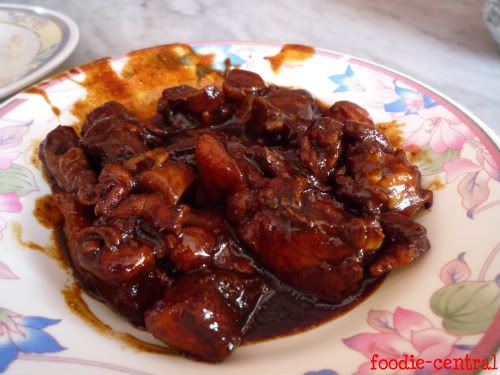 Another one of my favourites, Oyster Sauce Chicken. It's hard for me to describe the taste but once I start eating this I'll only stop once the plate is empty haha. I've tried creating this dish at home but no matter how many times I try it just doesn't taste the same.
Chop Sam Guan
Take the first left on Jalan Bunga Raya and the shop is at the corner of Jalan Jawa and Lorong Jambatan
Link to Google Map
http://maps.google.com.au/maps?utm_campaign=en_AU&utm_medium=ha&utm_source=en_AU-ha-apac-au-bk-gm&utm_term=google%20map
Only available during lunch hours