Nua Thai - Recommended by Mr Chef proved to be a great find for fusion Thai. It's situated on the Darlinghurst end of Crown Street tucked away beneath a block of apartments. The entrance is tiny but widens out to a lovely outdoor dining area at the back.
Duck Prawn Roll ($6.90) - These were delicious. The fillings were made up of chopped prawns and roast duck, mushroom, vermicelli and garlic served with plum sauce.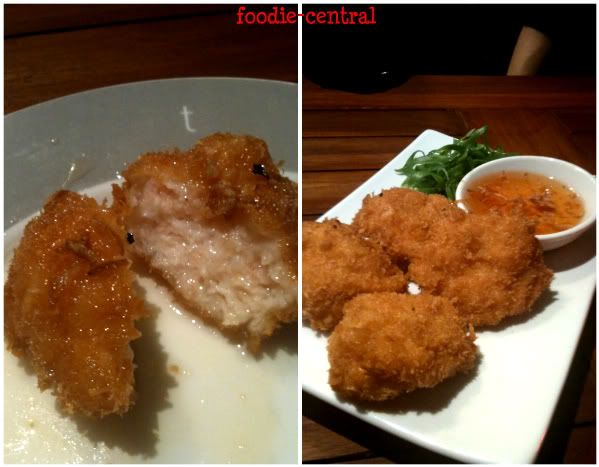 Next up - Prawn Cakes ($6.90). If you're thinking the Prawn Cakes look really oily (pic on the left) it's not that bad. It's just that the pic on the left had the plum sauce poured over it which made the prawn glisten. Back to the dish - These were absolutely lovely in taste; delicate prawn and hint of garlic. Love the texture too which were very much like fish ball. I highly recommend this dish!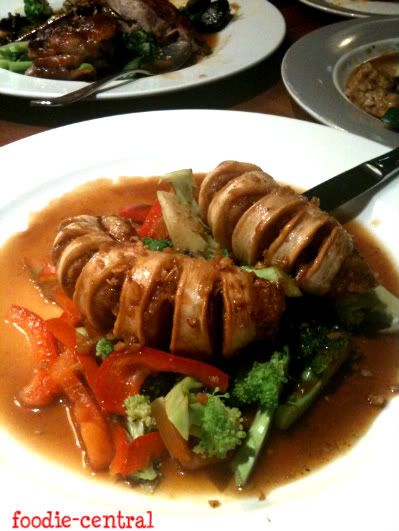 Recommended by Mr Chef was the
Garlic and Pepper Squid
($19.90). Fried whole sliced squid stuffed with minced chicken, vermicelli and fungi tossed with fried garlic and topped with a light tamarind and garlic sauce.
These were slightly different to the one Mr Chef had previously and we learned from the owner that they couldn't source the correct sized squid and therefore had to make do with two smaller sized squid which kinda changed the dynamics of the dish.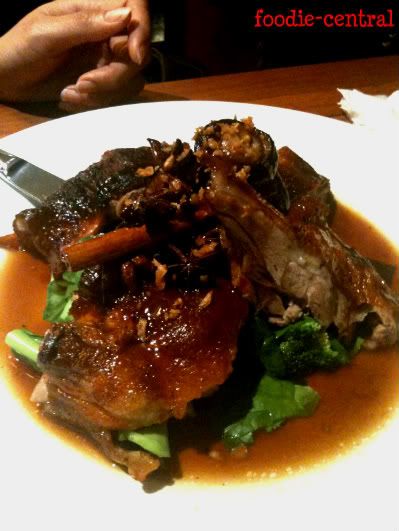 Nua's Special Heaven Duck ($22.90). Imagine tender roasted duck combined with plum sauce that's been infused with aromatic star anise and cinnamon. I found the sauce on the sweet side but was still delicious.
My favourite of the night was the Osso Bucco Massaman ($15.90). The lamb just melts in your mouth! The massaman curry sauce was good too and complemented the lamb really well. H's favourite too, especially since he got to have 2 serves of the bone marrow!
Our veg for the night was a Stir Fry Vegies with Ginger Sauce ($13.90). I love the ginger sauce. There was just the right combination of oyster sauce to ginger.
H and I will definitely be back to Nua Thai. Great food; served in generous portions combined with a relax atmosphere and great service.
Nua Thai
Shop 3, 265 Crown Street
Darlinghurst NSW 2010
(02) 8354 0123