We stumbled upon Yama Japanese restaurant last year while bringing my cousin, who flew in from Melbourne, out for a bout of Sydney shopping. Unfortunately we only had tea that first time which I wish wasn't the case cause we've been missing out all this time on Yama's delicious food.
H and I met up with Dr MC for what was suppose to be a quick coffee/tea catch up before she headed down to Wagaya for dinner with her doctor friends. But I was feeling tired and famished from donating blood 30 minutes before which was why we decided to head up to Yama; tea for Dr MC and dinner for us.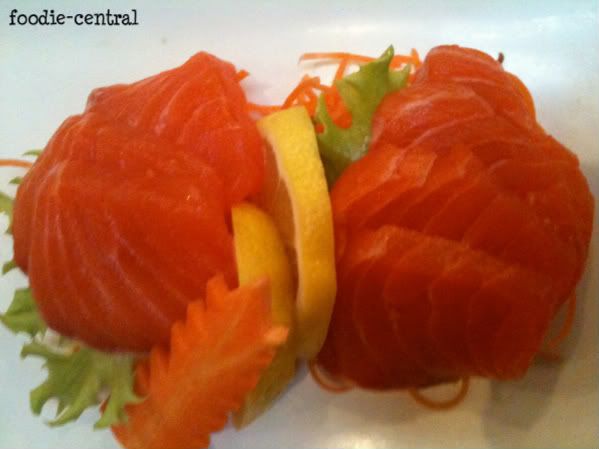 Once Dr MC had a look at the menu she couldn't resist ordering the Salmon Sashimi - Entree Size ($9.90). The salmon sashimi here was sooo good. They were so very fresh and sliced just right - not too thick but not too thin either. Yummy!
I had ordered the Yama Bento Box w/ Teriyaki Chicken ($24.90). The bento box came with a mix of Salmon and Tuna sashimi, assortment of nigiri sushi, miso soup and teriyaki chicken. The salmon sashimi was as delicious as the ones served to Dr MC. The tuna sashimi however was slightly dry and not as fresh compared to the salmon. I loved the Tamago nigiri as the rice was nicely flavoured and the egg - simply delicious! The teriyaki chicken was yum too. It was pretty salty but one of those things that you just can't stop eating.
H had ordered the Teriyaki Dinner Set ($29.80) which made up of a whole lot more then my Bento Box for an additional $4.90!
First to arrive was the Gyoza and Miso Soup. Yama's Gyoza was delicately flavoured with smooth silky skin. A pity some parts were slightly burnt.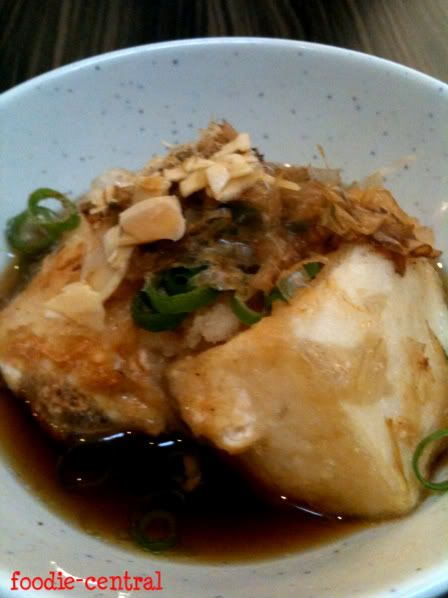 Agedashi Tofu - I found this to be pretty average but H loved it.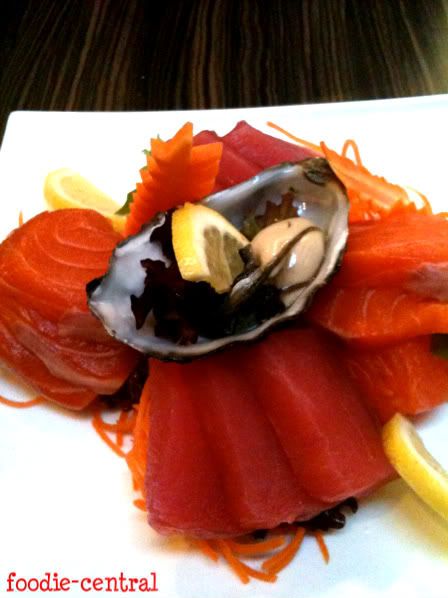 Sashimi Plate which had a mixture of Salmon and Tuna sashimi and the lone oyster. Look at that smooth glistening flesh of the oyster! This dish didn't disappoint!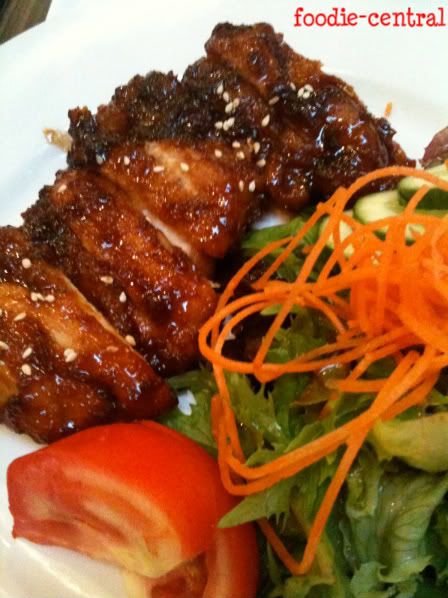 Final dish - a substantial serve of Teriyaki Chicken.
What a great find! I'm so excited to go back to try out some of their other dishes. The table next to us were raving about the desserts as well but we were stuffed just eating the ones we've already ordered.
Yama QVB
Shop 2-4, Level 2,
QVB Building,
455 George St
Sydney NSW 2000