Se Jong Korean Restaurant was a hard place to find, especially if you don't know your way around Campsie. It's tucked away next to Woolworths so you can't really see the place until you're almost in front of it!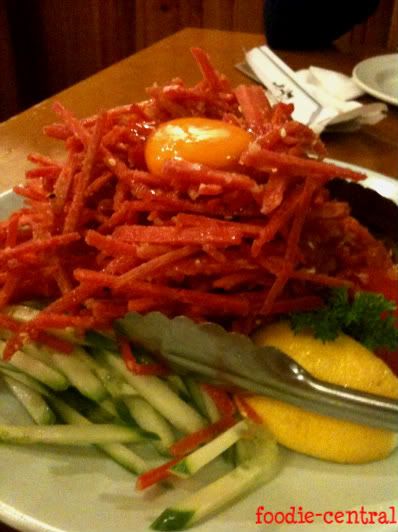 SY and I felt greedy tonight and ordered 3 dishes to share between us two. The first to arrive was the
Yukhwe - Shredded Raw Beef w/ Fresh Vegetables in Special Sauce
($15)
. Sadly the shredded beef was still semi-frozen when it arrived. I know it's suppose to be served chilled but frozen meat that hurts your teeth when you eat it is not a nice feeling. However, after letting it thaw for a bit the dish was much tastier. The seasoning was tasty and I love the addition of freshly sliced
yam bean
as it adds sweetness to the dish.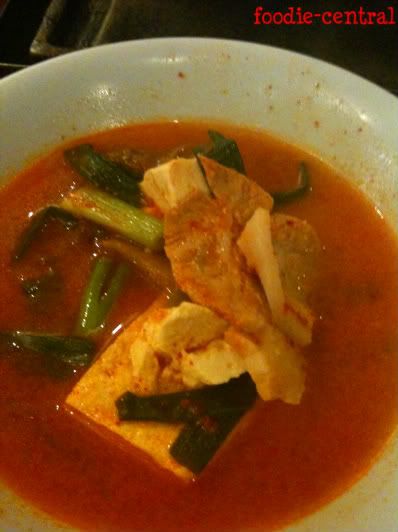 Next was SY's must have Korean dish which she judges all good Korean restaurant by and that's the Kimchi Chigae. Se Jong's was called Tofu Chigae - Hot Pot of Soft Beancurd, Seafood Mix w/ Chilli Paste ($10). Hmm I don't recall seeing any seafood in ours as it was only beancurd / vegies and sliced pork! Maybe we were given a different dish.. We both found the soup slightly bland compared to the ones you can get in the city but SY still finished the bowl clean. This girl just loves her Kimchi Chigae.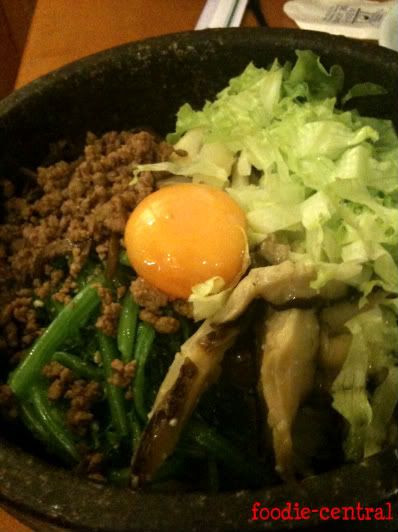 Last but not least was the Dolsot Bibimbap - Rice w/ Beef, Vegetables, Egg & Chilli Paste ($13). I found this was the weakest dish of the lot. Flavour wise it was pretty bland and the stoneware bowl wasn't hot enough to crisp up the rice.
All 3 dishes including a fanta and tea for 2 came up to $41 which was pretty good for a decent meal. I might go back to try the BBQ next time as that seemed pretty popular amongst the other diners.
ps. Apologies for the poor quality pics. I had forgotten my camera so pics were taken from my iphone.
Se Jong Korean Restaurant
68-72 Evaline Street
Campsie NSW 2194
Tel (02) 9718 4039