Wishing all readers a very merry christmas! Hoping your xmas is filled with good food and xmas cheer.
I've not posted much this past weeks mainly because I've been busy working, researching wedding locations and racking up my brains for xmas pressies that won't break the bank. I finally decided on baking brownies and giving this to friends and colleagues as gifts.
Double Chocolate and Pecan Brownie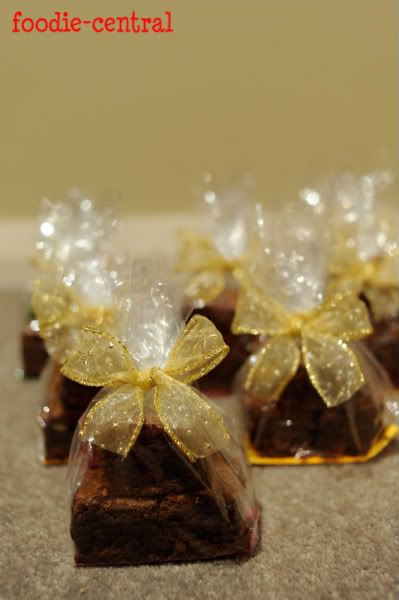 These brownies are a life saver whenever I have to bring a dish to a potluck or team lunch. Everyone seems to love it and I've never had a bad review so far :)
Ingredients
600g good quality dark chocolate, chopped coarsely
375g unsalted butter, chopped coarsely
400g caster sugar
6 eggs, beaten lightly
450g plain flour
110g self-raising flour
200g good quality dark chocolate, extra, chopped coarsely
200g roughly chopped pecan
Cocoa powder or icing sugar to dust
1. Preheat oven to 180'C (160'C fan-forced). Grease a 30cm x 40cm shallow cake pan. Line the base and sides with baking paper, extending the paper 3cm over the sides.
2. Place a heat proof bowl over boiling water. Add the chopped chocolate and butter to the bowl and stir until smooth.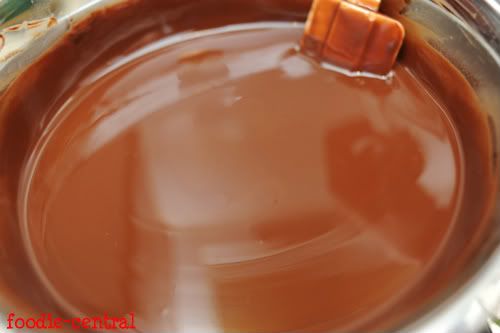 3. Cool for 10 minutes. Stir in sugar and eggs, then sifted flours, extra chocolate and pecan. Spread into prepared pan.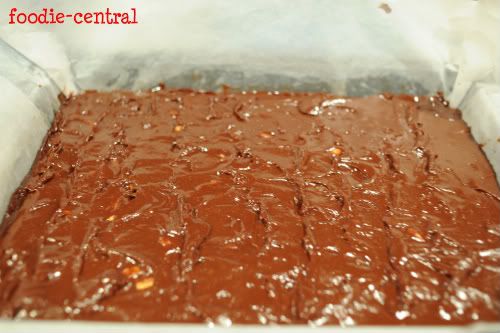 4. Bake for 35 minutes. Cool in pan. Dust with cocoa powder or icing sugar and cut into portions.
I ran out of icing sugar and cocoa powder so I've just cut the big brownie into 2cm x 2cm squares and wrapped them up in clear plastic and a ribbon tied at the top.