Our first dinner in Christchurch and we were both very excited to try
50 on Park
. Before our trip I've researched (as a good foodie should) places to eat and found this on
Dine Out
, New Zealand's equivalent to eatibility.com, with great reviews. They have a 3-course dinner for NZ$65 which I reckon was a steal.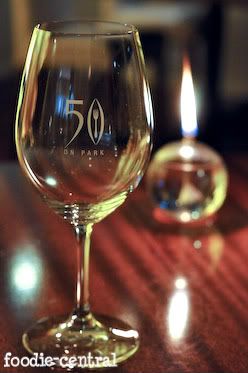 Although we didn't have any wine that night, I really loved this picture and have decided to include it anyway in my review ;) The other pictures though are not as nice due to the yellow / low lighting. Apologies.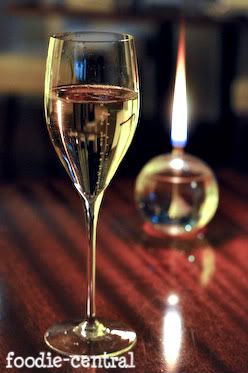 We did have a bottle of Bollinger (NZ$155) though as it was a night to celebrate! (H proposed and we were in NZ for a short engagement holiday. Plus claiming the GST back on the ring means the holiday was kind of paid for!)
For entree I choose the Confit Akaroa Salmon w/ wholemeal bread herb crumble, egg, avocado and watercress. This was absolutely delicious. The herb breadcrumb was tasty and went really well with the salmon, avocado puree and egg. The breadcrumb also added a different texture to the dish.
H ordered the Rabbit Pistachio Terrine w/ carrot relish, orange seeded mustard, truffle toast and celery cornichon salad which was also delicious. The bacon complemented the terrine really well that H commented that it tasted better with the bacon wrapped around it then without the bacon. The other accompaniments to the terrine were well thought of as it accentuated the taste of the terrine beautifully.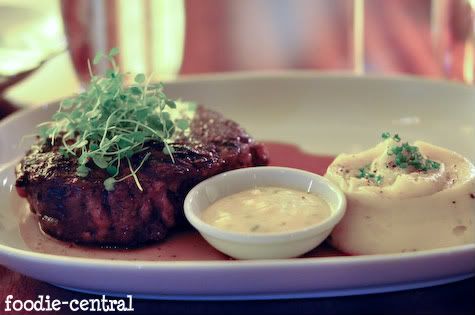 We both decided on the 300g Prime Beef Ribeye, cooked medium-rare, served w/ Bernaise sauce and Jus. The beef was cooked just the way I like it.
We also had a choice of 2 side dishes and mine were Creamy Potato Mash w/ Truffle Butter (absolutely yummy that if I could lick the plate I would have) and Carrot Cardamom Coriander & Edamame Salad. I found the Carrot Cardamom Salad very refreshing and makes a good palate cleanser too.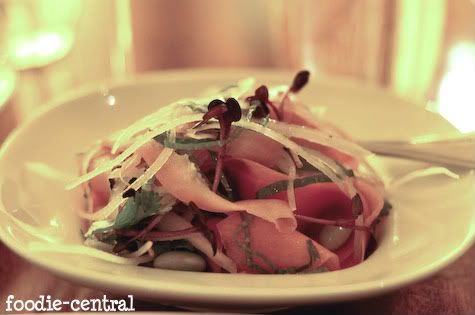 Carrot Cardamom Coriander & Edamame Salad
H decided on Hand Cut Fries w/ Ginger Salt & Wasabi Aioli and Mixed Lettuce & Micro Green Salad w/ Passionfruit Dressing. The hand cut fries or wedges were good. Crispy on the outside and soft on the insides. The passionfruit dressing on the salad was WOW. It brought normal salad leaves up a notch to restaurant quality salad. H however regretted not ordering the Cabbage & Bacon Saute (in duck fat). Next time perhaps as we will definitely be back.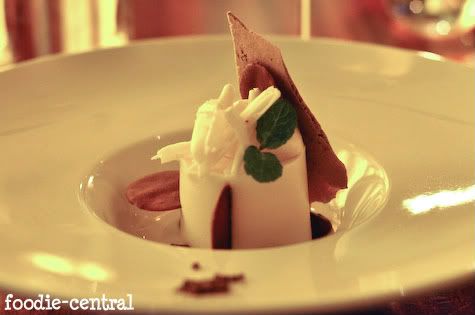 White Chocolate Marquise, Dark Chocolate Textures and Tart Cherry Gel. I love the texture of the marquise and the melt in your mouth dark chocolate. Yummy!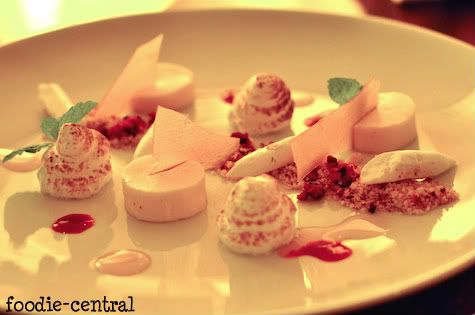 Recommended by the knowledgeable waitress this "not so lemon meringue pie", lemon curd, rose meringue, shortbread crumble and raspberries was not just gorgeous to look at but delectable to eat. Note the different textures on the plate which added to the experience of eating this dish.
Hmmm.... Can I classify this as modern Australian even though it's cooked in NZ?
50 on Park
The George Hotel
50 Park Terrace
Christchurch New Zealand
www.thegeorge.com