For my birthday the girls at work treated me to Mr Chow's Peking Restaurant at The Rocks and I must admit that they have the best Siu Long Pau in Sydney that I've tasted so far. Thanks girls especially KK for recommending Mr Chow's.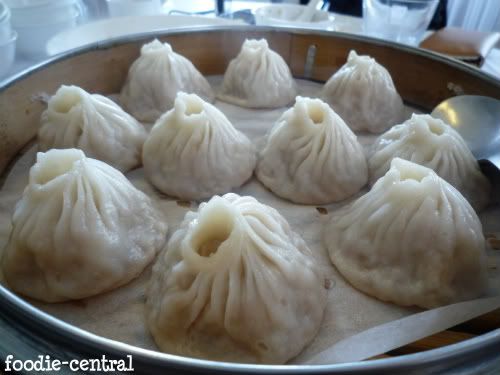 Steaming Siu Long Pau. They are twice the size of the ones in New Shanghai in Ashfield, and oh so tasty. Like I said, the best I've tasted in Sydney. However, these babies are also almost triple the price of the ones in New Shanghai so I doubt I can afford it as often as I would like.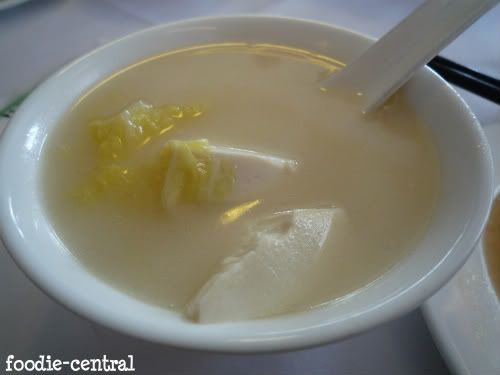 Pork Bones Soup with Chinese Cabbage. OK I confess - I don't know what this dish was called but it was made by boiling the pork bones until the soup turned white and sweet. All of us couldn't say no to seconds and made sure there was not a drop left by the end of the meal.
Cold Dish - Sliced Lean Pork w/ Chilli and Soy Sauce and Flat Vermicelli. This dish, typically served with jelly fish, came with Flat Vermicelli noodles instead. I couldn't believe how similar the vermicelli tasted like jelly fish, texture too was very close. It came with a lovely garlic, chilli and spring onion infused soy sauce poured over the lean pork.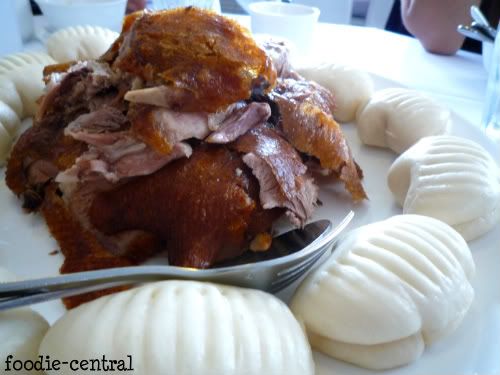 Tea Smoked Duck w/ Chinese Buns. I loved the smell of this dish and the mild tea aftertaste infused into the meat. Also, I was gnawing away at the bones once all the meat had been eaten up. hehe. However if you're looking for Peking Duck this isn't it.
Overall, I found Mr Chow's one of the best Chinese restaurants in Sydney. I can't believe it took me this long to find it.
Mr Chow's Peking Restaurant
33-35 Kent Street
The Rocks Sydney 2000
(02) 9252 3010