I first heard about Chophouse in
Chocolatesuze's
blog and since then I've been waiting patiently for an occasion to visit. Last Saturday, 11 of us dined at Chophouse to celebrate a birthday.
When we arrived we were shown to the private room upstairs. I would have preferred eating downstairs, dining under the huge rib like structure, but the private room was nice too. The walls were covered with cow hide, fur still intact, a private bar (but unattended) and dark wood furniture.
When we arrived we noticed that it was pretty warm in the private room. The waitstaff informed us that they had switched on the air-conditioning and it would take a few minutes to start up. In the mean time, they opened the windows to let the cool air in but that was a bad mistake as the hot air from the kitchen (window was directly above the kitchen) made the room even warmer. Not a good start.
Another peeve (since I've started on this train) was that they served bottled water without even asking what we wanted. I do understand that a restaurant needs to make money, and we usually get bottled (sparkling) water anyway, but the right thing to do would be to ask first? Is it just me or am I being paranoid?
Well, enough about that, lets get on to the food.
We started off with warm, soft and yummy bread with loads of butter spread on top. Heaven.
We also ordered two salads to share.
Warm Peking Duck Salad ($24.90) which had lotus root, yam bean, cucumber, black bean and shallot dressing was awesome. The clean taste of lotus root, yam bean and cucumber accentuated the flavours of the duck. The shallot dressing was delicious too that I wished they sold it in a bottle.
The best salad of the night was the Crisp Pork Belly and Sea Scallop ($25) which was made with chinese cabbage, coriander, pea shoots and soy vinaigrette. Imagine warm crispy skin and soft melt-in-your mouth fatty meat inter-mingled with fresh chinese cabbage and peat shoot. Everyone's favourite salad of the night.
A side of Cauliflower Gratin ($7.90) with sourdough, gruyere and parsley. I liked how the cauliflower was slightly crunchy with baked gruyere cheese on top.
Double Double Lamb Chops w/ mint jelly ($26.90). The lamb, 30 day Grain-Fed from Margaret River, WA, was awesome. The lamb was superbly cooked, pink on the inside and super tender while still retaining the meaty taste of lamb.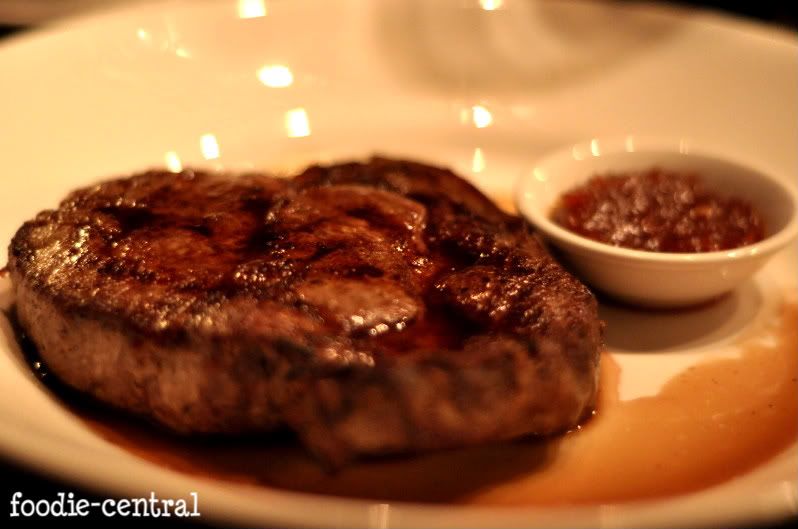 350g Rib Eye Hereford Beef ($26.90) which was from the Special Menu. I love a good steak and this was very good. For me, a good steak starts with the taste of the meat. I've had a number of bland steaks where sauces are used to hide the blandness but the steak at Chophouse packed a punch taste wise. They were also cooked perfectly as the meat was pink and melt-in-your-mouth with an "almost" burnt aftertaste which I love.
By the time we finish our mains and two bottles of wine the room was hot! Some of the boys were sweating from the humidity in the room. The upstair hallway was also very smoky which I guess was due to poor ventilation. Due to the heat we decided not to stay for dessert although I was very tempted by the chocolate block!
Overall, I would go back to Chophouse because the food was so good. They do need to fix their air-conditioning and ventilation though.
Chophouse
25 Blight Street
Sydney NSW 2000