Mu Steakhouse, recommended by a colleague of H was situated smack bang in the city centre. We decided to rock up and try our luck as we did not ring before hand to make a booking. Once there we were told that they could seat us but we would have to leave by 7.30pm. An hour and a half for dinner was fine by us. Just feed me a decent meal.
Mu Steakhouse has a bar section and 3 floors for food. It was all dark wood illuminated only by dim red lighting (a nightmare for photographs so please excuse the poor quality pics).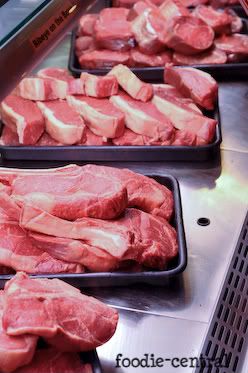 A picture of meats on display at the front of the kitchen. This got me salivating but alas I had chosen the wrong dish for the night (read more to find out).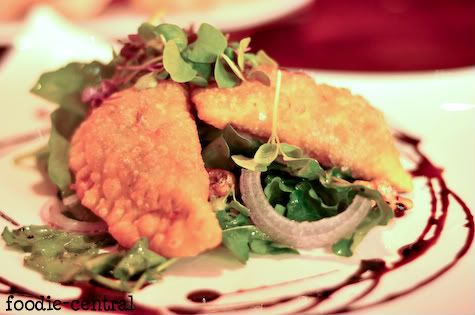 For entree we started off with Mu Steakhouse Tart which was made up of creamy blue cheese & onion on top of rocket with confit of tomatoes. H loved blue cheese so when he saw this on the menu he just had to order this dish. I'm not a big fan of blue cheese but this was quite good as the blue cheese wasn't that pungent.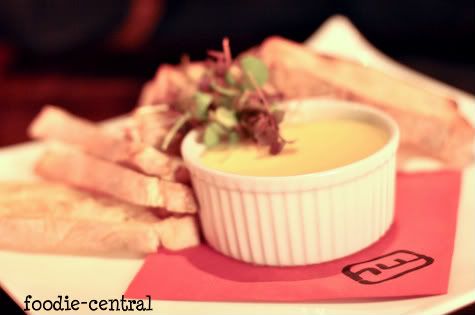 The best of the night though was the Chicken Liver and Cognac Pate topped with white truffle butter and accompanied by hazelnut wafers. The pate was made absolutely more delicious by the white truffle butter topping. I just couldn't stop eating this although I could feel my arteries clogging up.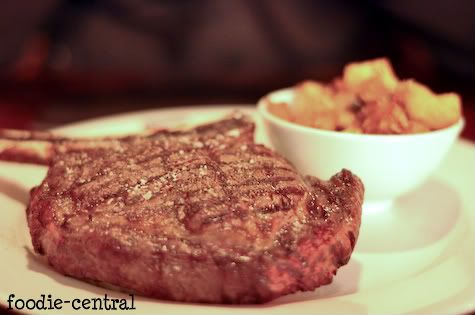 H's 500g Rib Eye on the Bone was awesome. The meat was just superb; full of natural flavour and cooked to perfection.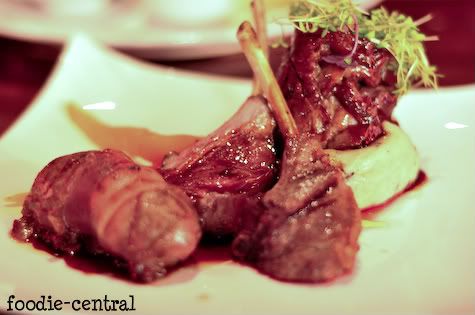 Unfortunately my dish which was the special Lamb Trio wasn't my cup of tea. I'm not a big fan of offal and 2/3rd of this dish was made up of 'em. The lamb chops were pretty good but sausage which was made with liver ...eik!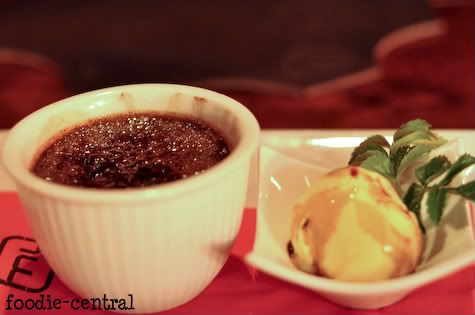 Dessert made up for my main though. We had ordered the Espresso Brulee which was delicious. A slightly burnt crust which cracked with a flick of the wrist revealed coffee infused, creamy, delicious innards. The brulee was accompanied by olive sorbet made in house which was also delicious.
Mu Steakhouse
92 Lichfield Street
Christchurch, NZ
(03) 377 0681