A new addition to the numerous eateries on George Street (Chinatown side) was Vietnamese restaurant Gia Hoi. This place opened its doors sometime in May and the banner advertising a 10% opening special is still hanging above the entrance to the shop when H and I visited. The whole shop was outfitted in bright orange which brought a smile to my face. I love the colour and even own a bright orange jacket but that's a story for another time.
Service was warm and welcoming and we were quickly shown to our seats (which by the way was bright orange) and provided with bright orange coloured menu. We quickly decided on our dishes as we were famished but I was still undecided if I should order the Durian Shake or be good and have water instead. The durian shake won in the end and it was the best durian shake I've had in Sydney. It tasted exactly like a D24 (Malaysia's grading / name of a particular durian breed).
Click to find out more about Durians.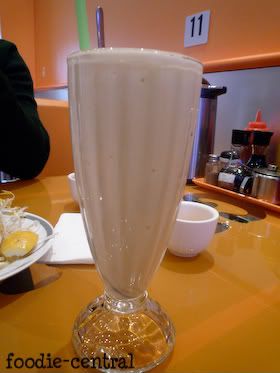 Durian Shake ($4.50)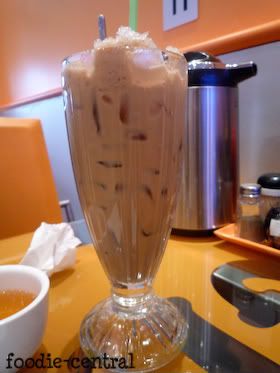 H's Vietnamese Ice Coffee ($4.50)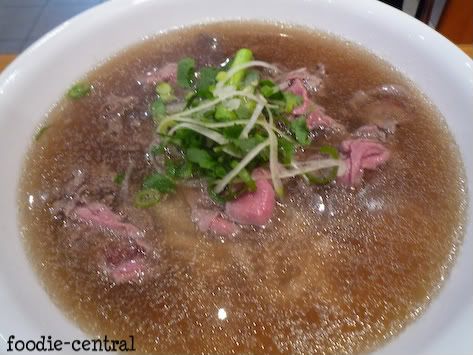 Gia Hoi's Special Beef Noodle Soup ($9) - One of the better ones I've tasted in Sydney. It had generous servings of rare beef and noodles. The broth was full of flavour however, it was pretty oily as you can tell from the picture above. Still, a great dish to warm you up on a cold wintry day.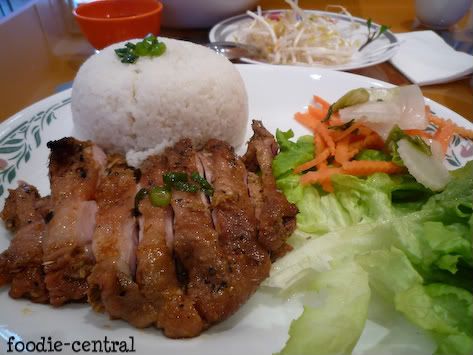 Grilled Chicken w/ Rice ($9) - I loved the chicken as it was well marinated in lots of herbs. The marinade penetrated through the chicken pieces beautifully and you can taste the flavours not just on the skin and outer layer of the chicken but infused into the meat as well. Call me fussy but I dislike grilled meats that have been marinated only on the outer layer and when you reach the middle or towards the bone they taste bland. All that gorgeous flavours on the outer layer gets me excited for more and when you hit a bland patch it's just.... off-putting (is that a word?). I digress, the grilled chicken here at Gia Hoi was beautifully marinated and tasted gorgeous.
Gia Hoi
709 George Street
Sydney NSW 2000
(02) 9211 0221