Recommended by the friendly staff at our B&B, we didn't realise that Alchemy is a multi-award winning restaurant until after we had tasted the food (more on that later). Alchemy is located in Christchurch's Art Gallery, situated next to the Art Centre and we didn't suspect a thing as it looks like a normal cafe. Service was slow (we had to wait more then 20 mins to put in our order all the while trying to get the attention of the 3 staff on the floor) but more than made up for it by the food.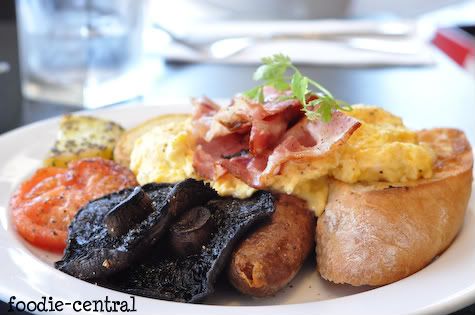 H's Works Breakfast w/ Cressy Farm bacon, 2 free range eggs, venison sausage, sauteed rosemary potatoes, grill tomatoes, mushrooms and ciabatta (NZD $21.50) was awesome. The bacon was succulent and meaty and I loved, loved, loved the venison sausage. All was cooked perfectly and you can really taste the difference when good quality produced are used.
I had ordered the Seared Akaroa Salmon on mushroom filled french toast with sauteed spinach and watercress (NZD$22.50). This was an award winning dish and I agree full-heartedly. The mushroom filled french toast was gorgeous with meaty mushrooms and eggy goodness. The Akaroa salmon was cooked perfectly, slightly pink in the middle and looked awesome on top of the french toast.
H and I both agreed that we would definitely be back for more the next time we are in Christchuch. Just fabulous food, quality produced and "outside the box" cooking.
Alchemy Cafe & Restaurant
49 Worcester Boulevard
Christchurch 8001 New Zealand
+ 64 3 366 3018
www.alchemycafe.co.nz