A very special night spent at Guillaume at Bennelong. I had always wanted to eat at Guillaume and H did mention that he too would like to go there. So on one sunny Saturday picnic at the Royal Botanical Gardens, accompanied with an array of fresh Sydney Fish Market's oysters, prawns, cold lobster and a bottle of Moet, H surprised me by saying that he booked us dinner at Guillaume! All these while I was still dazed from the surprise proposal he sprung on me!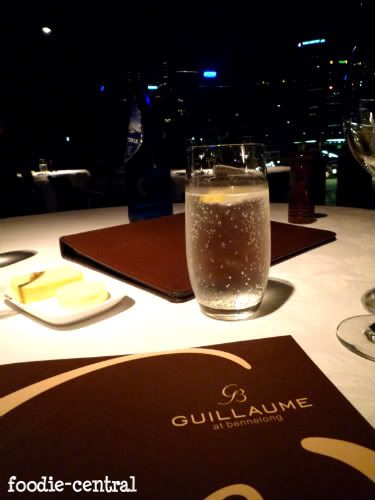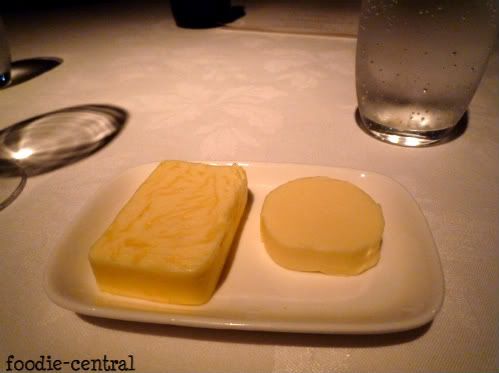 Salted Butter (left) & Unsalted Butter (right) - Both were beautifully creamy but our favourite for the night was the Unsalted Butter.
On to the breadrolls that went so well with the creamy butter. There was a designated waitress that walked around serving breadrolls only. We tried three types;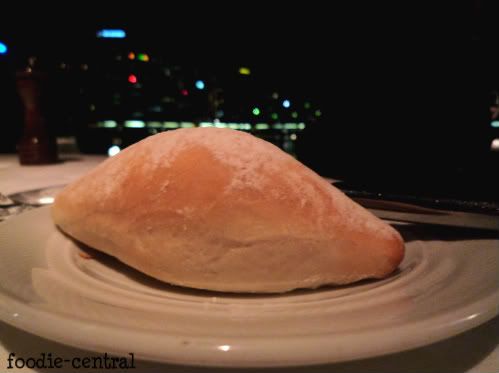 Buttermilk Roll - A soft and milky breadroll which reminded me of the bread my mum would buy from the breadman that goes around on a motorcycle selling bread every arvo in Malaysia.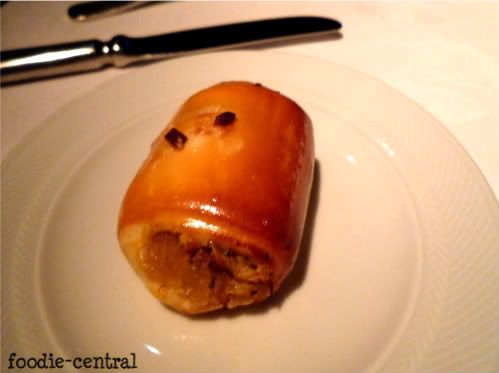 Pancetta and Pork Roll - This was delicious. More like a meat roll then bread roll though.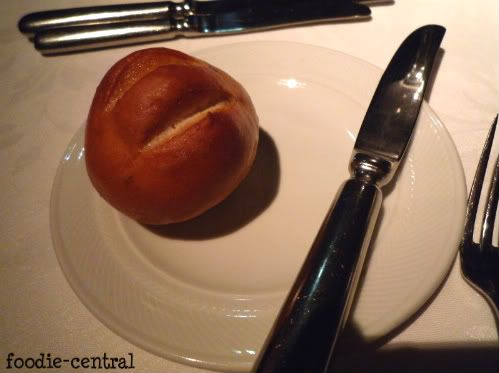 Rosemary Roll - My favourite of the night as this was just so good (in taste as well as aroma) as the bread was baked with fresh rosemary. Tearing the bread apart reveals a spongy inner layer that was just perfect for the spreading of butter. My favourite of the night!
Amuse Bouche was Foie Gras Pate sandwiched between two Crispy Gingerbread Biscuit. This was absolutely delicious; with the sweetness from the gingerbread biscuits accentuating the rich and creamy foie gras pate.
Yellowfin Tuna with Basil Infused with Soy & Mustard Seed Vinaigrette - The tuna was wrapped with basil leaves which had been marinated with soy and mustard seed vinaigrette. I'm not a big fan of basil so this dish was way off my comfort zone. However, after a few bites I grew to appreciate the contrasting texture of the soft tuna and firm basil leaves.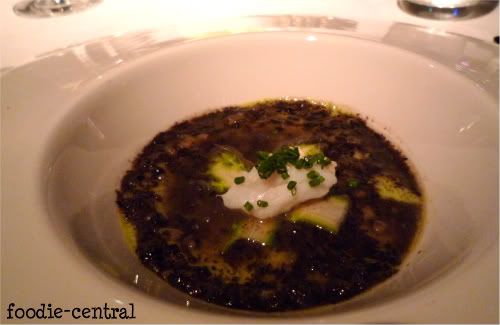 One of my favourites for the night - Royale of Asparagus w/ Spanner Crab and Truffle. This dish was superb. I was surprised when what I thought was a shallow bowl+plate combination that looked like an alien spacecraft, was in fact a deep dish filled with very creamy asparagus soup. The truffles accentuated the creaminess of the asparagus. So delicious!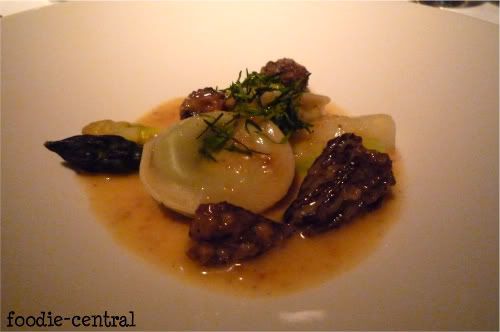 The senior waitstaff explained the specials of the day and advised that special entree was
Tortellini of Peas w/ Fresh Morels, Broad Beans and Light Taragon Butter

. We had already decided on the degustation menu but the waitstaff was kind enough to suggest adding the dish into the degustation. Boy were we glad that we did!

I've never had Morels before but this was absolutely gorgeous. The mushrooms were meaty and rich and well complemented by the taragon butter . The tortellini was filled with fresh pea puree. Delicious!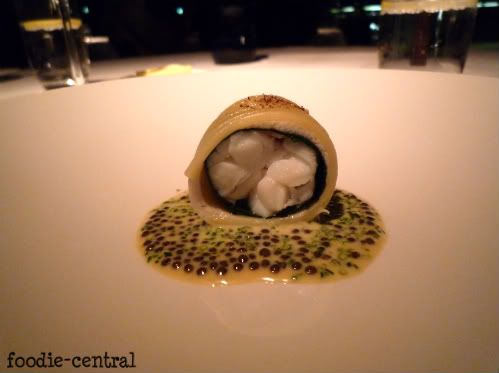 Another gorgeous dish - Turban of Scampi w/ Spaghettini and a Warm Lemon and Sterling Caviar Sauce. Loved the meaty scampi meat and the contrasting saltiness of the caviar with the lemon sauce.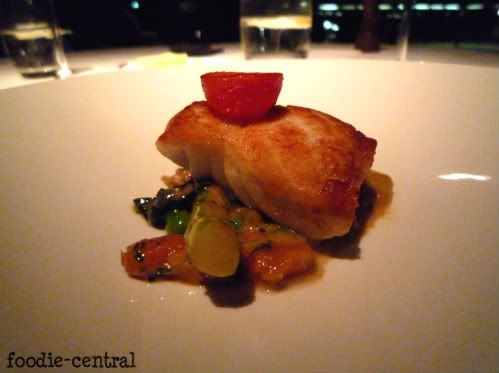 Blue Eye Trevalla Roasted on an Etuve of Baby Spring Vegetables. The grilled fish was slightly overcooked but paired with a lovely sauce. However, I found this dish pretty ordinary unlike the other dishes that blew me away because of their unique combination of ingredients and fresh produce.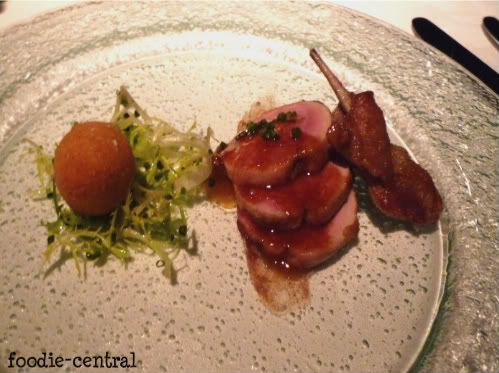 Duo of Quail - Ballontine of Quail and Crispy Quail Leg w/ Date Puree, Quail Egg and Frisse Salad - Tender quail ballontine with a superb sauce. Love the half boiled quail egg.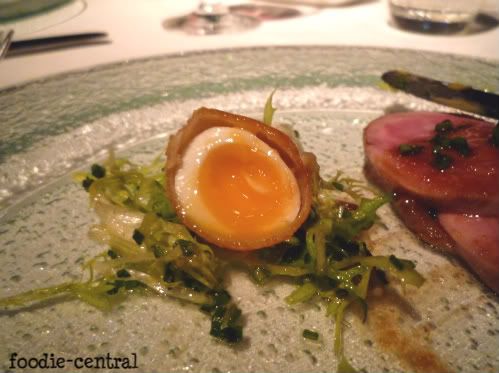 Picture of Quail Egg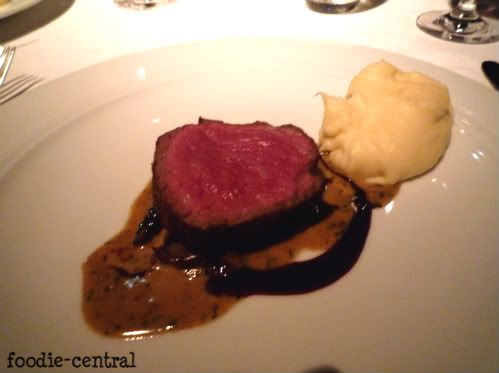 Deboned Rib Eye of Tajima Wagyu Beef (500 day grain fed, F1 marble grade 9+) w/ a tombe of field mushrooms, baby spinach, confit of shallot, merlot sauce - A superb dish with super tender and juicy beef with lovely mushroom, shallot and merlot sauce.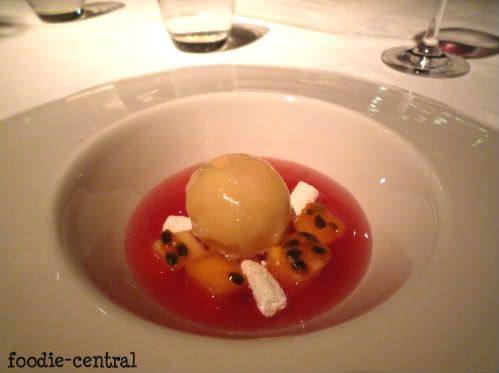 Soup of Seasonal Fruit w Lime Marshmallows and Pineapple Sorbet. A very refreshing soup and a great palate cleanser.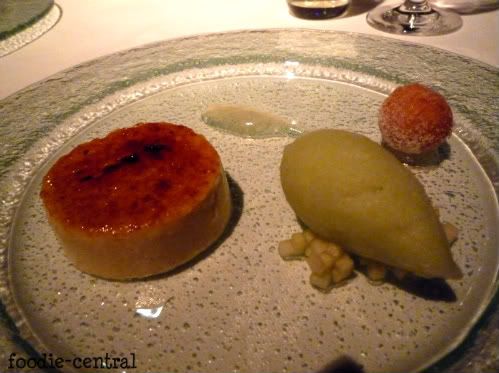 Vanilla Bean Creme Brulee w/ Green Apple Jelly, Green Apple Sorbet and Doughnut. The creme brulee was rich and smooth with a nice thin layer of burnt sugar on top that cracked when hit with the back of my spoon. Yummy doughnut which reminded me of the Italian doughnuts I had at Mornington Peninsula. The Green Apple sorbet however was not my cup of tea but I still managed to finish off everything on the plate!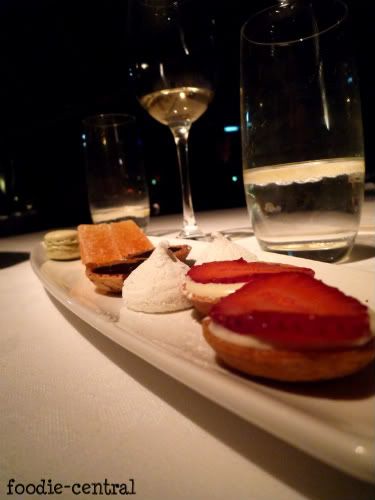 Petit Fours

Caramel Squares, Mint Macaroons, Quince Sweet, Dark Chocolate Tart, Coconut Top, Strawberry Tart. Some hits and misses here. My favourite being the Mint Macaroons.
Guillaume at Bennelong
Sydney Opera House
Bennelong Point
Sydney NSW 2000