A mad "over-indulgence" of Thai food these past two weeks and I've fallen in love with the Pad See Ew from Amata Thai Cuisine. I've never been a big fan of dry fried noodle dishes such as fried kway teow or pad thai. Don't get me wrong, I do eat and enjoy these type of dishes but I would not order them if I had to eat a plate all by myself. Maybe it has to do with the number of calories all that pork lard / oil will add to my daily calorie intake.. but then again, I do love a good fried rice. I digress, back to Amata Thai Cuisine...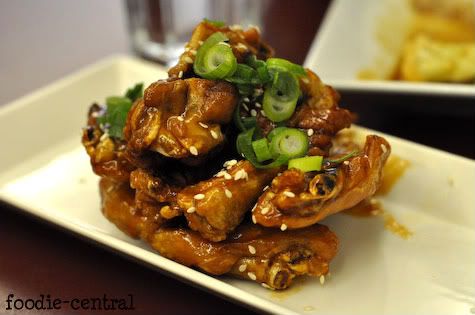 We ordered the
Golden Chicken Wings
($7.50) which are deep fried chicken wings with Amata Thai Cuisine's special sauce for entree. The chicken wings were slightly dry from over-frying but the sauce made up for it. A sticky, caramel-like sweetness coating each wing with sesame seed sprinkled on top.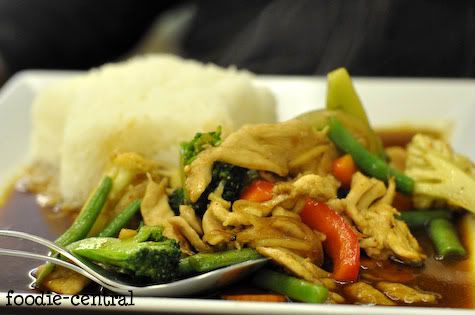 H'a Pad Kaprao ($8.50 special) was delicious. The sauce had just the right combination of basil, and chilli. Also, take a close look at the rice, it came in the shape of a star.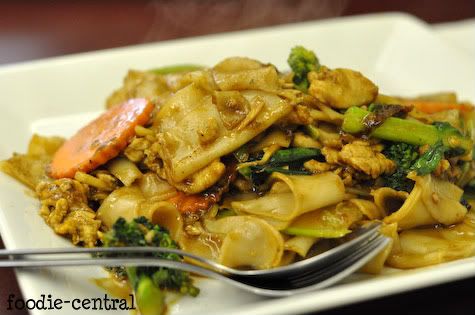 And finally, Pad See Ew ($8.50 special). Silky and smooth flat rice noodles, vegetables and egg coated in a slightly sweet sauce which reminded me of ABC sauce (aka famously known as Kicap Manis). As I said, I'm not a big fan of fried noodles and never ever finished a whole plate by myself but I wolfed down everything on the plate.