After all the hype of Mr Zumbo's creations from numerous foodie blogs and on Masterchef, H, Ms P, Mr B, Mrs B and myself made our way to Balmain to taste his famous desserts. Walking to the cafe, H and I walked past the patisserie which had a queue two shopfronts long! Yes, that's how busy they were that even on the way back to the car the queue was still there (albeit with different people).
H's
Pumpkin Quiche
($10) was deliciously cheesy yet balanced. The pumpkin was tender and moist all at the same time.
Piccolo Latte - The coffees were well made.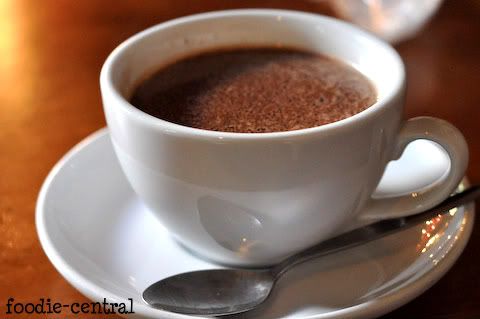 This was sooo good. Imagine smooth velvety chocolate melted down and mixed with milk to create a super thick and chocolaty
Hot Chocolate
.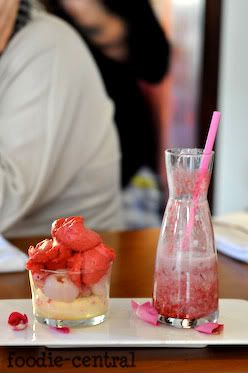 Mrs B's
PARIS - La Vie en Rose
($13.50) - Rose creme brulee, raspberry sorbet balls, fresh lychees & petite rose accompanied by a coconut strawberry tapioca shake. One word - Divine!
Mr B's -
It's a
Macaron not a Hamburger
($13.50) consists of dulce de leche gelato filled macaron with banana caramel rice pudding and chocolate soil. The banana caramel rice pudding reminds me of banofee pie which is one of my favourite desserts. The combination of gelato, banana caramel and dulce de leche ice cream with macarons is pure genius. It's comfort food at it's best.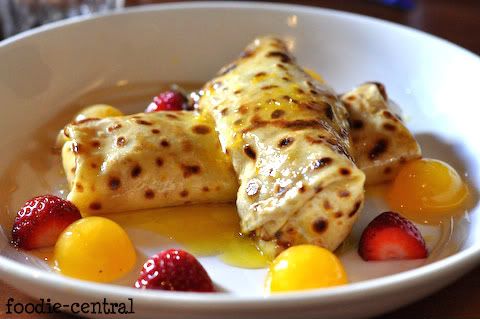 Miss Marple Deconstructed
($13.50) consists of maple mascarpone filled crepes with fresh strawberries and frozen orange jelly. The boys loved the frozen orange jelly as it tasted like grand marnier in jelly form. The crepes were slightly salty, rich and very buttery which made a good contrast to the sweet maple mascarpone filling.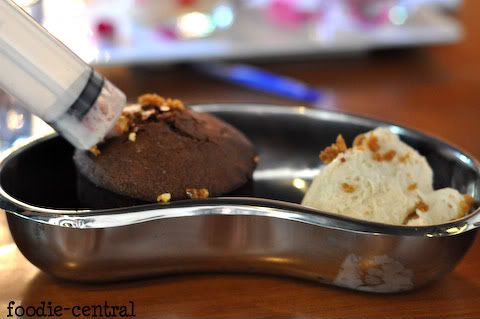 The Younger Years
($13.50) - Chocolate fondant with raspberry coulis, vanilla anglaise injection and peanut butter gelato. I love how this came in a hospital pan and we injected the vanilla anglaise into the fondant using a proper syringe. The chocolate fondant itself was beautiful; oozing chocolate and raspberry coulis. The peanut butter gelato was yummy too.
Adriano Zumbo Cafe Chocolate
Shop 5, 308 Darling Street
Monday - Friday 8am to 4pm