After an exciting day spent eating and drinking at the Good Food n Wine Show, Ms S, H and I made our way to Uighur on Dixon Street to meet up with friends visiting from Singapore for dinner. We left Ms S to do most of the ordering as she was the only one who has been to the restaurant before and what a great job she did! Thanks Sis! We had so much to eat and they were all delicious and dirt cheap too. The bill came up to $116 shared amongst the 7 of us which made it $17 pp (rounding up here) . I have to apologise though as I've forgotten the Uighur names of most of the dishes except one (see if you can tell which one) and have used my take of what these dishes were to me.
We started off with the
Lamb Kebab
. These were so divinely tasty that one plate was just not enough. We quickly ordered another which was wolfed down in minutes.
Pumpkin Samosa
- The pumpkin (steamed? then mashed and seasoned) was light and sweet, encased in a thick pastry that made this dish pretty filling. A note of advice; this dish should be eaten when hot otherwise the pastry becomes cold and hard.
Uighur's
Meat Pancake
are super delicious. The combination of meat in pastry reminds me of the
Malaysian Murtabak
but the pastry used in this Uighur dish was much denser.
Hmm.. I can't seem to recall what this dish was called but it's a bread; soft and spongy and proved very useful when scooping up remnants of the stew (below).

Uighur's Lamb Dumplings
- These were yummy. The meat was slighty juicy and the seasoning was just right (meaning the spices were not too overpowering as you would find in most Northern Chinese dishes).
The
Beef Stew
here was seriously yummy that I wanted to suck on the bones after all the meat had been eaten ;) hehe The broth was rich and tasty; just right for the colder months.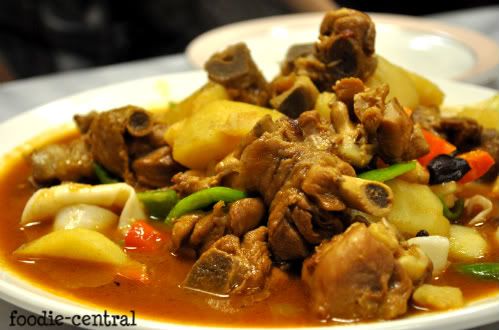 The
Chicken Stew
was equally good. Writing this review and going through the pictures are enough to make me crave the food at Uighur.
Ding Ding Saomian
- Finely cut Uighur noodles with stir fried vegetables and lamb. The only fault of this dish was that the noodles were cut too small. I would have had more satisfaction from this dish if I was able to slurp up the noodle.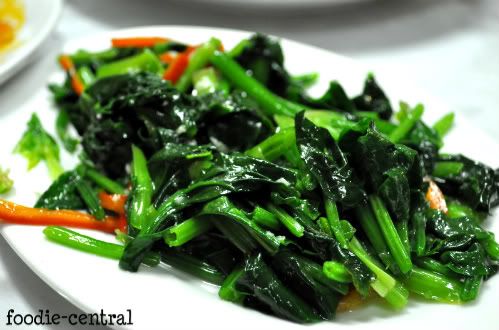 To counter all that meatiness in the other dishes we ordered the
Stir Fry Vegetables
in a bid to meet our daily vegetable intake ;) The vegies were sadly a tad salty.
Our other vegetable dish which was a combination of eggplant and capsicum stir-fried in some sort of black bean sauce was really good. The eggplant was velvety smooth and matched the texture of the sauce really well.
Uighur
1/8 Dixon Street
Sydney NSW 2000
(02) 9267 8555