Abhi's - I've seen this name around for a while now and it didn't click until Mrs B suggested this place for Mr B's birthday dinner that I've seen Abhi's in the Entertainment Book and that I've always wanted to try it.
Walking into the restaurant, H and I were impressed by the decor and the cosy ambience they've created. Not only that, the service was excellent too. The waiters were very attentive and professional, always keeping an eye out for empty glasses and clearing away empty plates.
Our group of 8 had the Banquet B ($47.50 pp or $49.50 incl dessert) dinner menu which was a huge feast.
Starter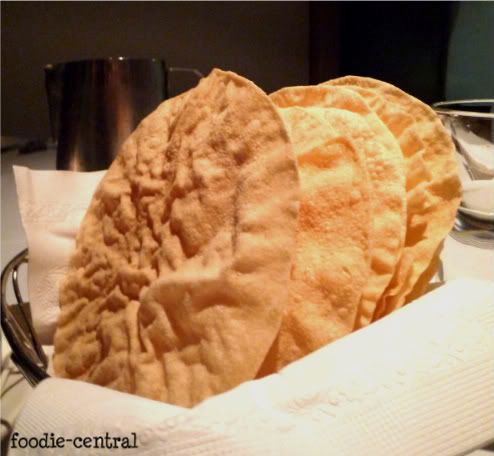 We started off with
Papadum
s
. I would have loved this more if the Papadums
were straight out of the deep fryer.
Entrees
Palak Patta Chat
- Spinach leaves in crispy lentil batter, topped w yoghurt, chilli and mint sauce. The spinach in lentil butter were tasty but overpowered by the amount of yoghurt, chilli and mint sauce covering this spinach.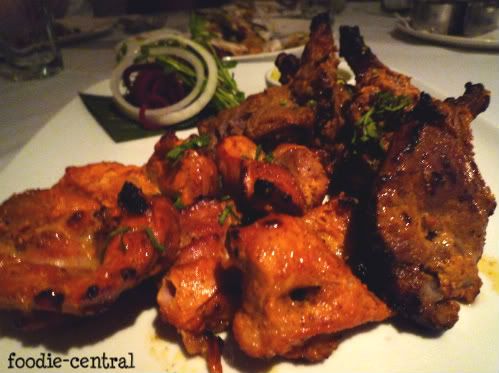 Chicken Tikka
and
Angari Chops
(Lamb cutlets marinate in yoghurt, sandalwood powder, ginger and saffron). Both were nicely cooked - tender and juicy.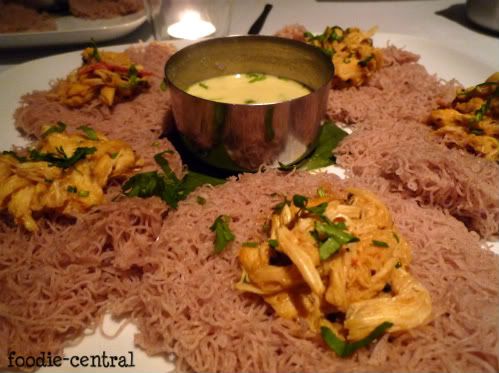 Crab Iddiappam
- Shelled blue swimmer crab tossed w/ black mustard seeds, fresh tomatoes and ginger. A new dish for me which I quite like. The blue swimmer was light and tasty and went really well with the noodles.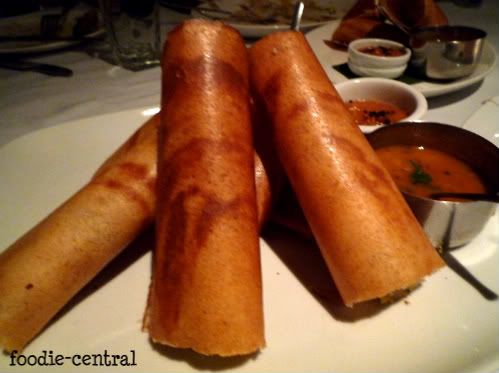 Masala Dosa
- Would have loved it more if they were crispier / thinner :)
Mains (By the time the mains arrived I was pretty stuffed from all the entrees)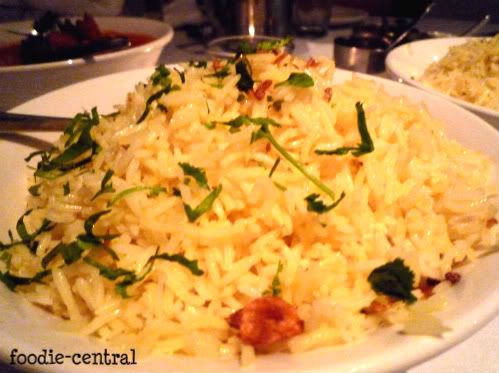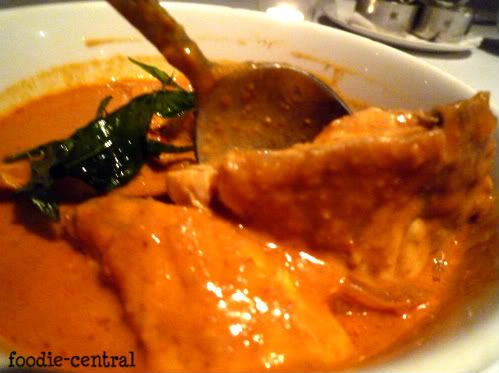 Goa Fish Curry
- Barramundi fillets cooked in a sauce of coriander seeds, cumin, turmeric powder and freshly ground coconut. I was looking forward to trying this dish especially after watching Kate cooked a similar dish on Masterchef but after tasting this I found Abhi's version pretty bland. It might just be me as H liked the taste.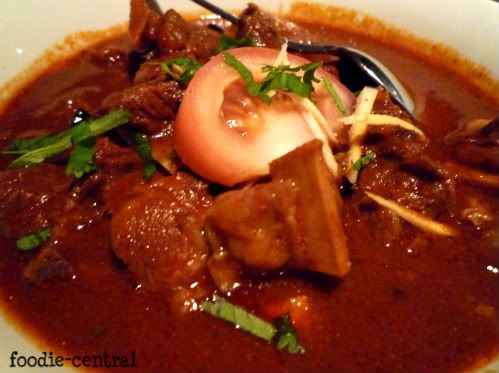 Patiala Goat Curry -
A Punjabi style slow cooked goat with milled chillies, tomato, mace and garam masala finished off with fresh coriander. The goat meat was pretty tender and the sauce was rich and tasty.
Aloo Matar
- Vegetarian Curry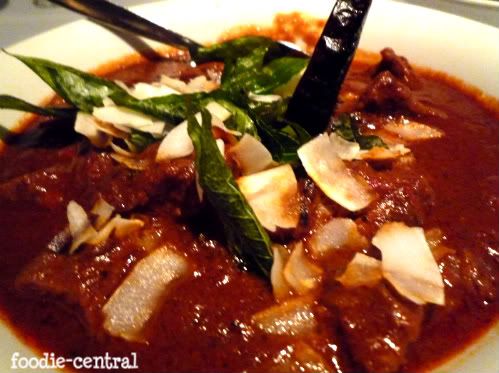 Beef Chilli Coconut
- Cooked with fennel, coconut milk, fresh curry leaves and roasted dry chillies.
Dessert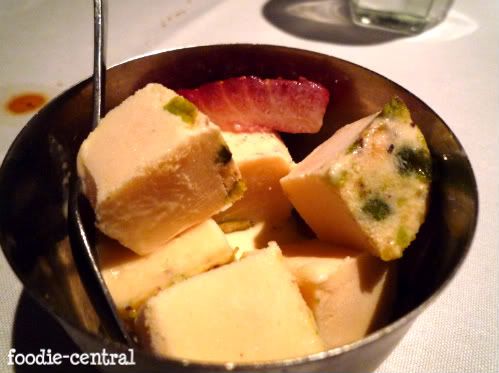 Pistachio Kulfi
- Cubes of pistachio kulfi served in tiny silver bowls. I wasn't too impressed with the presentation of the dessert as I believe they could have put more thought into it after all the good they've done in terms of decor and ambience.
Overall I think I have a love/hate relationship with Abhi's. I loved the entrees but am not won over by the luke warm curries. Hmm.. Could this be because we ordered the Banquet menu? I've encountered similar experiences in Chinese restaurants where the a la carte dishes are always way better then the banquet menus.
Abhi's
163 Concord Road
North Strathfield NSW 2137
(02) 9743 3061