It was a hard task planning a gathering for 12 people when you factor in everyone's busy schedules but we finally agreed on Singapore Kitchen in West Ryde mainly due to the lure of their Singapore Chilli Crab. At 7pm on a cold wintry Saturday evening we walked into Singapore Kitchen on Victoria Road and found that our group had been split over two tables due to the tiny seating area. Nevertheless, we thoroughly enjoyed our dinner (more like a feast I'd say!).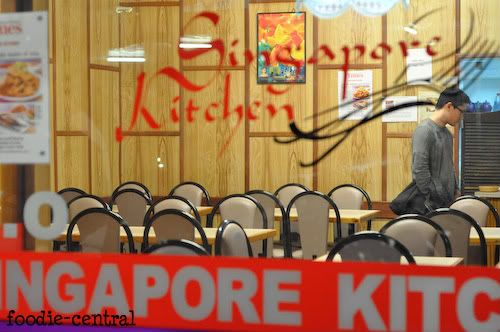 The tiny restaurant with the oldish charm. (The decor reminded H of old restaurants in Singapore.)
Cincau Drink
(grass jelly drink). These were home-made and really good. Unlike the canned variety, the sweetness of the drink was just right.
What's a Singaporean dinner without satay? The
Chicken Satay
($5.50 for 4 sticks), grilled over a charcoal pit was tender, moist and authentically well-balanced in flavour. Yum!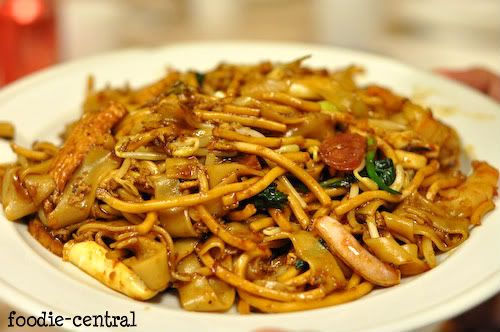 Singapore Fried Kway Teow
($9.00). Although these are different from the Malaysian fried kway teow H assures me that this dish here is very close in taste to the ones cooked in Singapore hawker stalls. It only lacks authenticity as the restaurant did not get their supply of cockles which really would go well in this dish. H also said that in Singapore, in really good ones, you find pieces of fried lard.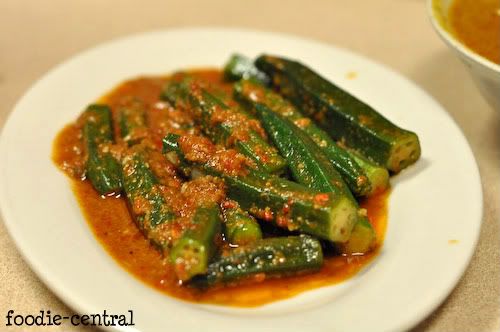 I luuuuuurvve this dish of
Okra in Nyonya Sambal
($8.90). The
Peranakan
style chilli paste (sambal) brings me back to lunches and dinners at my grandma's.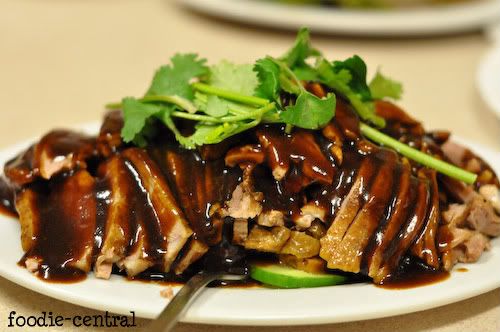 Teow Chew Style Duck
- only by special order. We didn't even know they did this dish but Uncle Sam (the owner) asked if we wanted one as they had made an extra plate just for tonight. The duck was tender and moist and the combination of cucumber, hard tofu, tau pok (deep-fried tofu) and the sauce was just right.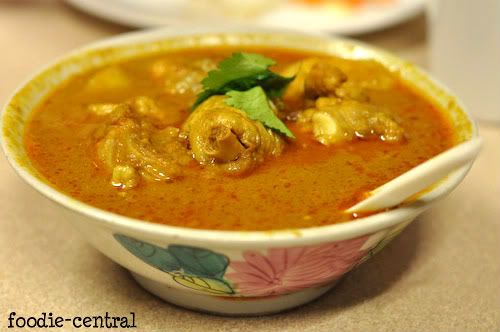 Chicken Curry
($8.90) - Peranakan influence was very evident in Singapore Kitchen's chicken curry and it was oh so yummy. The influence was probably due to the fact that the chef (Uncle Sam's wife) is of a Peranakan heritage.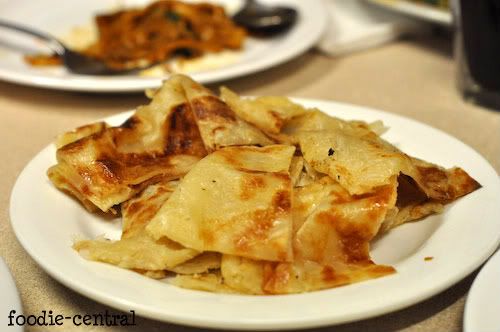 We ordered a side of
Roti Canai
($3.50 for 2 pieces) to go with the curry. The roti was very buttery, too buttery for my taste, but went very well with the curry.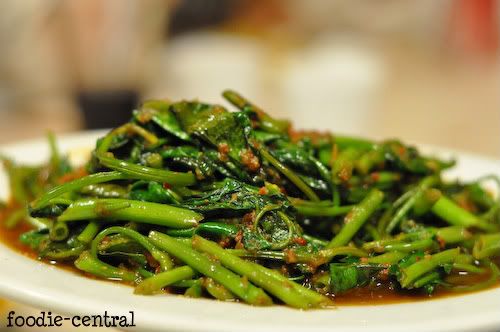 Kang Kung w/ Belacan
($8.90) - The Kang Kung (also known as morning glory at Thai restaurants or water spinach) was cooked with just the right balance of shrimp paste (belacan) that resulted in a delicious dish which we finished rather quickly!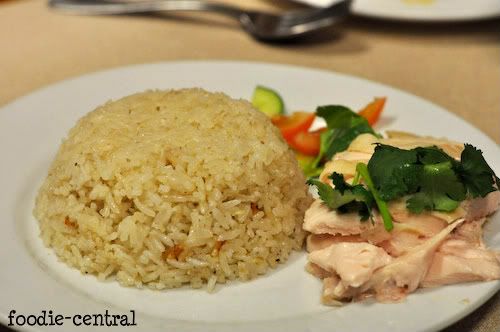 Hainanese Chicken Rice
($9.50) - The aromatic chicken rice had a nice, clean flavour with tender pieces of chicken. However, due to the robust flavours of the other dishes the chicken rice went on the back burner of our taste buds.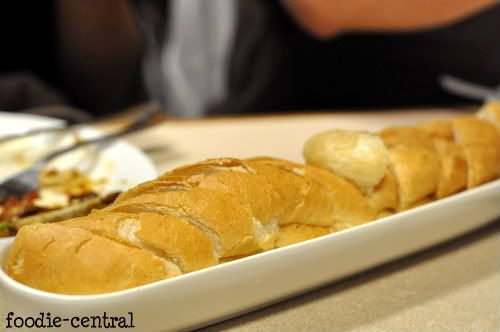 When Uncle Sam laid down a dish of baguette on the table we got really excited as this was the prelude to the reason why we were in Singapore Kitchen....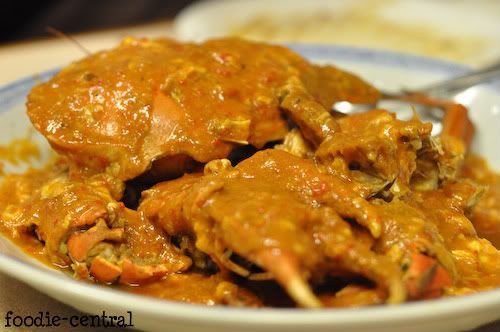 Singapore Chilli Crab
(market price - We paid $80 for one mud crab). We had ordered 4 mud crabs for the 12 of us and they served them one at a time which was great because once we finished a plate another steaming hot plate would come out almost instantly out of the kitchen. Back to the food; the sauce was sooo delicious. It was slightly spicy (ok some at the table found it too spicy so maybe it's my Malaysian trained tastebud), sweet and sourish all at the same time. We doggy bagged the leftover sauce and cooked it with hokkien noodles and fresh squid tubes the day after ;)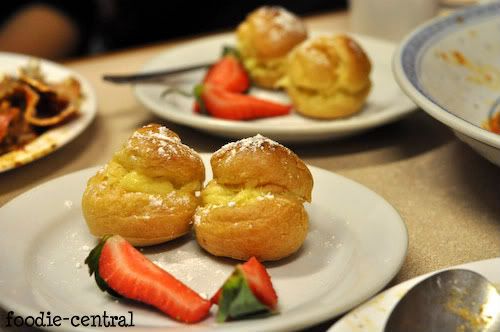 Durian Puffs
($8.50) - Wow! The durian meat was fabulous. These are air-flown in from Penang which explains why the durian fillings are fresh, rich and sweet. I just wished we had a whole durian, or two, to dig into.
Note: Bookings essential on weekends