My cousin introduced us to EUROPEAN on our last trip to Melbourne two years ago and we loved it so much that we pestered her for a whole month before we were scheduled to arrive that we had to have dinner there and to "please book early". The lovely lass kept her promised and booked us a table for six the first night we arrived. Our dinner companions for the night were my cousins (I've got 9 cousins in Melbourne at last count) and Rove McManus. Well he was sitting a few tables away from us so that makes us dinner companions? 
Once seated, we were given the menus followed soon after by the bread basket. The bread; warm and soft on the inside and slightly crusty on the outside was served with whipped butter. I was not a big fan of the butter as it was too light for my taste. 
Mr V had decided to go vegetarian for two weeks and as a result of that ordered this amazing dish of
Stuffed Zucchini Flowers 
($10.50). The batter had a mixture of spices on it with a leaning towards Indian spices which was delicious.  
I ordered the
French Onion Soup w/ Braised Beef Shins & Gruyere Toast
 ($18.50). Oh what a  delight to be able to drink this hearty soup that warmed all my senses and got rid of the chills of the Melbourne winter. This is by far my favourite version of French onion soup.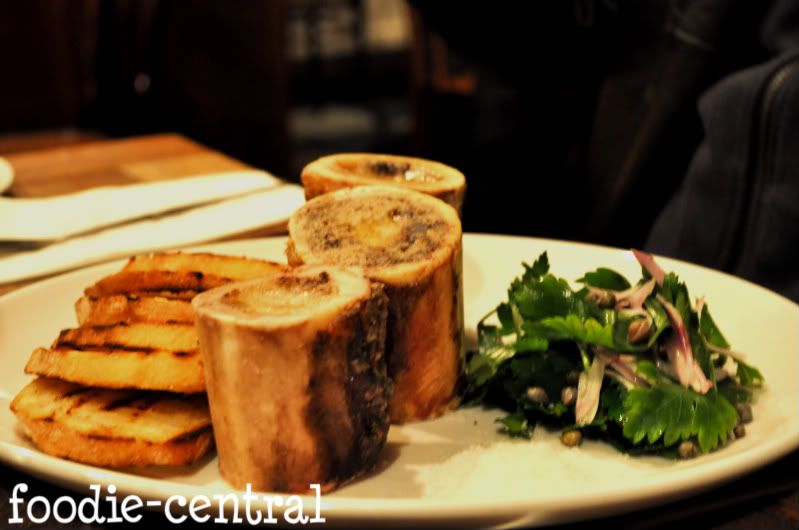 Roasted "St John" Bone Marrow 
($19.50). H was very excited when he saw this offered on the specials menu as he has been going through a bone marrow phase. I'm not very keen on bone marrow unless it's in a stew but H throughly enjoyed this dish digging away at the bones and only stopping short of sucking out every last ounce of marrow.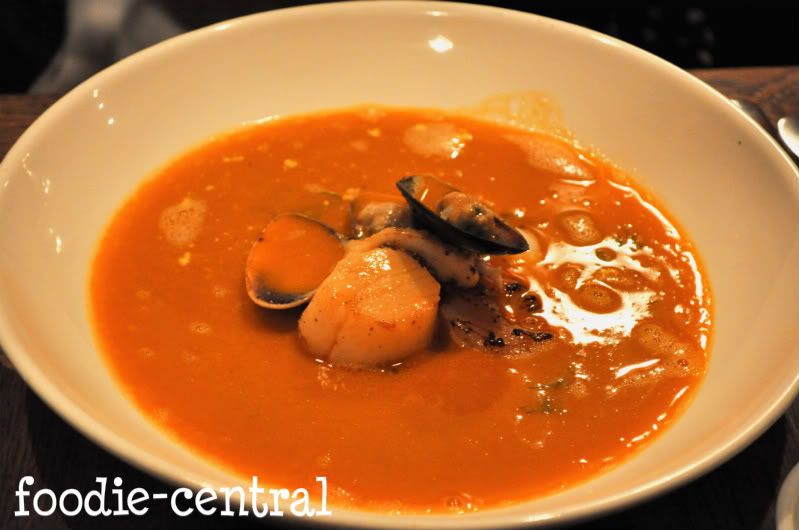 The rest of my cousins ordered the
Fish Soup w/ Roasted Shellfish & Saffron Aioli 
($20). This dish was brought out with the shellfish arranged on the plate and the soup in a little jug. The soup was then poured onto the shellfish. While you sit and watch the pouring of the soup onto the shellfish, the wonderful aroma of the fish soup wafts up to greet you hello before you fall in love with the delicate flavours of the soup that makes you all warm inside.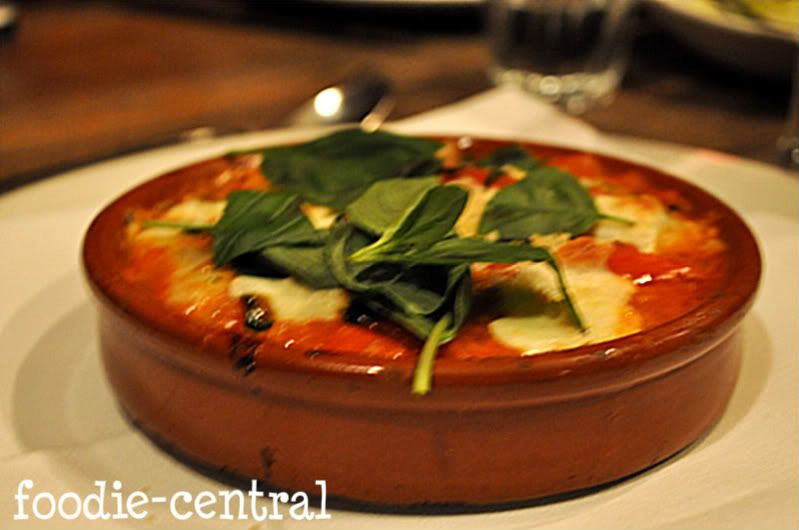 Mr V's
Herb & Potato Gnocchi Tomato, Mozzarella & Basi
l ($26.50) was delicious. A good winter dish as it warms your soul.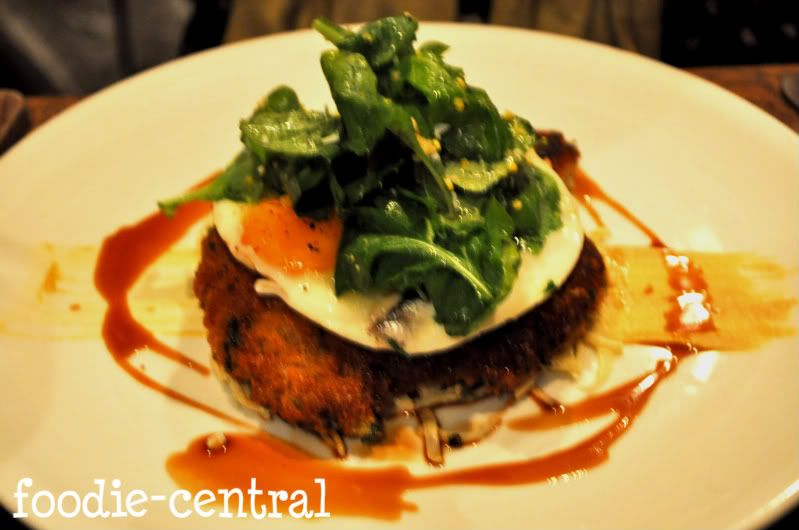 Ms Van had ordered
Veal "Holstein"
($32.50) which was from the specials menu. I googled Holstein and the results state that Holstein is a special breed of cattle originating from North Holland or Friesland. The dish looked very much like a veal schnitzel and a very tasty schnitzel at that. The crumbed outer layer was flavoured with lots of herbs and it came with an egg on top.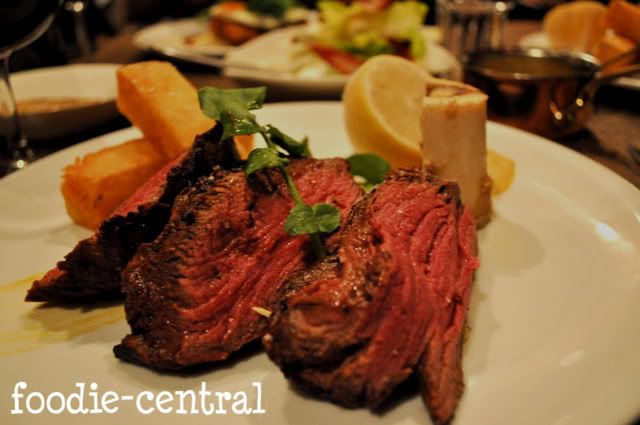 As with our last trip, H and I ordered the
Chateaubriand
($72 for two pp) and so did Ms I and Ms E. The meat is salt roasted until medium rare and served sliced with fat chips, half a bone marrow, sauce foyot and a blue cheese and endive salad. The meat was very smooth and tender that it melts in your mouth. It was superbly cooked and soooo delicious. The salad of blue cheese and endives was divine although I wasn't too keen on the chips as they were cut too thick for my liking as I like my chips thin and slightly crispy ala McDonalds.
By the time we finished our mains we were stuffed and couldn't fit in any dessert which was a waste. H and I had decided beforehand to take it slow with the food as we had almost 6 days to cover Melbourne so no pressure there to fit in desserts.
*Note - Apologies for the bad photographs as it was indeed very dim in there.

They are open 7 days from 7.30am to 3.30am