Updated Jan 2010
http://www.theage.com.au/national/workers-fined-115000-over-bullying-of-cafe-waitress-20100208-nlrj.html?autostart=1
------------------------------------------------------------------------------
One should always have a hearty breakfast to start out one's day. For us however, that first meal was brunch but we followed that advice to the tee by having some very scrumptious and heart warming food especially in the chilly Melbourne weather.
Ms I brought us to Cafe Vamp in Hawthorn, just down the road from Swinburne University. The cafe was already full by the time we got there at 11am and the only place left was the courtyard dining area. It was a chilly morning but the wait staff assured us that the heaters were running and we would be comfortable outside. Once we made our way to the back we realised that we were not the only ones there. Two of the three tables had already been taken up and those were the ones closest to the heaters! We were very tempted to find someplace else to eat but our growling tummies begged us to stay.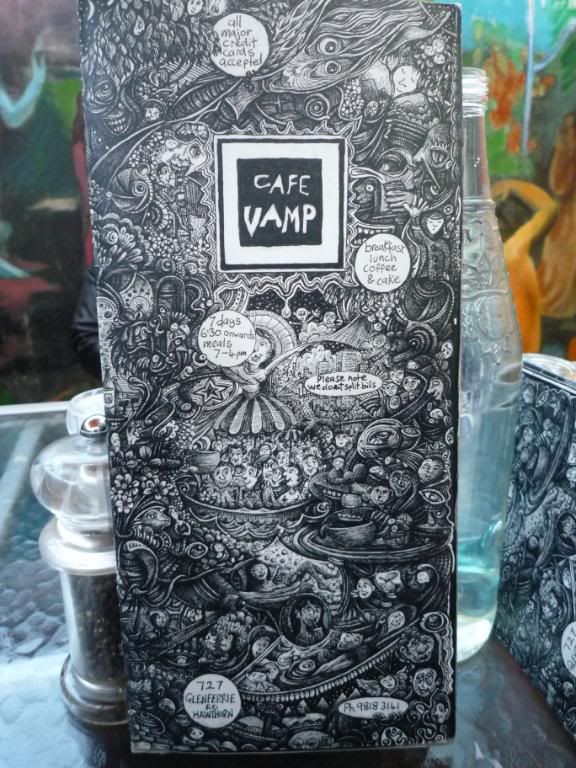 I loved the look of the menu although upon closer inspection and combined with a good imagination one can conjure up some pretty terrifying stories of what the drawings could mean. OK enough of my ramblings and lets get back to the food...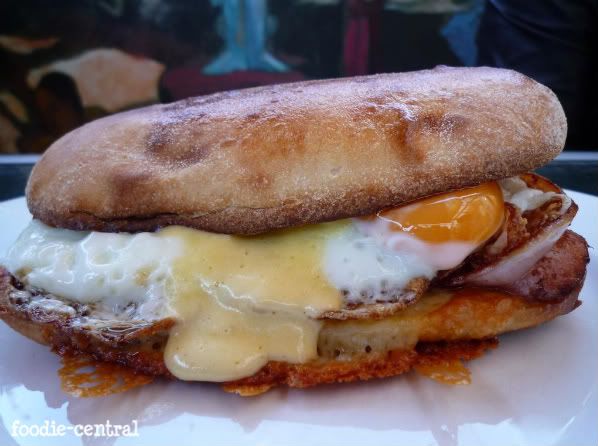 H ordered the
Brekky Pide
($15.50) which looked fantastic. The pide were two slices of nicely toasted white bread and sandwiched in between were fried eggs, bacon, cheese and hollandaise sauce. The hollandaise sauce was just yummy.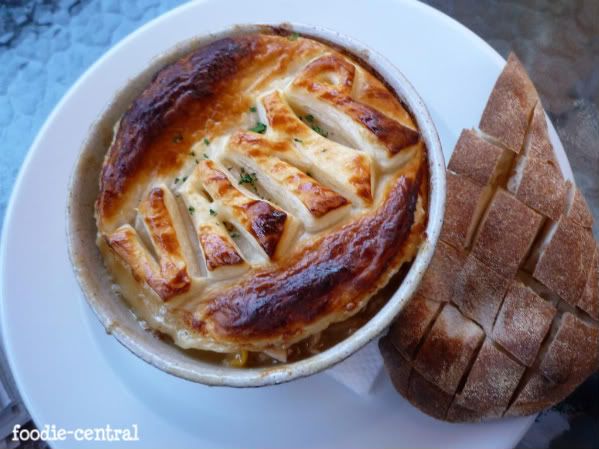 Ms I and I decided to share the
C
hicken and Mushroom Pie
($17.50) which was delicious especially on a cold windy morning. I loved how the boys in the kitchen had carved out the name of the cafe and included that on the pastry.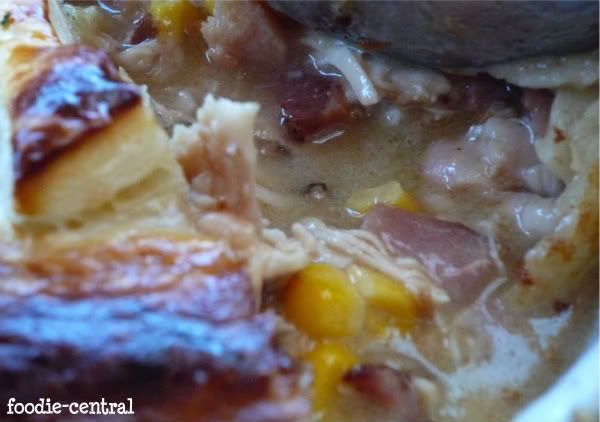 The pie was filled with generous amounts of chicken, mushroom and bacon too, topped with puff pastry. The brilliant addition of bacon to the dish added extra oomph which made the pie super slurp-worthy delicious.
Cafe Vamp
727 Glenferrie Road
Hawthorne VIC 3122
(03) 9818 3141
Opens daily 7am - 4pm