I am going to skip ahead and not blog about our Mornington Peninsula eating adventures until some time in the future when H has more time (as I have finally convinced H to write a food review) to write about his new found favourite fish n chips which is as you guessed it in Mornington. Instead I will continue on our Melbourne food journey with this fabulous cafe serving exquisite Italian cuisine.  
Ca de Vin came highly recommended by both Ms I and Ms Van and thus we saved our stomachs (no breakfast) for this anticipated feast. But be warned, do not go looking for Ca de Vin when you've got a growling tummy as we spent a good 30 minutes looking for this place. We finally stumbled upon the eatery after walking pass 2 Japanese eatery that share the same laneway between the GPO building and Myer Central. 
Once seated we quickly peruse the menu and decided to order 2 mains to share (forewarned by Ms I that servings are large here) and prayed that there will be enough room for dessert.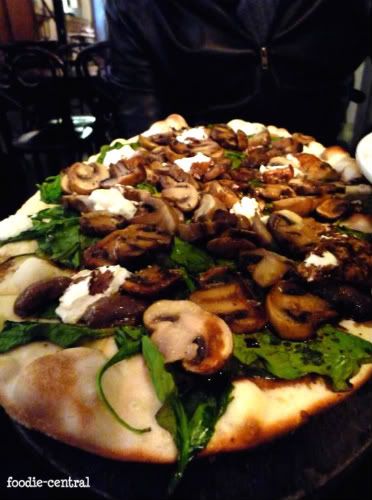 Our first dish was the
Tartufo
($21) which is a pizza topped with field mushrooms, spinach, goat cheese and balsamic reduction. The ingredients were very fresh and the balsamic reduction really brought out the flavours of the mushrooms and ricotta. Yum!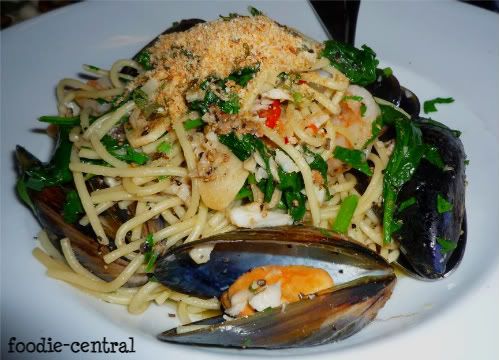 Next up was the
Seafood Alio Olio
($28). This is the best seafood alio olio I've ever tasted. I've not come across an alio olio that had anchovies in it but the chef here had included anchovies (ground to a paste so that you don't see it but you can smell and taste it) into this dish and I absolutely loved it. Also, the addition of finely crushed nuts, coating each strand of spaghettini together with the flavours from the olive oil, anchovies and seasoning .... I just can't find words to describe the exquisite burst of flavours with each bite you take.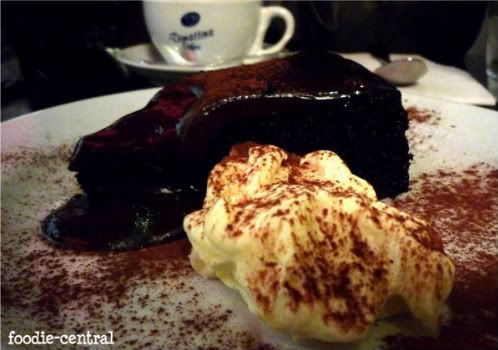 We were very full by the time we finished both the mains but we just had to order the "special" dessert of the day which was a
Dark Chocolate and Beetroot Cake
($11). Although the cake looked as if it had been microwaved (chocolate sauce melting onto the plate) the taste was sensational. One would never expect beetroot to go with chocolate but this was a great combination. There was a sweetness to the rich dark chocolate cake that could have only come from the beetroot. 
This place is indeed a great find and would definitely be one of my favourite places to go when I'm in Melbourne.
Ca de Vin
Melbourne GPO, Postal Lane
Cnr of Bourke St and Elizabeth St
Melbourne VIC 3000
(03) 9654 3639